AutoCamp Brings Glamping to Yosemite
Book an Airstream or a luxury tent outside of the Valley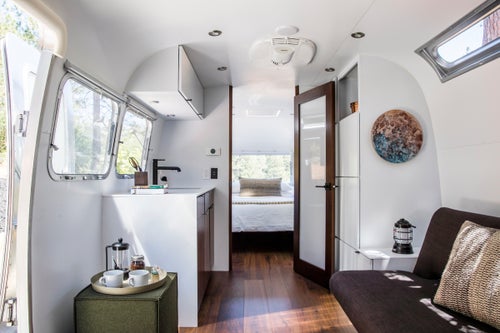 Last month, AutoCamp Yosemite opened its doors. Now, you can forgoe the complications of RV camping—maneuvering steep mountain roads, sweating it out in the summer heat while stuck in gridlock traffic—and get only the glamourous nuggets, complete with your own chic trailer.
In Midpines, California, 30 miles west of Yosemite National Park, AutoCamp "blends the traditional outdoor experience with the service and design of a boutique hotel," says marketing manager Taylor Micaela. Book your stay and select premeasured recipes, served Blue Apron style, complete with step-by-step directions, to prepare over your campfire. Included: veggie-only options or meals like butterflied chicken breast and steak strips that are "good enough for foodies but simple enough for newbies," she says. Pick up a cold drink (kombucha, anyone?) at the front desk, and hop in on an on-site yoga session with local nonprofit Balanced Rock, both compliments of the house. Join a group campfire, or Instagram your heart out on the free Wi-Fi.
Airstreams start at $235 and go up to $550, with a minimum two-night stay; there are also cabin units and luxury tents for rent. Each camper is 31 feet long, has a spa-inspired shower, and is designed with windows that face one way for privacy. There are 20 dog-friendly units.
At the upper end of the price range, the Airstreams are paired with luxury tents, with a space for adults and a separate area for kids. Dinner packages range between $50 and $65 for two people. Booking is available online at AutoCamp.com or by calling 888-405-7553.
Photo: Sprawled out along a hillside in Midpines, these trailers blend the classic with the modern. The aluminum shells on wheels each contain a spacious shower, a queen-size bed, and a few other amenities, like a toilet, two sinks, a couch, and a table. There's also a small bundle of complimentary firewood (compressed, low-spark logs for safety) delivered to your front door. Extra bundles cost $7.50 each. And Radio Flyer wagons are available to shuttle luggage to and from rooms.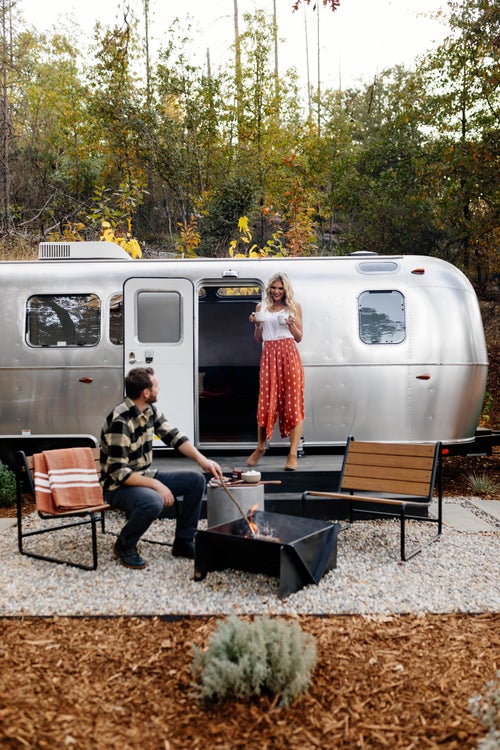 The new and expansive Midpines location has 102 total units, including 80 stand-alone Airstreams, five combined Airstreams and luxury tents, and five wheelchair-accessible units (not Airstreams). Here—unlike in Yosemite—you can walk dogs on the trails and fly buzzing drones overhead.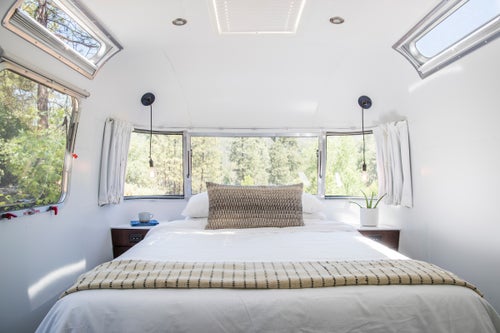 AutoCamp Yosemite is only one of three locations. The company also has Airstream parks in Santa Barbara, California, and the small town of Guerneville, California, which it calls the Russian River or Sonoma County location. What started off as a small-time trailer-rental outfitter in 2013 has since exploded and is now often completely booked.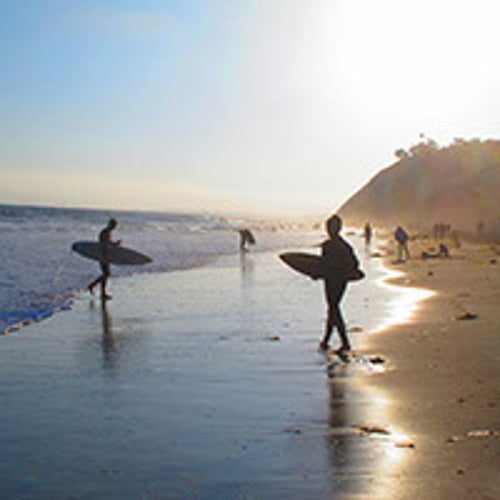 The first park to open was in Santa Barbara. Located three miles uphill from the ocean, you can smell the salty sea air coming up from East and Hendry's Beaches. Downtown, where you can grab a bite and a beer, is only one mile away. This AutoCamp location partners with Cal Coast Adventures to bring its guests discounted surfing lessons and electric bike tours.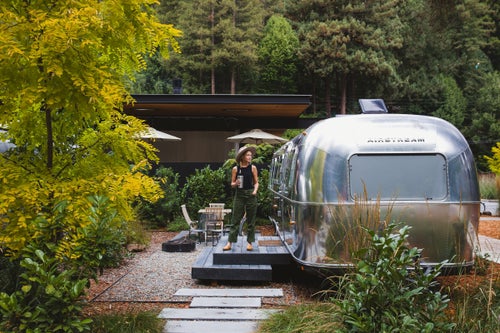 Located across the highway from the Russian River and a five-minute drive to Armstrong Redwoods State Natural Preserve is AutoCamp's second location, with 35 units in one of Sonoma County's best wine-country areas. A 20-minute drive brings you to the coast, where you can hike along the bluffs or go kayaking.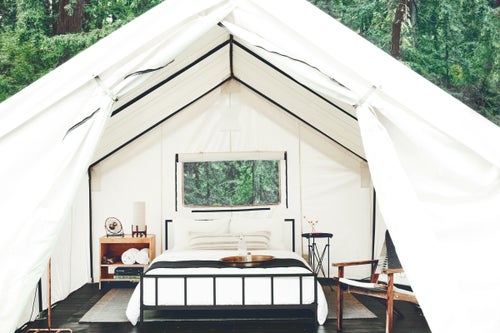 The winter brought heavy precipitation to California, which flooded the Russian River and forced AutoCamp to temporarily close this location. But after a month of repairs, the Russian River branch is taking reservations again.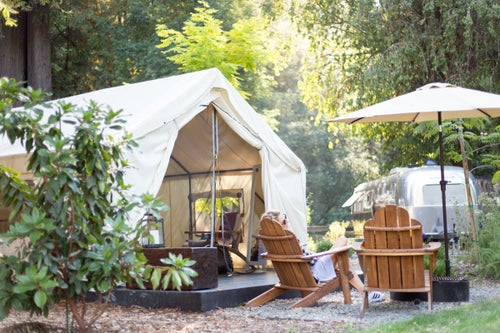 With 23 Airstreams, one suite, one camper, and ten luxury tents, AutoCamp's Russian River location offers plenty of lodging options. Due to the rainy season, the luxury tents are only open from April 1 to October 31. Tents come equipped with a queen-size bed, small seating area, clothing rack, and campfire supplies. Zip-up windows and screens keep the bugs out, and all of the beds include an electric blanket to keep you cozy through the night.