A Beautiful (But Brutal) Multi-Day Race in Antarctica
Nature writer and Explorers Club fellow Barry Lopez once wrote that Antarctica's landscape "retained Earth's primitive link, however tenuous, with space, with the void that stretched out to Jupiter and Uranus." It is a place so alien and removed from civilization that, as Lopez put it, "the light itself is aloof."
It's only fitting that the Antarctic iteration of the prestigious 4 Deserts race series is called "The Last Desert." For a company that specializes in putting on endurance challenges in extreme, arid climates all over the world, a race in the world's largest, most distant desert feels like a necessary culmination. When the organizers of the multi-day, 155-mile competitions expanded to the planet's most desolate continent in 2006, they were already staging annual events in the Sahara, Gobi, and Atacama deserts.
Photographer Myke Hermsmeyer documented the 2016 event—which was held in late November and featured 61 competitors from 24 countries—providing us a glimpse into the logistical challenges of staging a multi-day race at the world's end and the extraterrestrial beauty that makes it worth the effort.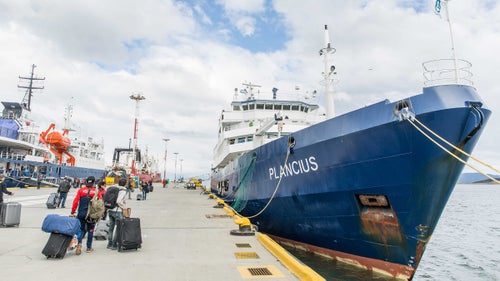 On November 18, a group of competitors, race organizers, volunteers, family members, and a five-person Taiwanese media team departed from Ushuaia, Argentina, for the Antarctic Peninsula. They travelled aboard the M/v Plancius, a 293-foot former Dutch research vessel that was repurposed into a passenger ship in 2009.
The Drake Passage is known for rough waters, but passengers were fortunate on the way down from Ushuaia: the crew of the Plancius said that the seas were as calm as they had ever experienced them on this particular route.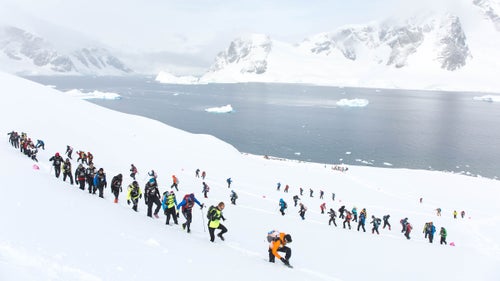 While all 4 Deserts events are multi-day stage races with a total race distance of 155 miles, The Last Desert is unique because it challenges runners to see how many kilometers they can complete in a given amount of time, rather than how fast they can get from point A to point B. "Due to the logistical challenges of Antarctica, you are running for a given time on a given day around pre-set loops," says Hermsmeyer. "The longest loop was nine miles, the shortest was less than one mile. Racers would just run until a specific time and then tally up the distance. The overall winners were determined by whoever hit the 155-mile benchmark in the shortest amount of time."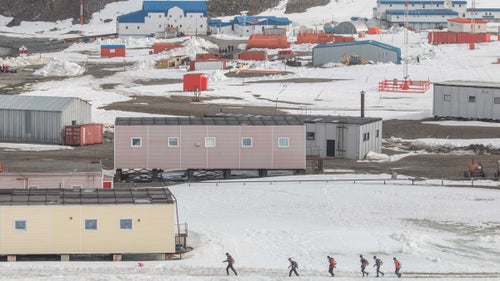 King George Island is typically the first of the six stages that make up the Antarctica edition of 4 Deserts. It includes Russian, Chinese, Uruguayan, and Chilean bases, among others, and has a small road network, making it easier to traverse than most other parts of the continent. And as the largest of the South Shetland Islands, it is relatively accessible by Antarctic standards. "There's a lot of runnable terrain there," Hermsmeyer said. "They always go there first, with the hopes that they can just bank a lot of mileage…That's why, on the first day, they had them run for 12 and a half hours."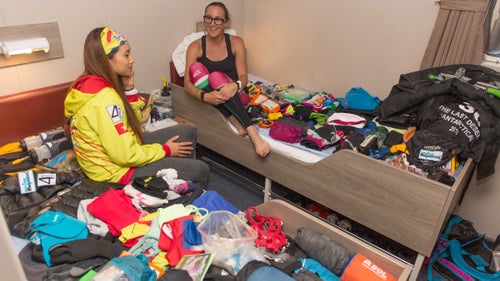 Unlike other 4 Desert events, where participants carry a week's worth of supplies (excluding water) for the duration of the event and sleep in tents, The Last Desert race has an element of comfort; each day begins and ends on the boat, where runners are served hot meals, can take showers, and sleep in a warm bed.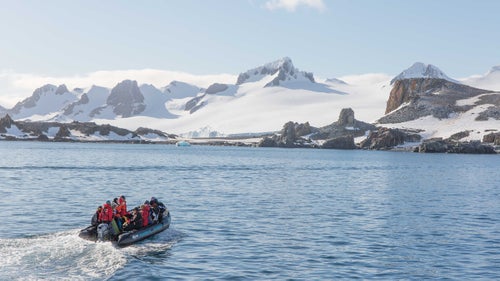 Although competitors were traveling light by 4 Deserts standards, everyone was required to bring a dropbag of gear when they were transported from the Plancius to Antarctic land on Zodiac dinghies. As a sudden influx of pack ice has the potential to endanger safe passage on the Zodiacs and indefinitely delay re-boarding of the Plancius, racers must be prepared to spend the night on land, and were instructed to bring a bivy and sleeping bag on shore with them everyday. (This did not happen in 2016, though one day of competition was cut short because incoming ice threatened to block the waterways.)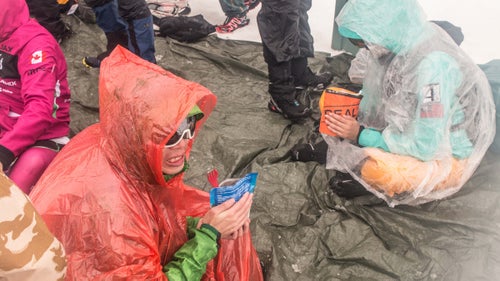 Racers were given special permission to eat on land—a rare perk for tourists to Antarctica—but they could only do so over special tarps laid out by the start and finish area. These served as de facto aid stations on the loop courses. Only highly processed foods were allowed—no nuts, grains, meats, or other foreign foods that would attract native animals and disturb the continent's fragile ecosystem.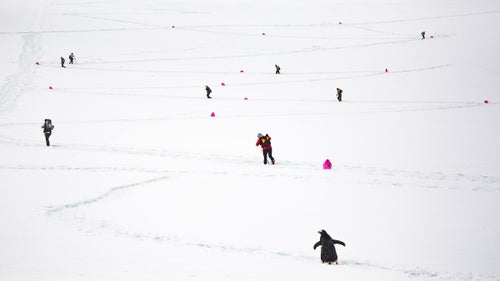 Some of Hermsmeyer's shots might seem like idyllic winter landscapes and their aesthetic appeal can overshadow the grueling aspects of the race. "None of these races are kind. I mean, the terrain is just not fun," says professional ultra-runner Jax Mariash Koudele. "Just know that while you're staring at that really cool penguin, you're suffering."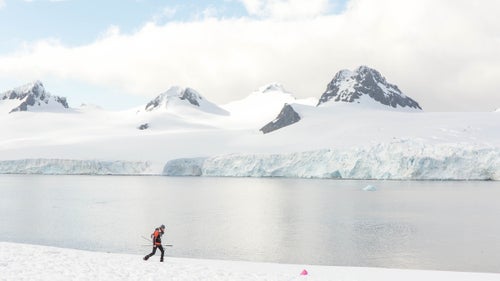 Despite the physical and mental travails that runners were subjected to, there was ample time to appreciate the scenery. "Jaw-dropping. Mind-blowing," says Koudele. "You could hear parts of snow breaking off of glacial terrain and dropping into the sea."