These Satellite Images Will Make You Feel Unimportant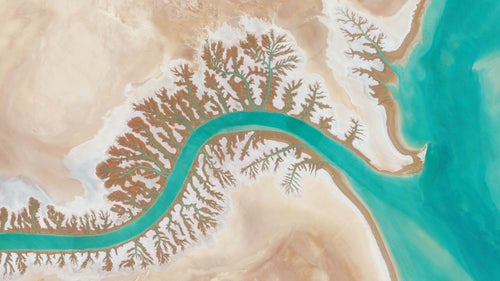 In 2013, author Benjamin Grant started running the DailyOverview Instagram account, which now has more than 500,000 followers. In partnership with DigitalGlobe, a Colorado-based satellite imaging company that supplies content for the likes of Google and Facebook, Grant began compiling and often stitching multiple images together to provide these new and always stunning perspectives of earth from above. Some views are of natural expanses without a human in sight; others are of the symmetry and crowding of an urban area. All of them have a way of making you feel small.
Now, Grant has released a book, Overview, of these high definition satellite photographs with scenes ranging from Qinhuangdao Coal Terminal in China to the Rio Madre in the rainforests of Peru. Here, a preview of the nearly 300-page, hardcover beauty.
Photo:Dendritic drainage systems are seen around the Shadegan Lagoon by Musa Bay in Iran. The word 'dendritic' refers to the pools' resemblance to the branches of a tree, and this pattern develops when streams move across relatively flat and uniform rocks, or over a surface that resists erosion.
Reprinted with permission from Overview by Benjamin Grant, copyright (c) 2016. Published by Amphoto Books, a division of Penguin Random House, Inc. Images (c) 2016 by DigitalGlobe, Inc.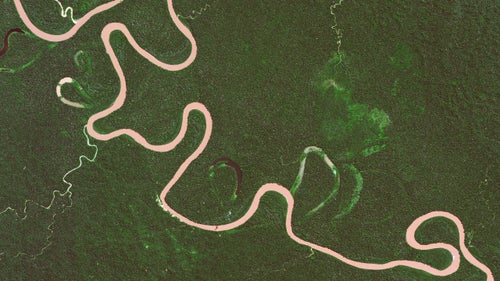 The Rio Madre de Dios swirls in the rainforests of Peru. Oxbow lakes—the U‐shaped branches coming off the main river—form when a wide meander from the main stem of a river is cut off, creating a free‐standing body of water.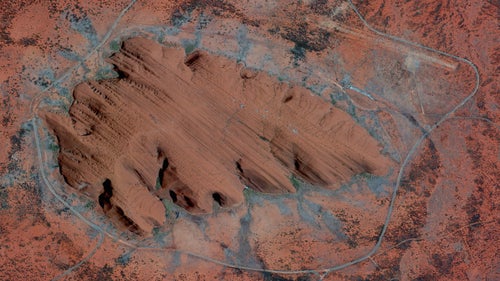 Uluru, or Ayers Rock, is a large sandstone formation in the Northern Territory of Australia. The monolith—towering 1,141 feet high and around 2.2 miles wide—is a sacred site to the Aboriginal people of the area who first settled there 10,000 years ago. While the first Australian tourists arrived at Uluru in 1936, annual visitor numbers rose to over 400,000 by the year 2000. Increased tourism at the site provides regional and national economic benefits, but also creates an ongoing challenge to balance conservation, cultural values, and visitor needs.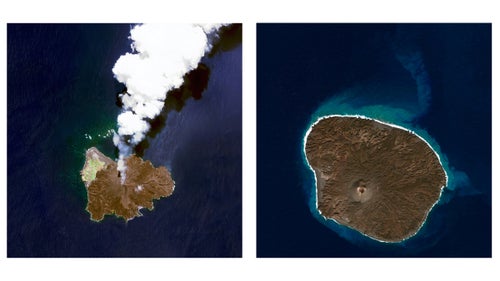 Nishinoshima is a volcanic island located 940 kilometres (584 miles) south of Tokyo, Japan. Starting in November 2013, the volcano began to erupt and continued to do so until August 2015. Over the course of the eruption, the area of the island grew in size from .2 square miles to .89 square miles. These two shows the island mid-eruption in July 2014, and once again in the same location in January 2016, after the eruption ceased.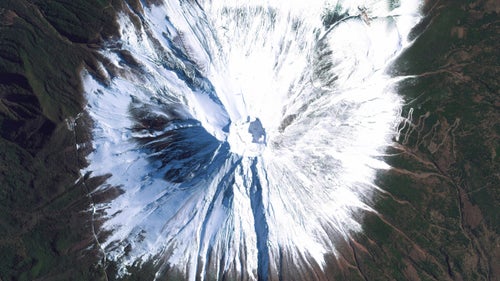 Mount Fuji is an active stratovolcano and the tallest peak in Japan, rising 12,389 feet. As seen in this image, Fuji has an extremely symmetrical cone, which is snow‐capped several months of the year. During warmer months, trekking routes make it possible for hundreds of thousands of people to scale the volcano each year.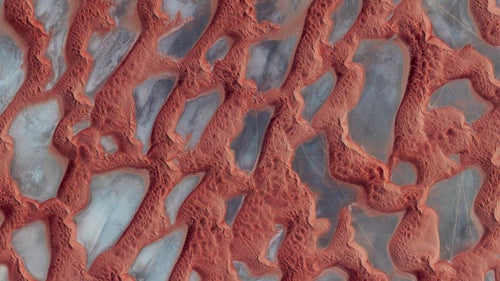 Rub' al Khali, or the Empty Quarter, is the largest sand desert in the world. It covers 251,000 square miles, and includes parts of Saudi Arabia, Oman, Yemen, and the United Arab Emirates. In the center of the desert there are a number of raised, hardened formations that were once the sites of shallow lakes thousands of years ago. For a sense of scale, this image shows approximately 135 square miles in Saudi Arabia, near the border with Oman.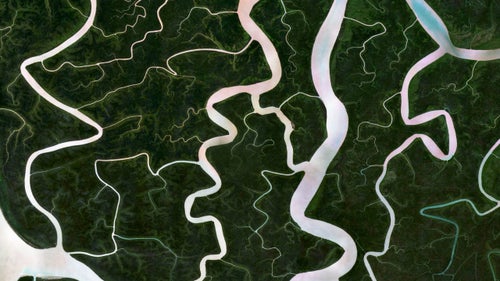 The Sundarbans is a region that covers 3,900 square miles of southern Bangladesh and a small section of Eastern India. This region is densely covered by mangrove forests and contains the largest natural reserve for the Bengal tiger. Over the past two centuries, approximately 2,600 square miles of the Sundarbans' land has been developed.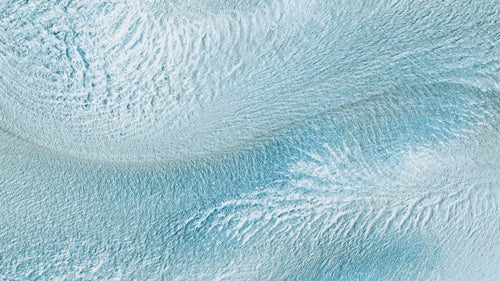 The Perito Moreno Glacier is located in Santa Cruz Province, Argentina. The 97‐square‐mile ice formation stretches for 19 miles in length. Approximately three square miles are shown in this image. The entire frozen field of ice represents the world's third largest reserve of fresh water.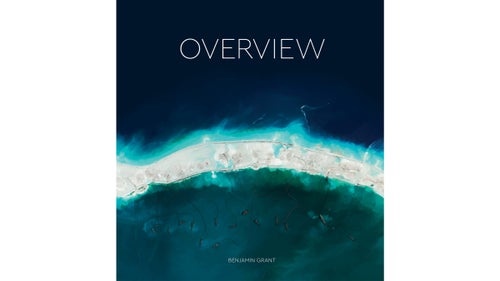 Get yourself a copy here.