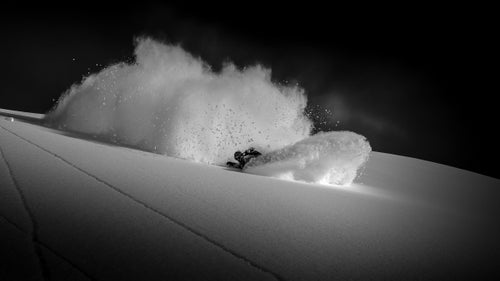 ​Bryan Fox, Angel Collinson, and Kalen Thorien shred harder than most—between the three of them, they've been featured in dozens of ski and snowboard films and magazine stories (including this one). But each of them have passions that run deeper than just dropping big lines. Angel lobbies Congress each fall on behalf of Protect Our Winters, Kalen is a Youth Ambassador for American Rivers; and Bryan is the founder of Drink Water, a company that encourages people to eschew energy drinks in favor of water. ​We kicked the photo gallery off with Kalen​ and Angel​. This week we add ​Bryan to the mix.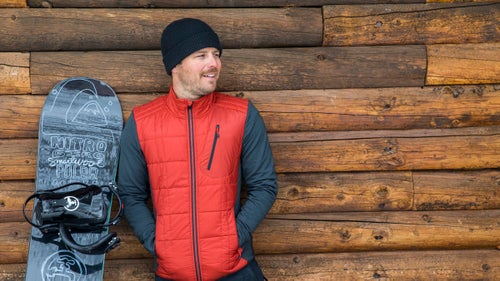 Pro snowboarder Bryan Fox is the people's rider. His style isn't flashy, and he rarely enters competitions. When he placed third at 2013's invite-only Red Bull Ultra Natural, beating out 13 of the world's most decorated riders, it was his first-ever podium. Even so, it's likely you've seen him ride. Since his first appearance in 2004's cult classic snowboard film Some Kind of Life, Fox has appeared in some 20 films, including his own offering, 2014's award-winning Pathology, which he starred in and made with collaborator Austin Smith. "I've always thought that our obsession with snowboards is like a disease," says Fox. "Some people catch it, and some don't. Pathology is the study of the disease." This winter he appears in The Snowboarder Movie: SFD. He's also a counterculture figure within the sport—his company Drink Water encourages people to eschew sugary drinks, whose purveyors are major sponsors of action sports, in favor of water. "I just want kids to think for themselves," he says.
Photo: Smartwool SmartLoft Corbet 120 Jacket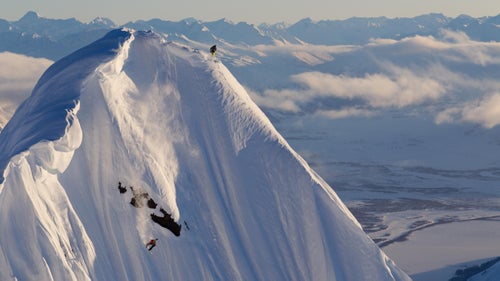 Fox grew up far from snow, in a small California town called Ramona in San Diego county. He started skateboarding at age 11 and surfing at age 12. He snowboarded a few times in high school but didn't catch the disease until he moved to Oregon a week after his high school graduation. "I saw snowboarding as the best of both skating and surfing—the flow and that sense of flying, transcending the earthbound human experience. Oregon felt like home to me, and I could snowboard year-round on Mount Hood." When Fox decided to drop out of college to snowboard full time, his parents were surprisingly supportive. "The first film premiere I took my dad to, he freaked out. 'I didn't know this was a job you could have,' he said. To this day, he describes my job as 'jumping off mountains,'" says Fox.
Photo: "This shot ended up on the cover of TransWorld SNOWboarding. Flying back to Girdwood after a day in the Chugach, Travis Rice made the pilot drop us off on this peak because it had the last light of the day. That's him standing on the peak while I dropped in. He basically gave me a cover, which was quite kind."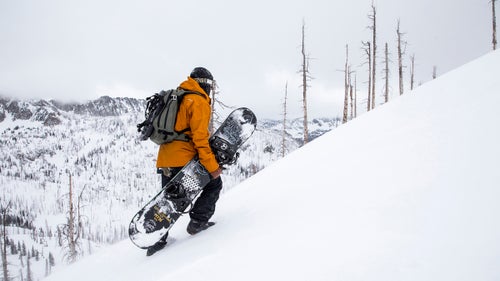 Fox has never done drugs and never drinks alcohol, which makes him an anomaly in his community. "I guess it's a little bit of a punk sensibility—find your own identity, don't be a follower," he says. "I feel like people turn to substances when they are bored. That's not my nature. I'm never bored. There are always a dozen things I want to do: snowboarding, skateboarding, making films. At the end of the day, I'm always fulfilled and tired and want to go to bed. Why would I sit in a dark, loud room and strain to hear conversations?"
Photo: Hiking in the Colorado backcountry near Steamboat in Smartwool Mid250 Baselayers.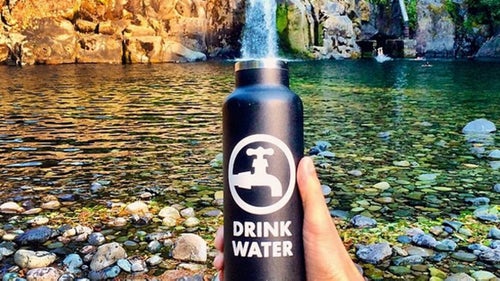 In 2011, Fox and fellow pro snowboarder Austin Smith founded Drink Water, a response to what Fox calls, "the infiltration of action sports by the energy drink companies. We wanted to remind kids that that don't have to poison themselves to have fun snowboarding." It started with the pair simply writing "Drink Water" on their boards with a Sharpie to counter energy drink makers' logos and evolved into an apparel company that donates 10 percent of their profits to Water.org, a nonprofit that drills wells in drought-stricken nations. In addition, all the money raised at their annual Rat Race banked slalom event at Mount Hood's Timberline Lodge goest to the nonprofit. Altogether since 2011, Drink Water has funneled more than $50,000 to Water.org, and now boasts a team of 26 pro snowboarders, skiers, skaters, and surfers.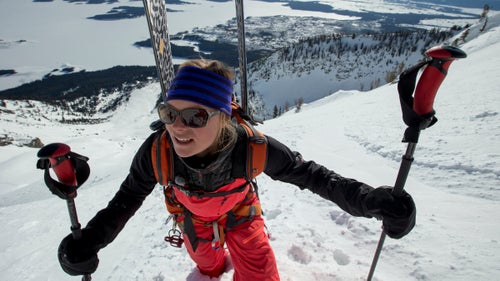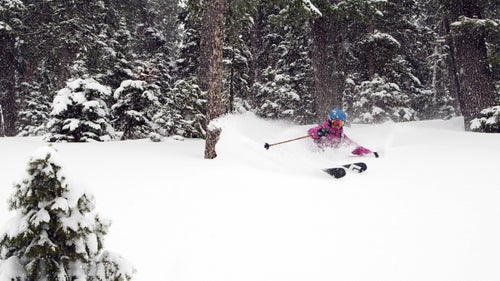 It's official: Angel Collinson, 24, is on fire. That's her on the cover of the November 2015 issue of Powder Magazine. And that's her absolutely shredding ​Alaska's ​Neacola Range​ ​in the closing segment of Teton Gravity Research's latest​ film​, Paradise Waits. For those following her rise, this isn't the least bit surprising. After narrowly missing a spot on the US Ski Team, the Utah native stormed on the freeskiing competition scene, winning the Freeskiing World Tour in 2010 and 2011 and finishing second in 2012. Later that year, standing in line for the Snowbird tram, she got a phone call from Teton Gravity Research, inviting her to heli-ski in Alaska for their 2013 film. "I was too stunned to get onto the tram," says Collinson. "I felt like I'd just won the universe's lottery." She has since appeared in a half-dozen ski films, including Unicorn Picnic's Pretty Faces, Sherpas Cinema's Into the Mind, and four TGR films, including winning Best Female Performance at the Powder Awards for her opening segment in 2014's Almost Ablaze. Photo: "This was in the Jackson Hole backcountry, on my first ever snowmobile trip last winter. We all got together and it started dumping, so we headed out to check out some new zones. For the most part we were zipping around on logging roads, which made it nice for me because I'm a totally beginner sledder."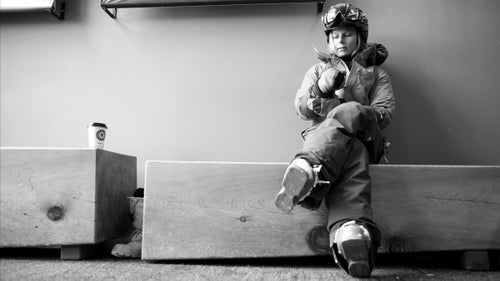 Collinson and her younger brother John, also a fixture in TGR films, grew up at Snowbird ski resort, where their father, the legendary Jimmy Collinson, was ​the assistant ​head of snow safety. The pair shared a 5-by-12-foot walk-in closet in employee housing that was furnished with bunk beds. Their mother home-schooled them, along with a few other children, so in winter they rarely left Little Cottonwood Canyon except to go to ski races at other mountains. "I don't remember a time before skiing," says Angel. She and her brother now share a house in Salt Lake City, near the base of the canyon. "He's still my favorite person to ski with," she says.
Photo: "I'm waiting for the lifts to spin at British Columbia's Red Mountain. It's snowing big fat flakes outside, so I'm just staying dry. This was our first stop on a pow-and-pillows tour for a TGR sequence. At Jackson Hole, we have to get a permit to go up early and film before the crowds arrive. At Red, there are so few people that you don't need to, which is what makes it so great."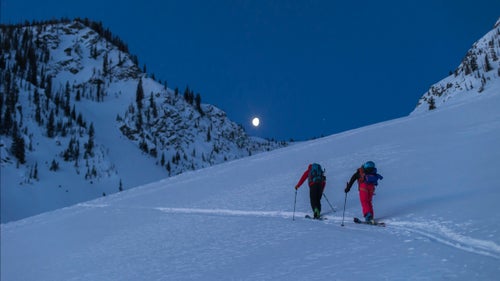 In 2014, Collinson drove to Jackson Hole from Utah at TGR's behest, only to find out the night before that she was slated to ski the South Teton the next morning. "We started skinning at 4 a.m.," she says. Five thousand eight hundred feet later, she and fellow pro Griffin Post, here in the lead, summited the peak.
Photo: ​"Griffin dropped in on the East Face first and shredded the line, but then he radioed up that conditions were sketchy—breakable crust," says Angel. "We all made it down safe, but because the snow conditions were so bad, it wasn't great footage and never made the film."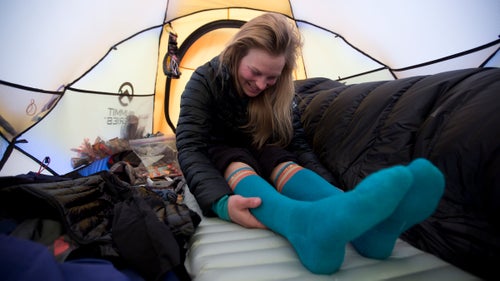 Collinson has only been winter camping twice, for three days at the base of Mount Moran for the March, 2014 Almost Ablaze expedition (shown above), and the year before in Denali National Park, when the Collinsons joined Ian McIntosh and a film crew from Sherpas Cinema to lay down some first descents on Mount Hunter. The group spent 12 days camping in temps that reached 40 degrees below zero ("That sleeping bag there is one of the great loves of my life," she says), but they still managed to knock off a half-dozen new lines and make cocktails with glacier ice every evening. Along for the ride—as it is every ski day—was Angel's favorite item from her rock collection, a golf-ball-sized meteorite that stays in her right cargo pocket. "I bought it in a rock shop in Moab, Utah, shortly after my boyfriend Ryan Hawks died in a freeskiing competition," says Angel. "It's literally a piece of stardust. It's an antenna."
Photo: Stretching out in her Smartwool PhD Slopestyle Tube Socks. "I had my own tent, so I could spread out. ​Mark Fisher, the photographer, always makes me laugh. I'm sure he's making some little joke here."