Handmade in Southwest Colorado
Five companies are making some of the finest handcrafted goods in the country right next to each other in the southwest corner of Colorado.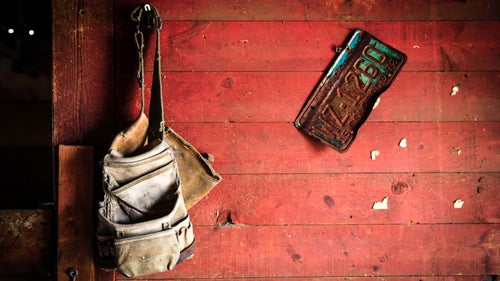 Whether it's a sip of ice cold beer, a near perfect fly rod, or a custom pair of skis, every handmade good from Southwest Colorado carries a piece of the region with it. Take it from these five companies—Ska Brewing Co, Wagner Custom Skis, Scott Fly Rods, Felt Soul Media, and Voormi—where local pride, performance, and tradition inform everything they produce.
With inspiring local attractions like Wolf Creek Ski Area, the town of Telluride, and the San Juan National Forest out the back door, it's no surprise that some of the finest handmade outdoor goods emerge from the 160-mile corridor between Montrose and Pagosa Springs, Colorado. Outside recently hit the road to learn more about these companies, and the spirit and craftsmanship behind their top-notch products.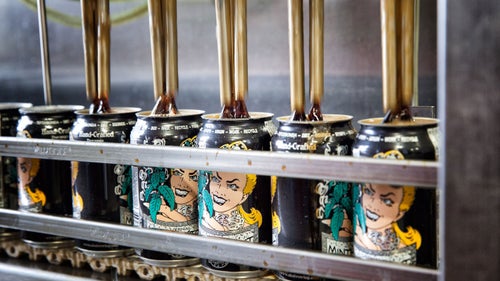 Staff yoga starts at 4 p.m. every day for the Durango-based brewery. Held in a loft above the tasting room, yoga opens to the public around 5:30 for additional happy hour loosening. Although co-founders Dave Thibodeau and Bill Graham probably didn't even know what yoga was when they stumbled upon an old brew-log (Thibodeau's dad's) in high school, the duo sure did know the taste of beer.
Starting in what Thibodeau describes as "the corner of a warehouse," Ska has become of one the top craft breweries in a relentlessly crowded Colorado beer scene. Quite simply, Thibodeau and Graham love and believe in beer, and you can taste it in each one of their barrels.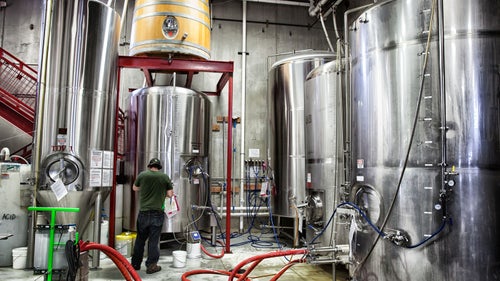 In a snazzy and constantly updated building just outside Durango, Ska has become a favorite destination for anyone passing through southern Colorado. A huge tasting room sits adjacent to an outdoor beer garden complete with refurbished containers housing a full-serve kitchen and DJ booth.
"You have to do everything at the highest level, or you can't hold up to what everyone else has done here," explains Thibodeau. The Ska crew aren't shy when admitting their admiration for Colorado beer giants such as New Belgium and Odell's. They're driven by the other breweries' successes, and they aren't afraid to ask for help either. When Ska set out to build its new brewery in 2008, the folks at New Belgium were some of the first to see the plans and offer advice.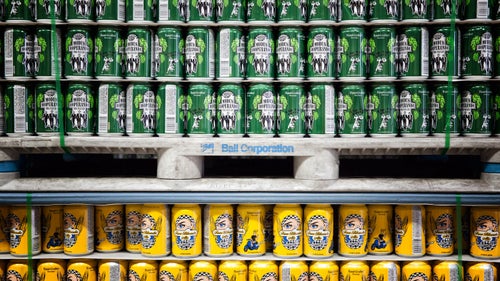 With singletrack just across the road, mountain bikes lean against many office doors. Some employees are also die-hard skiers or fisherman, but it's no surprise they all love beer. With their famous Modus IPA, True Blonde Ale, and addictive ESB Special Ale on the shelves in eight states already, don't be surprised if Ska becomes a nationwide force. No need to worry mile-high residents, I was assured that home base would never be moved from Colorado. The community of Durango has propelled the brewery into stardom and Ska feels a responsibility to honor that support.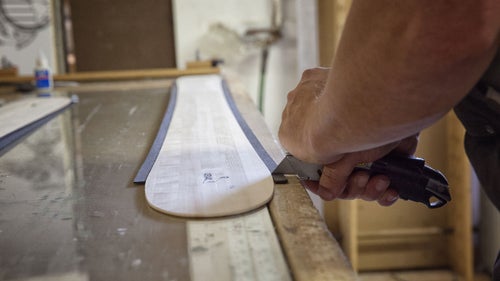 In the late '90s, Pete Wagner was building intricate custom-fitting software for golf shafts in California. After a ski trip to Telluride, Wagner noticed that the snow sports industry was lacking a truly customized product that was becoming the norm in other industries such as golf and cycling. Wagner requested to work remotely from Telluride—which he did for a couple years—before he split with the golf company and applied his software knowledge to creating custom skis. In 2006, Wagner Custom was founded.
Every snowboard or pair of skis starts with blanks of wood. Sugar maple, with its long grain structure and high strength-to-weight ratio makes a lively and durable ski. On the other end of the spectrum, aspen might be suited for a more versatile, nimble ski with its short grain and low density.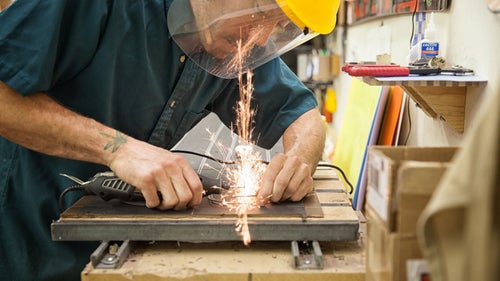 Wager Custom's process begins with an intensive questionnaire, during which the customer and ski designer determine exactly what style of skier of you are, where you like to ski, and even how'd you like your ski to look. Once the design is complete, the small shop gets to work building the client's perfect ski.
Supremely talented ski bums shape and build the skis from scratch. Each pair of skis moves around the shop as each proprietary layer or procedure is added. Once the design is finished and the building begins, your dream pair of skis is ready in just three weeks.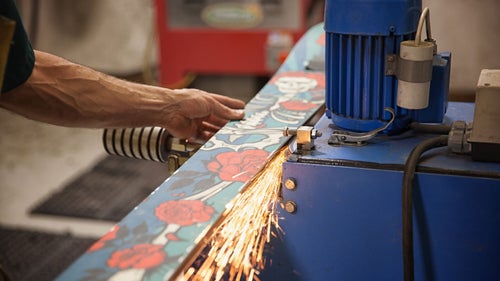 There is a real sense of pride at Wagner Custom, and for good reason: the company is making skis that truly improve performance on the mountain. Old pairs were circulating through the shop as loyal customers dropped by for tuning or just to brag about their afternoon on the slopes. Wagner will make more than 1,000 skis and snowboards this season—not nearly enough to break the staff's morning routine of first tracks on the mountain.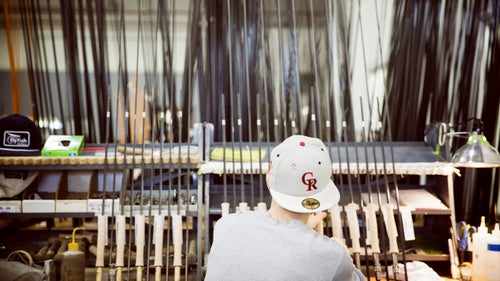 Started in San Francisco in the early '70s, Scott Fly Rods didn't migrate west until some 20 years later. Originally in Telluride and now settled in Montrose, the company's move has pinned them between some of the best trout water in the West. Despite a couple moves, Scott has been a leading manufacturer of fly fishing rods for 35 years, dedicated to making every single rod by hand.
Most of the fly-fishing industry has shifted toward large-scale, cheap labor in Asia or has at least tried to streamline some of their of goods overseas. Scott never has, and it's unwavering in its pursuit of perfection in a fishing rod. In fact, the company is the only one left just making rods. No reels, no bags, no wading boots. Just nimble nine-foot tubes designed for throwing fake insects.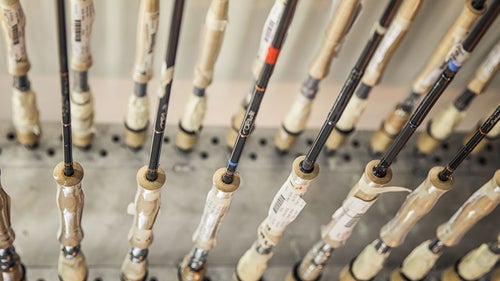 After years of science, sketches, fine tuning, and testing, these rods start as flat sheets of graphite (mostly), which are then hand-cut into four vaguely rectangular sections around three feet long. Each piece is then wrapped around a thin metal bar before being thrown into an oven. After a bake, the metal rod is removed leaving four hollow sections that are shaped and cut to fit together—usually creating a rod nine feet in length. Coats of an epoxy-like material and paint are then applied before a reel seat, line guides, and thread are added. Inscribed with a Scott logo and then coated a final time, every rod is hand-inspected before it heads out to a hopeful fisherman.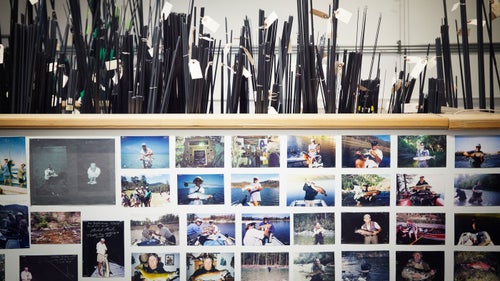 Not everyone on the production floor loves to fish, or has even tried, but they all love what they do. After a 6 a.m. start time, the lights go out around 3:30 p.m. as loaded rod racks await the next day's adjustments.
For the complexity within every Scott fly rod, there is a simplicity in the process. Each step is completed with the same attention as the one before it, and every employee prides him- or herself on making every rod better. In Scott's case, they don't have much room to improve.