How New York Surfers Memorialized George Floyd
Surfers at Rockaway Beach held a paddle out this weekend in solidarity with the Black Lives Matter movement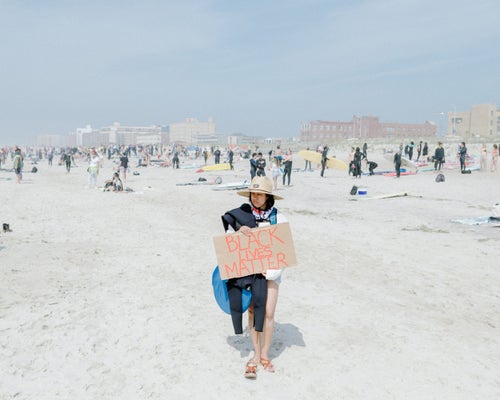 On Saturday, at Rockaway Beach in New York City, the Black Surfing Association (East Coast) held a paddle out to honor George Floyd, in solidarity with the Black Lives Matter movement and protests across the country. The paddle out is an established surfing tradition when someone dies, a floating memorial. Surfers, paddle boarders, and kayakers venture into the ocean and form a circle while holding hands. Participants usually hold flowers in their teeth, or throw them into the water.
Rockaway Beach boasts beautiful homes, but it also features shoreline housing project units. While surfing is a predominantly white sport in the United States, Rockaway has a generally diverse surf scene compared to many other parts of the country—that's largely thanks to the groups that helped organize the paddle out, like the Black Surfing Association and Black Girls Surf.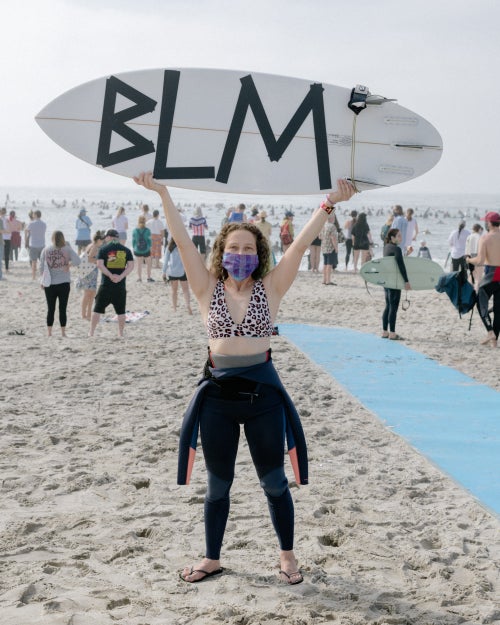 Surfers assembled on shore before paddling out together to form the circle. Hundreds of local surfers joined in, and the group was too big to hold hands throughout the whole memorial.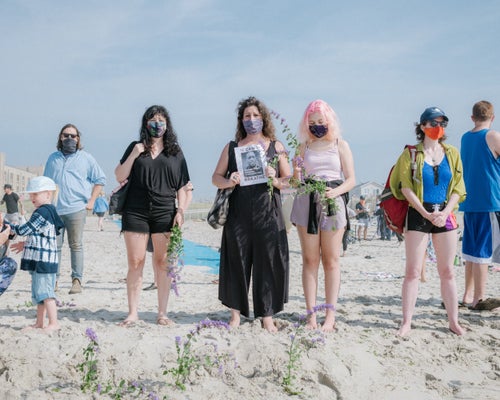 From the beach, those who didn't paddle out protested and chanted with those in the water.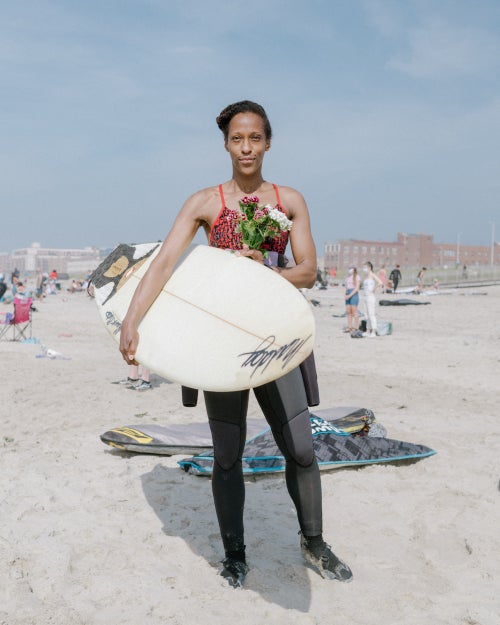 Long after the memorial ended, roses continued to wash from the sea back onto the shore.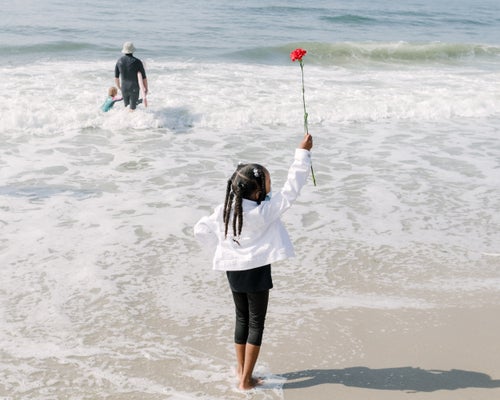 Many of the participants on shore—largely family members of those in the water, and non-surfers—chanted, cried, and put their hands up in unison with the members of the circle.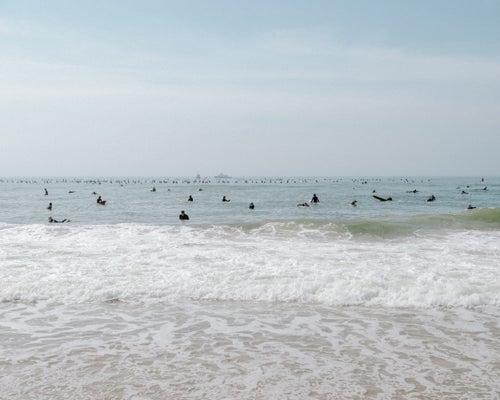 Two police patrol boats idled in the background by protesters during the memorial. Surfers chanted the names of George Floyd, Breonna Taylor, Eric Garner, and Ahmaud Arbery, along with "No Justice, No Peace." The surfers ended the protest by shouting at the police boats: "Whose waves? Our waves!" before paddling into shore.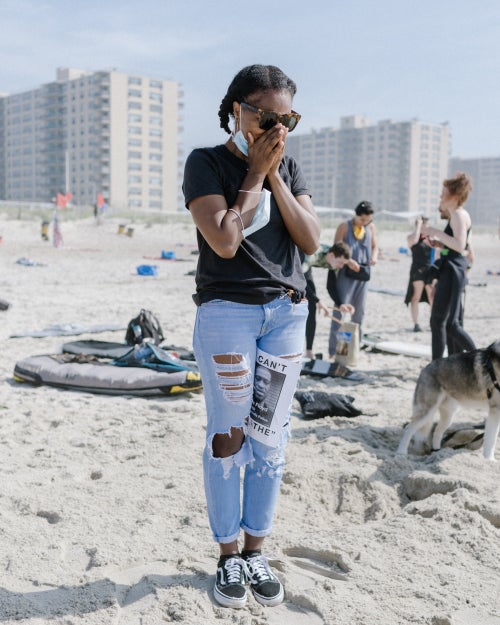 Even on shore, the mood was solemn and powerful during the paddle out.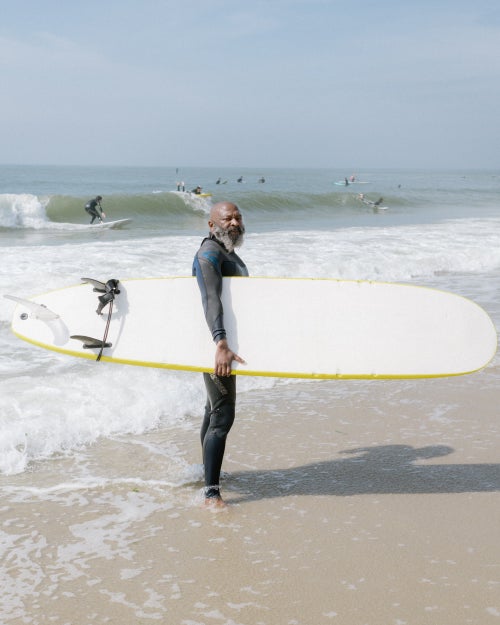 Surfers from throughout the city's five boroughs—including this surfer from the Bronx—came out to show their solidarity. Because of the pandemic, many chose to forgo the long subway ride and drove to the beach instead.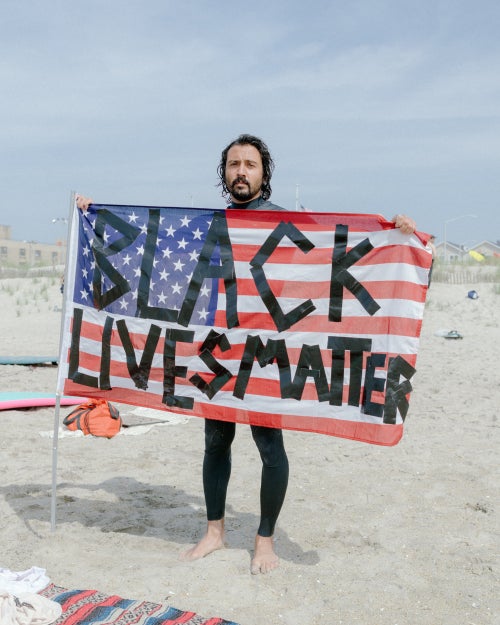 For local surfers, the event was a moment for Rockaway to join in solidarity with the BLM movement. The Rockaway community weathered Hurricane Sandy in 2012 and the subsequent rebuilding—this was another opportunity for locals to come together, this time focused on rebuilding from systemic racism and inequality.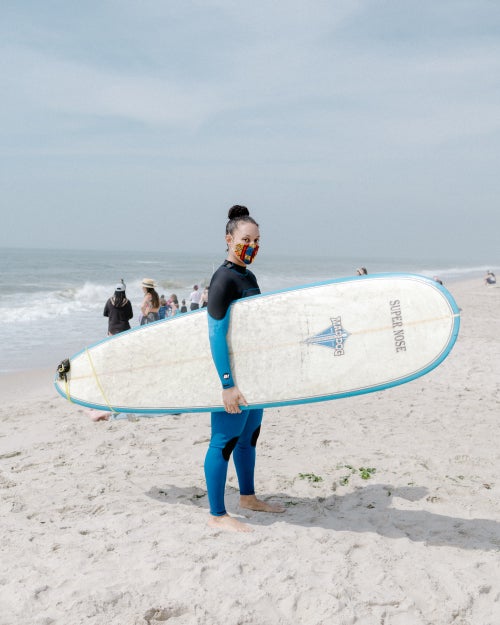 Many who joined the paddle out were still cautious, and tried to participate safely in light of the coronavirus pandemic. Some onlookers wore masks on the beach during the memorial and maintained social distancing.