Gourmet Foraging in Southeast Alaska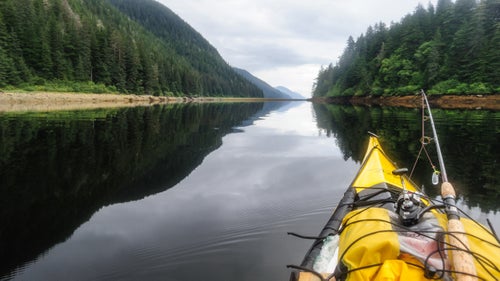 This summer, photographer Fredrik Norrsell and his wife Nancy Pfeiffer set out to explore a simple question: Could they live solely off the land for three months? The pair covered 566 nautical miles in Southeast Alaska in sea kayaks, surviving off whatever they captured or found. Between fresh crab and salmon, and foraged mushrooms and other vegetation, the couple lived like kings. Here, Norrsell explains how they did it.
Photo: In early June, we paddled away from a friend's house in Haines, Alaska. In addition to years of experience in the outdoors, we brought plenty of fishing gear, a shrimp pot, some reference books on wild edibles, and a spice kit.
While this was not a typical dinner, we enjoyed celebrating—and taking pictures of—our favorite meals. This dinner included dungeness crab, sautéed goose tongue with chitons, beach green salad, candied bull kelp, and spruce tip tea.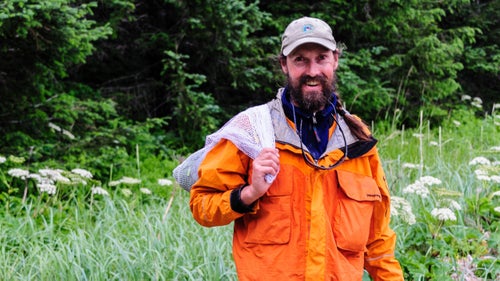 Our goal was to not just survive, but to thrive. We hoped to eat well and have time leftover to read, write, take photographs, and enjoy the landscape.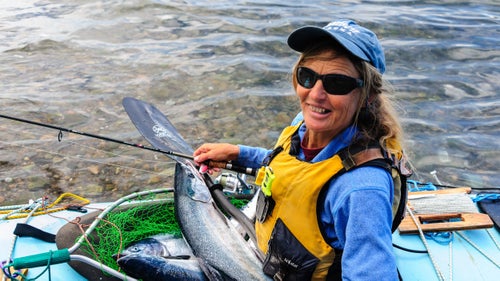 Fishing—either jigging for rockfish and halibut, or casting for salmon—was part of everyday life. Over the course of the summer we caught and ate 119 fish.
Each summer, all of Alaska rejoices at the return of the salmon. The first salmon of the season came to us on June 29. We caught two fat, pink salmon and a gorgeous silver that day.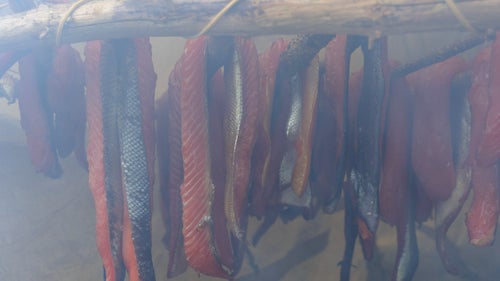 Whenever we enjoyed a bounty, we needed to preserve it for lean days ahead. The slow, contemplative process of smoking salmon on the beach was a regular part of our experience.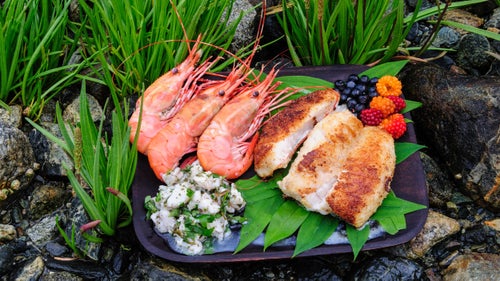 Here, another great meal of fresh-caught spot shrimp, rockfish ceviche, with breaded rockfish on a bed of watermelon-berry leaves. And, of course, blueberries and salmonberries for dessert.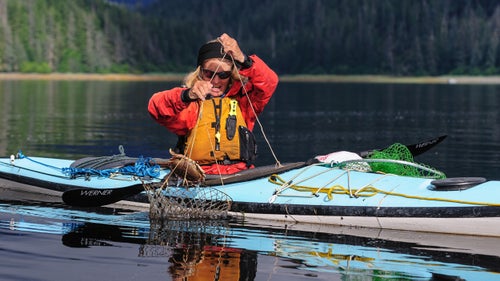 Crabbing was a new endeavor for us, and actually turned out to be quite profitable. In shallow, protected waters, we experimented with various ways to catch crabs, including reaching down and grabbing them. The baited crab ring in this photo was one of the best methods.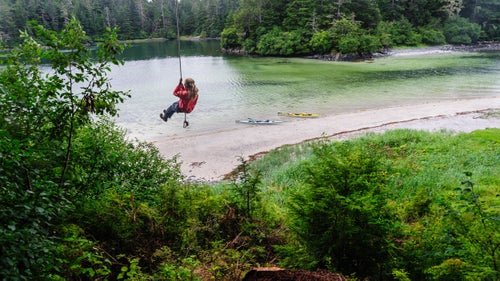 Subsistence was hard work, but we couldn't resist taking time off from berry picking to try the rope swing in Pirate Cove.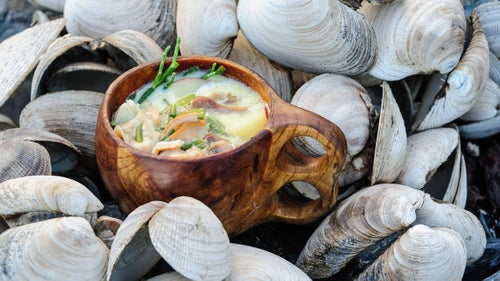 Buried under muddy shores is a tremendous amount of tasty protein in the form of cockles and clams. Unfortunately, due to a paralytic shellfish poisoning alert posted for most of Southeastern Alaska, we were able to harvest only twice, from tested beaches. The result was a yummy clam chowder.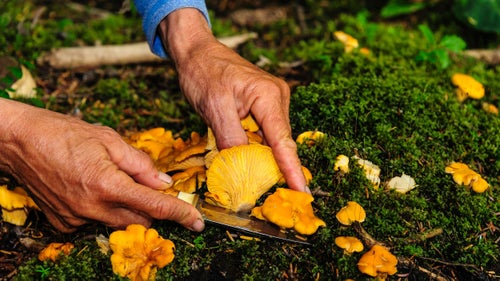 Along with fish and seafood, mounds of wild plants helped keep us fed. In early August, we were delighted to discover a whole hillside covered with chanterelle mushrooms.