Grinduro: A Whole New Kind of Bike Race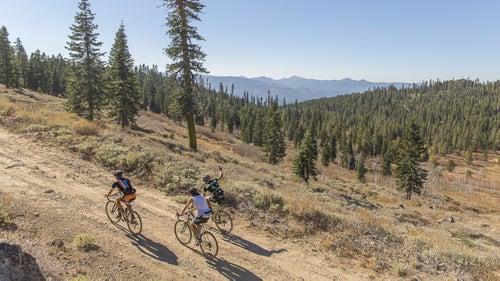 Last Saturday, I lined up with Outside online editor Scott Rosenfield and 369 other riders for Giro's inaugural Grinduro, a 60-mile race-ride hybrid in the mountains above the tiny logging town of Quincy, California (population 1,728). The event combined elements of gravel grinding with enduro-style mountain bike racing: Four timed segments (totaling about 17.5 miles) that count toward our overall result, but during the rest of the race we were free to cruise along at a conversational pace. At least in theory. Combined, the event's two climbs totaled 8,000 feet of vert and 28 miles, with the second monster averaging about 12 percent grade. Survivors were rewarded with beer, live music, food, and festival-style camping at the Quincy fairgrounds, which served as Grinduro's de facto headquarters.
Ultimately, it felt like a big group ride—with some friendly competition sprinkled throughout—more than anything else, with riders stopping to helping each other with flats (frequent) and hanging out over a handful of Doritos (delicious). It was maybe the hardest 60 miles of my life, but it was also really damn fun.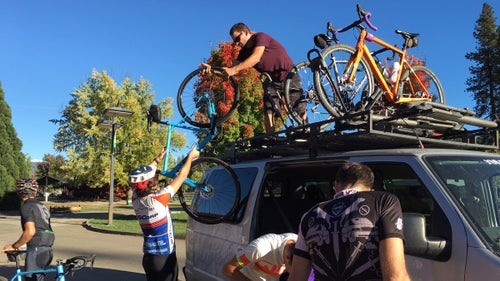 The first (and likely last) shuttle I've taken with drop-bar bikes. Scott (second from the left) and contributing editor Tom Vanderbilt (bottom right) load up their 'cross rigs for a ride to the top of a five-mile singletrack descent (the fourth timed segment) the day before the event.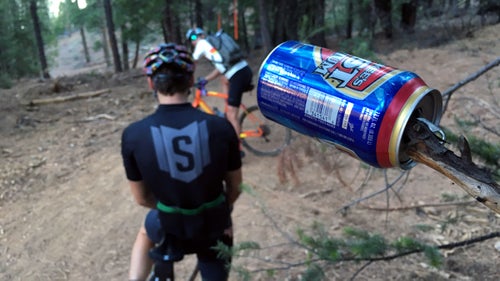 To find our way down the course, we just had to follow the beer cans.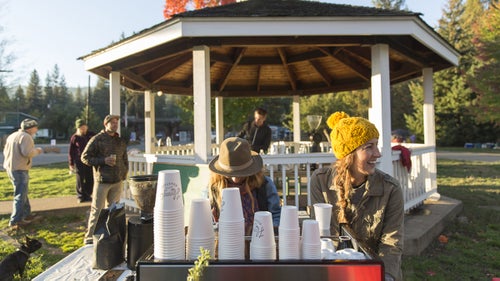 Race morning at the Quincy fairgrounds. Most riders wouldn't have made it to the start line without the much-needed caffeine provided by pop-up coffee shop HoneyCo Coffee Roasters. The cheery baristas made the seven-hour drive from San Luis Obispo to ply aching Grinduro riders with the sweet tonic.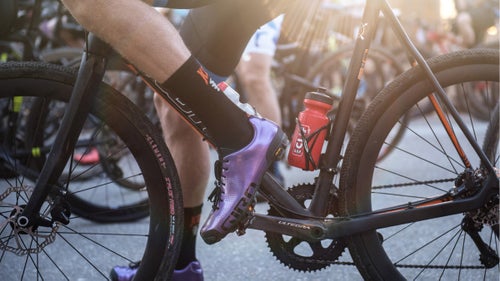 Riders rolled out en masse at 8:00 Saturday morning. They had picked their steeds carefully: Most rode cyclocross bikes with tubeless 38c- to 40c-wide tires. In hindsight, I realize my weapon of choice should have been a super-lightweight hardtail like the Juliana Nevis.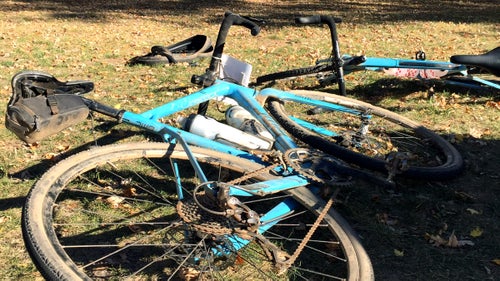 My rig: A BMC Granfondo GF02 Disc with a Shimano 105 grupo, generous 34×32 gearing, and plenty of clearance for wide tires.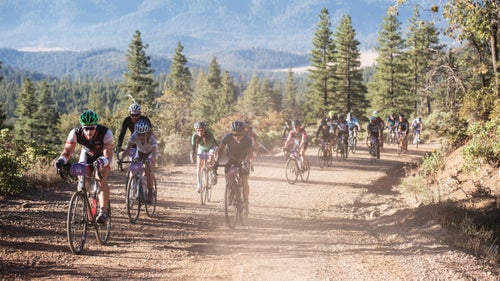 The first climb of the day rocketed to 3,800 feet above Quincy in about 17 miles—all on beautiful gravel roads. Needless to say, the field shattered by the first aid station, but riders still found the time and wind to chat on the way up.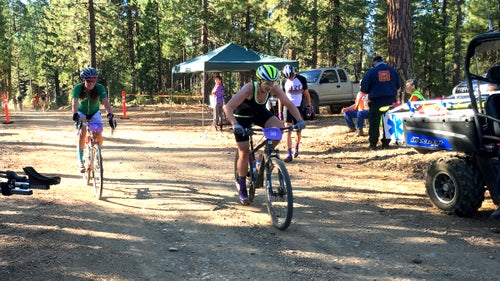 Juliana brand manager Katie Zaffke (right) sprints across the finish line of the first timed segment, a brutal one-mile pitch of the 17-mile climb.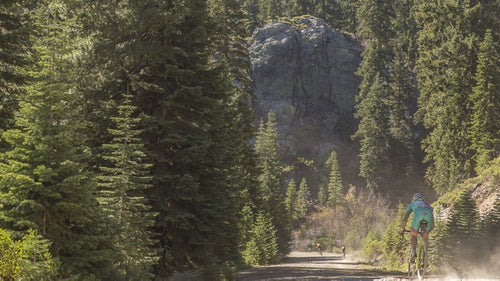 The second timed segment was a fast dirt-road descent, starting at mile 20.1 and ending at mile 26.7.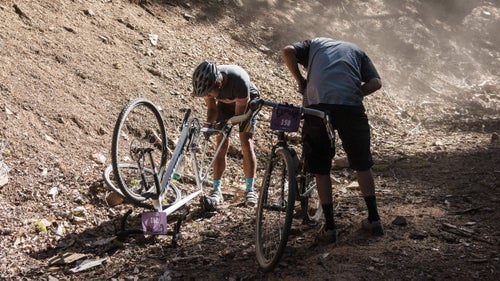 The Sierras are rough. Real rough. Plenty of riders had the spent tubes to prove it. By the end of the day, I'd tallied five flats—more than I've had all season. Riders with tubeless setups proved wise by 5 p.m.