A Guide to the Untold, Beautiful, and Wild Stories of the American West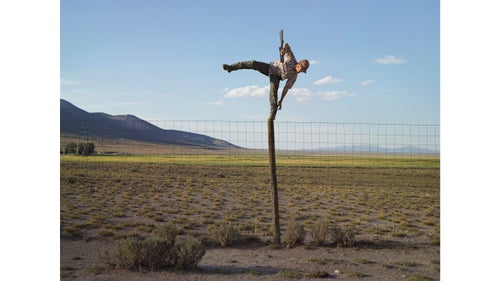 Photographer Lucas Foglia's widely celebrated book, Frontcountry, took him across much of the American West from 2006 to 2013. He captured nearly 60,000 images over that time and narrowed the final selection down to just 60 shots, all of which explored mining and ranching communities and their interaction with the surrounding landscape.
Despite his extensive coverage, Foglia thinks many of the stories he came across are still undercovered. He even included a map in the book as an invitation for other photographers and storytellers to use as a resource. Here, Foglia highlights a few storylines from his book that are far from over.
Photo: Tommy trying to shoot coyotes; Big Springs Ranch, Oasis, Nevada, 2012.
It was Tommy's idea to shoot coyotes from the top of a fence pole. I photographed him the moment before he fell off the pole with a loaded gun.
When I met Tommy in 2012, it was their last year leasing the Big Springs Ranch. I asked why the ranch, which the Stowells were leasing, was called Big Springs, and he told me there's so much water on the ranch that water from one spring is piped 30 miles to taps in the city of Wendover. Newmont Mining Corporation, one of the world's largest gold-mining companies, had recently purchased the 350,000-acre property. Soon after, the company announced the discovery of a multimillion-ounce high-grade gold deposit there, the only significant discovery made in Nevada in the past decade. They renamed the land Long Canyon, and it is currently being developed. Surrounded by desert, Wendover had to find new water.
Coyotes are reputed to destroy livestock, poultry, and crops. They especially like watermelon. In most western states, they can be killed throughout the year with no bag limit. Coyote-killing contests are a popular approach. Hunters win prizes for the size or number killed. But coyotes have proven to be adaptive: despite numerous population control efforts, they continue to roam and colonize most of North America.
The complete Frontcountry book can be purchased here.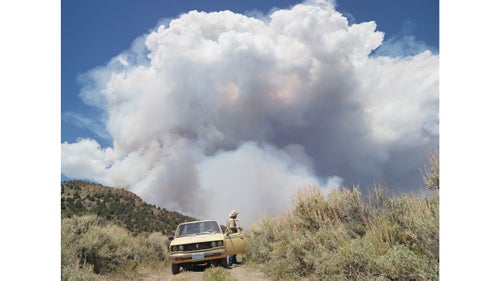 George chasing wildfires; Eureka, Nevada, 2012.
I met George in Diamond Valley, Nevada. He raised cattle for most of his life, but in his retirement, George enjoys chasing forest fires. We drove on dirt roads with dust coming up through the floor of his truck, and then stopped at this hill with fire burning on the other side. He told me very confidently that he had safety provisions. I asked what kind. He said, "I have two bottles of water, a Coke, a candy bar, a shovel, and a handgun."
Wildfires remove underbrush and kill diseases and insects, sparking new growth and allowing established trees to grow stronger. But the frequency of wildfires and the length of the wildfire season have been increasing. Since 1960, only seven years have seen more than 8 million acres burned in the United States, according to National Interagency Fire Center records. All of those years were in the past decade.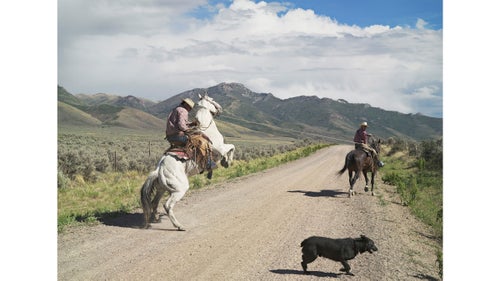 Casey and Rowdy training horses; 71 Ranch, Deeth, Nevada, 2012.
When I first visited the rural West, I expected to find nomadic cowboys on horseback, ghost towns, and wilderness. The image of Casey and Rowdy training horses in some ways comes closest to symbolizing ranching today. The landscape is still iconic, the horse is rearing, but Casey is trying really hard not to fall off. There are still more cows than people in rural Nevada. The areas I photographed between 2006 and 2013 in Nevada, Texas, Wyoming, Idaho, New Mexico, and Montana are some of the least-populated regions in the United States.
Modern ranchers also use all-terrain vehicles, airplanes, or helicopters to round up their livestock. At many ranches, horses have become outdated. The 71 Ranch in Deeth, Nevada, consists of 38,000 acres of semiarid farmland and still employs cowboys to herd cattle on horseback. Here, Casey Higgins trains his horse not to rear when a cow pulls back on the rope.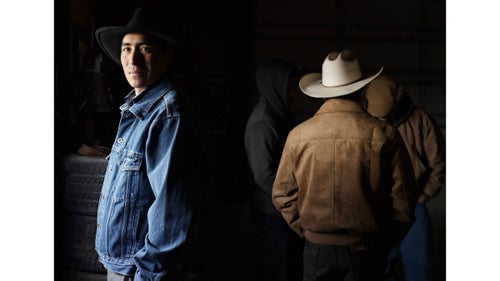 Jaime, ranch hand; Wells, Nevada, 2012.
Many of today's cowboys and sheepherders are guest workers from Chile, Mexico, Bolivia, and Peru. With the H-2A visa, an agricultural employer can bring in foreign workers as long as there are insufficient domestic workers for the job. Cowboys and sheepherders are often sent out to herd their livestock in remote areas without electricity or running water. They work seven days a week and rarely see a town or paved road.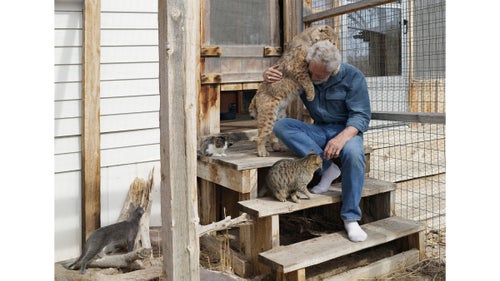 Bob and Ron; Wind River Reservation, Saint Stephens, Wyoming, 2010.
Bob is a bobcat that Ron found on the Wind River Reservation in Wyoming. Ron runs a bison ranch on the grounds of the Saint Stephens Indian Mission within the reservation, which spans 2.2 million acres and is home to Eastern Shoshone and Northern Arapaho people.
In the 1960s, the area was the center of a uranium boom. In the late '70s, the uranium market collapsed. The Western Nuclear Corporation shut down the last mine in 1982. Many residents of nearby towns moved, often trucking their houses away with them, leaving behind rows of foundations with front steps leading nowhere. The landscape is dotted with former open-pit mines, most of them now filled with water.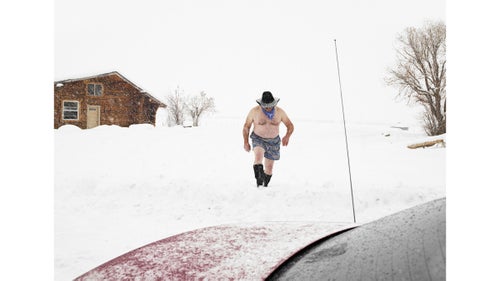 Ron, town historian; Auburn, Wyoming, 2010.
Ron, the official historian of Auburn, Wyoming, was a regular visitor to the town's sulphur hot springs. His friend Kyle Erickson purchased the springs in 2003. The springs are advertised as beneficial to people who suffer from skin conditions and other health problems. "I have seen these waters heal mind, body, and spirit," Kyle says.
Until Mormon pioneers settled the area, members of Shoshone and Blackfoot tribes would camp near the springs in the summer and fall. The town is not yet on the map as a place to stop, although millions of tourists drive by on their way to Yellowstone National Park. The hot springs are currently for sale.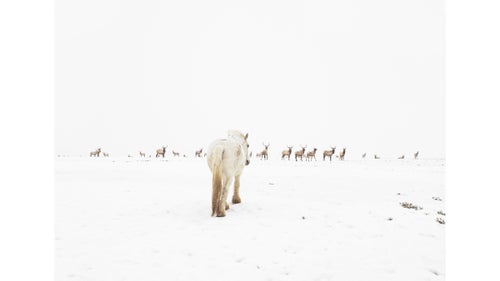 Jewett elk feedground; Merna, Wyoming, 2010.
The Wyoming Game and Fish Department currently manages 22 feedgrounds throughout the state, providing hay to an average of 20,500 wild elk each year. Ranchers want to keep elk out of their hay and pastures during the winter, fearing the wild animals will spread infectious disease and destroy habitat for cattle grazing. Feeding the elk also keeps them from migrating through towns and causing property damage.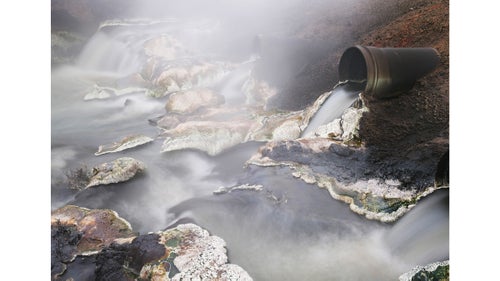 Produced water in the Hamilton Dome Oil Field; Owl Creek, Wyoming, 2013.
In the Wyoming oil fields, companies pull 100 barrels of water from the ground to extract one barrel of oil. With modern technologies like fracking, land that wasn't valuable a few decades ago is now being drilled or mined.
The Hamilton Dome Oil Field is located on the southwestern edge of Wyoming's Big Horn Basin. The water it produces contains salts, oil droplets, treatment chemicals, gases, bacteria, and other living organisms. It's typically trucked to a treatment facility for reuse or pumped into disposal wells deep underground, but at Hamilton Dome Oil Field, the water is discharged into local river systems.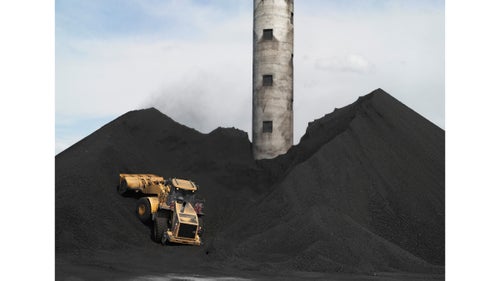 Coal storage at the TS Power Plant; Newmont Mining Corporation, Dunphy, Nevada, 2012.
The TS Power Plant, located on the TS Ranch in Dunphy, Nevada, supplies electricity to the Newmont Mining Corporation to power one of the corporation's gold mines. The ranch uses produced water from the company's nearby gold mine to irrigate alfalfa. That alfalfa hay is then fed to 5,500 commercial cattle.
The nuggets of gold that made the American West famous have been gone from Nevada for generations. It is now profitable to mine gold if there is one-tenth of an ounce of gold dust in 2,000 pounds of rock.
Roger lifting weights; Jonah Natural Gas Field; Boulder, Wyoming, 2010.
Roger is a welder on the Pinedale Anticline and Jonah Field. The presence of natural gas in the area was known for years, but it was not deemed practical to extract with conventional drilling methods. In the 1970s, El Paso Natural Gas Company proposed a project called Wagon Wheel Nuclear Stimulation Project, which was an attempt to detonate nuclear devices to fracture the rock formations and enable natural-gas extraction. The project was abandoned. Today, fracking has made the area one of the most productive in the continental United States.
Roger, a former bodybuilder and U.S. Army Special Forces soldier, regularly lifts weights in the toolshed at work.