Grappling with Mortality in the White Mountains
When a father learns about his chronic heart condition, he decides to take his seven-year-old son backpacking in New Hampshire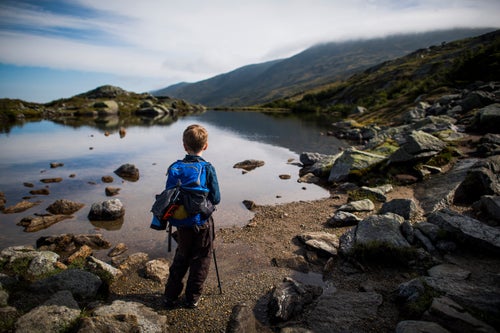 Last year, medical tests revealed that a rare genetic cardiomyopathy is slowly but surely mutating, expanding, and gradually weakening my heart. Though there are no outward symptoms yet, my heart pumps only four-fifths of what it should, and my future health feels less certain. At age 44, the more I thought about my mortality, the more I thought about my desire to live more fully.
Recently, I completed a yearlong class called "A Year to Live" at the New York Zen Center for Contemplative Care. We discussed loss and fear, imagined having a terminal diagnosis, created wills and advance directives, named a health care proxy, reviewed our past, reconciled regrets, and began work on our bucket lists. Having already jumped out of an airplane and played soccer with Buddhist monks in a Himalayan monastery, I knew what I wanted to do with the remaining time allotted to me: Go on a multiday backpacking adventure with my son. What better time to start tackling my bucket list than the present, I thought.
Having grown up doing backpacking and cycling trips in the British Isles, I worried that Harper, my seven-year-old New York City–raised child, would miss the satisfaction that comes from completing those physically and emotionally transformative endeavors. Rainy-day Googling led me to the Presidential Traverse in the White Mountains of New Hampshire. Knowing that Harper was too small to carry his load and that my knees couldn't manage both of ours, discovering the Appalachian Mountain Club's hut system offered the excitement of three consecutive challenging but doable days on a breathtaking stretch of the Appalachian Trail.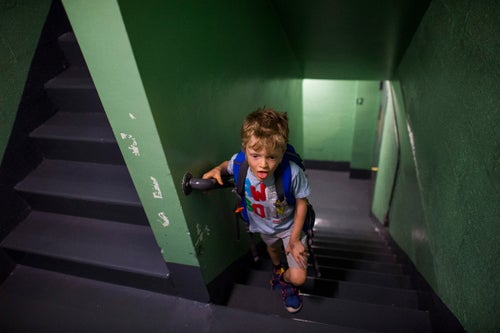 Harper and I began training for our mission by climbing up the claustrophobic, cockroach-infested, concrete stairwell of our 20-story New York co-op. With 40 pounds of photography books in my backpack to mimic my future load, I arrived breathless and sweating on the last step. I reached inside my pocket, pulled out a pack of Pokémon cards, and handed over a shiny new one. Not remotely out of breath, Harper flipped it over and calmly announced, "It has good health." It was a reward—or a bribe, depending on your parenting style. One for each ascent of the 20 flights.
Five cards and approximately 900 feet later, we accomplished just one-fifth of the elevation we would climb on our first day on the trail. The New Hampshire Presidential Range consists of seven main peaks named after former presidents: Mount Pierce (4,310 feet), Mount Eisenhower (4,780 feet), Mount Monroe (5,384 feet), Mount Jefferson (5,712 feet), Mount Adams (5,793 feet), Mount Madison (5,367 feet), and Mount Washington (a whopping 6,288 feet). In total, we'd ascend 9,000 feet.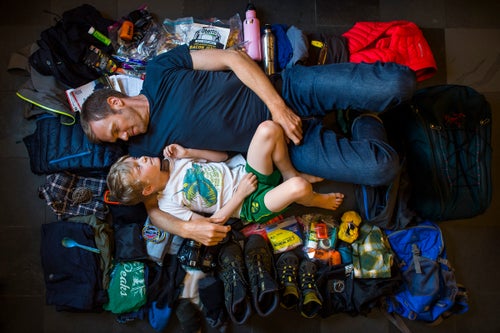 In between cardiology appointments, I started a packing list. As the medical test results trickled in, so did anxious questions: Was this OK to do with my son? Would we be safe? Was I being selfish? Could he handle it, I asked myself. Harper was more vocal about his doubts and resistance. He feared the isolation, the possibility we might see bears, and the fact that I assured him there would be no toy stores in the White Mountains.
On the drive to New Hampshire, we listened to the audiobook of Tuck Everlasting, a philosophical children's novel about immortality, stopping only for gas and ice cream along Route 95. A quote from Natalie Babbitt's story would stay with me over the next four days: "Don't be afraid of death; be afraid of an unlived life. You don't have to live forever, you just have to live."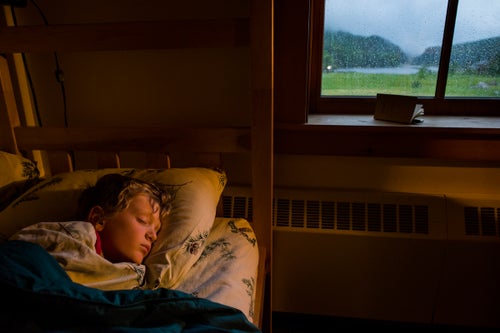 Our first night was spent at the spacious and comfortable Appalachian Mountain Club's Highland Center. I slept terribly. I felt old and tired. On the bunk below, Harper slept like a rock.
A breakfast of fruit, eggs, bacon, potatoes, sausage patties, and several cups of steaming coffee revived me and fortified everyone at the lodge—crucial considering the terrible weather ahead of us. A fellow hiker eyed Harper over breakfast and eventually approached to suggest we take one of the easier trails the area had to offer. But I had prepared meticulously, packing waterproofs, layers, heavy climbing boots, backpacks filled with snacks and safety equipment. I'd also taken a refresher course in map and compass navigation.
As my boy and I started into the woods along the Crawford Path, the oldest continuously used mountain trail in America, I turned on our GPS device, triggering the tracking function that would be keenly monitored over the next three days by Harper's anxious New York–born mother and excited grandparents in England. Harper and I reviewed one more time how to handle the worst-case scenarios. "If I fall," I drilled him, "What do you do?" "I wrap myself up warm," he parroted like I'd had him do many times prior, "cover us both in the emergency blankets, and push the SOS button on the GPS." He was ready for this.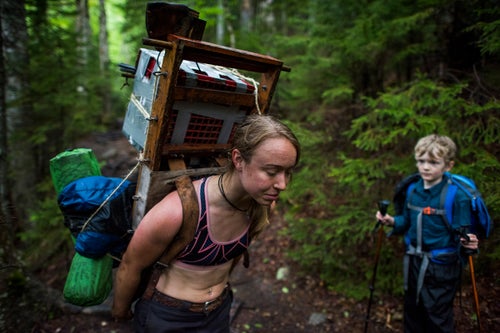 An hour up the soggy path, we crossed a group of trail workers caked in mud and sweat, bearing wooden packs loaded with shovels and helmets. They seemed undaunted by the bad weather. I asked one young woman for her name. "Tuck is my trail name," she answered and moved on, while I stared, remembering the story we'd listened to on the road.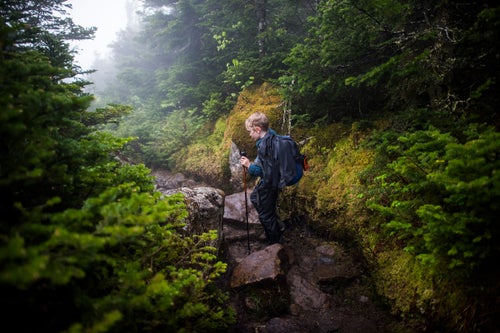 The Presidential Trail is no Everest, but scurrying over boulders and roots still put our stair training to the test. We paused for snacks and replaced the layers we had previously removed in the warmth of the forest. Now in the clouds, the wind packed a punch and the wet was penetrating. We downed beef jerky, water, and trail mix as we continued hiking. Knowing the weather was worsening, I took a firmer tone with Harper and urged him onward.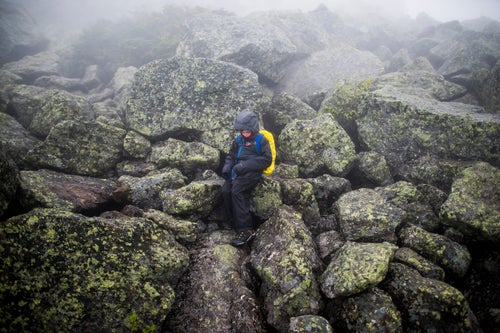 Later on our first day, on Eisenhower, the cold started working on us, pelting winds of more than 40 miles per hour. Our hands froze. Harper started crying.
We stopped, hugged, and I pulled out his down jacket and tucked his hands into its long sleeves. As I dished out an extra helping of Jelly Belly Sports Beans, I saw a small smile appear from under Harper's two hoods.
With thoughts of the hut ahead, we persevered over the boulders of Mount Monroe. Our boots were saturated, our feet rubbed sore, and our packs dug into our shoulders. Experience had taught me that discomfort is part of the territory and will pass, but this was all new for my son, who astonished me by barely making a single complaint as he heaved his body over boulders as high as his chest.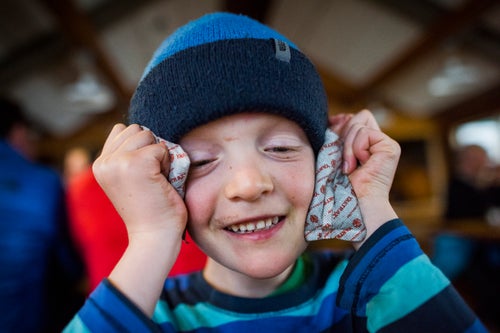 The Lake of the Clouds hut finally appeared through the fog, and without pausing for a photo, we walked inside. Our packs had barely hit the floor before we were digging into cake and gulping steaming hot chocolate. We shared dinner with the hut staff and fellow hikers, and I did my best to dry Harper's boots with toilet paper.
One woman gave my son hand warmers, and he held them to his face as he shrugged off admiration from impressed hikers. He had just faced down his first serious mountain, and in inclement weather. He'd just done what all these adults around him seemed to be so excited about. He'd grappled with an enormous challenge—the type that only climbing a mountain can provide—and now looked flush with comfort and praise.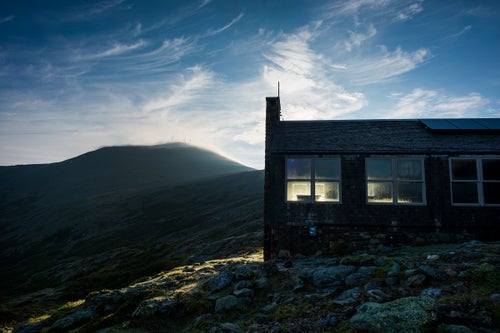 Waking before Harper in the early light of our second day, I hauled my aching body out of the bunk, found my camera, and crept outside. I was greeted by a different world than the one we'd battled the day before. In the rising sunshine, moisture evaporated off wet rocks and a sea of clouds covered the valleys below.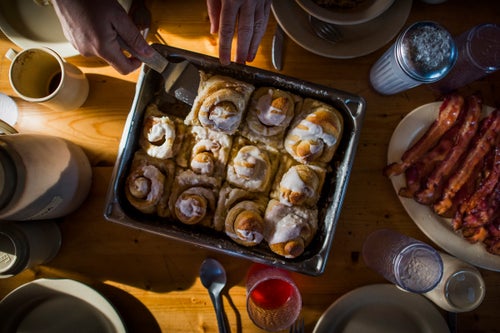 Over breakfast, hut staff delivered the weather conditions like a sermon: Sunny. Unusually hot. Clouds later. Possible thunderstorm, so it'd be best to be below the tree line by 3 or 4 p.m., or, in our case, at the next hut.
We stuffed down breakfast—gooey sticky buns, crispy bacon, and eggs—and returned to the trail.