An Icy Michigan Landscape Becomes Conrad Anker's Playground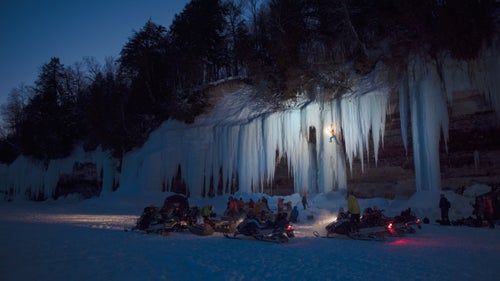 There are grand views aplenty when you're working with adventure filmmaker Greg MacGillivray—his name is practically synonymous with epic nature IMAX films shot in coral reefs or the top of Everest. The director naturally chose the most iconic vistas in America as subjects of his latest film, National Parks Adventure. Photographer Max Lowe starred in the IMAX tribute alongside his father, climber Conrad Anker, and friend, artist Rachel Pohl, traveling to famed spots like Yosemite and Arches National Park. The park he remembers most vividly, though, is less of a household name. Shooting at Pictured Rocks National Lakeshore in Michigan was a highlight of the project, Lowe says, because he had no idea anything like it existed in the national parks system. "It was right out of science fiction," he says. "It seemed like you could walk forever and never see a thing but flat white nothing, and massive, buckled ice seams jutting skyward."
The team flew in a blizzard to the shores of Lake Superior this February to capture the icy landscape, explore its caves, and climb its massive ice pillars. Lowe's shots give a behind-the-scenes look at this hidden midwestern gem of a park.
Photo: Conrad Anker climbs an ice pillar in the fading evening, lit by flood lights, while the production crew stands below. The crew of more than 20 people took snowmobiles over 12 inches of ice to reach some locations. Lowe remembers hearing the lake groaning beneath the surface.
Pohl cross country skis past the East Channel Lighthouse on frozen Lake Superior en route to a shooting location.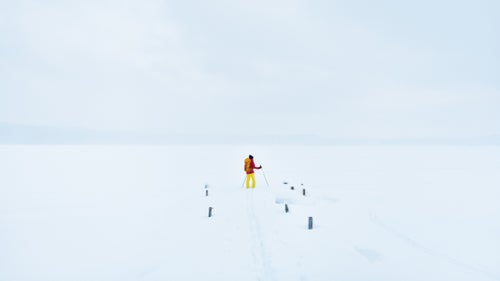 Pohl stands on the dock near the East Channel Lighthouse looking out on a snow covered and frozen Lake Superior. The local guides from the Upper Peninsula, who referred to themselves as UPers (pronounced "yoopers"), assured the team that it's safe to travel on the ice, so long as it's at least 6 iches thick.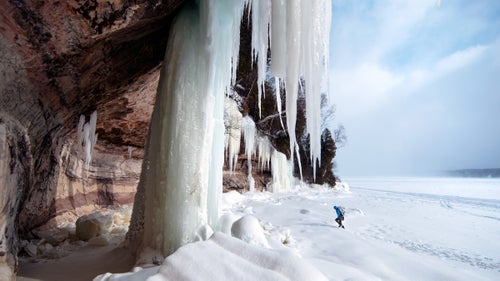 Kyle Rott, one of the climbers who helped to rig during the production, walks up to set a route on a massive ice pillar.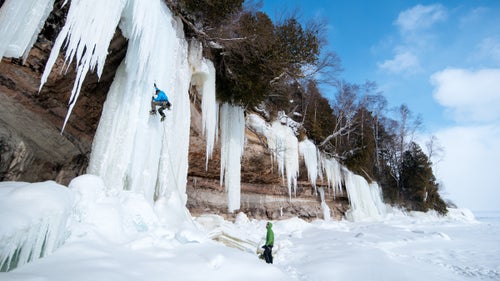 Rott sets a route up one of the pillars of ice.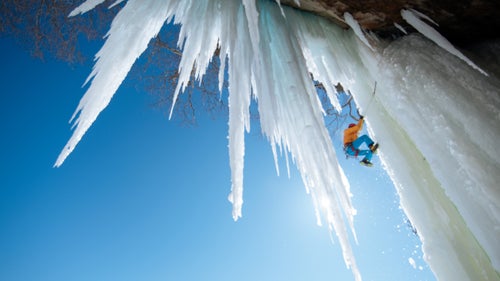 Anker kicks into a pillar of ice outside of one of the main ice caves shot during production.
Jon Jugenheimer, a local ice climber and organizer for the production, sits in what the crew called the Ballroom: a cave covered in tiny icicles, situated on the side of the cliffs.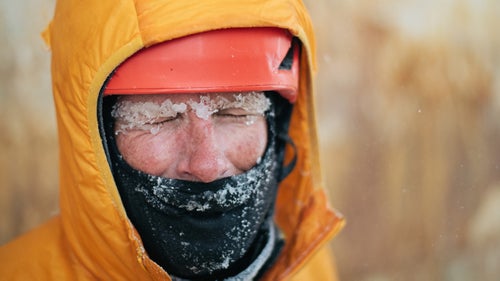 Anker shuts his eyes against the frigid cold they encountered on Lake Superior. With wind chill, the temperatures dipped below minus 60 degrees on several occasions.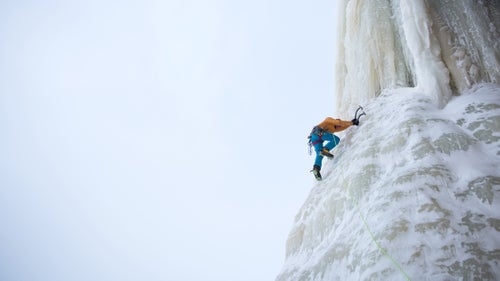 Anker kicks into the base of a large pillar of ice called Dairy Land.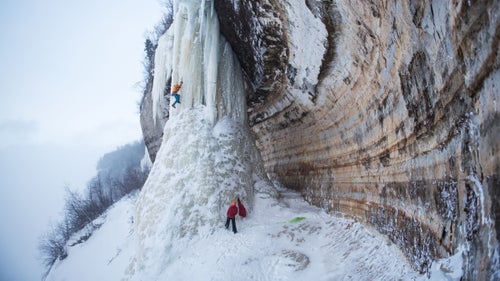 Anker leads up the main pitch of Dairy Land, belayed by friend and fellow climber Ryan Hudson.