Making History on the Dawn Wall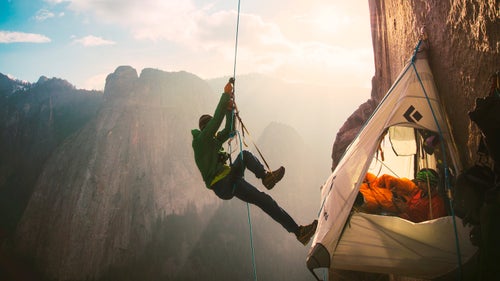 On January 14, as the sun set in Yosemite National Park, Tommy Caldwell and Kevin Jorgeson completed what is arguably the most difficult ascent in the history of rock climbing. The duo remained on the wall for 19 days, climbing 3,000 vertical feet along widely spaced, razor-thin granite holds. Their prize: the first free ascent (using ropes only to catch falls) of El Capitan's Dawn Wall. With cell service throughout their climb and a team of photographers and filmmakers including Corey Rich, Bligh Gillies, and Brett Lowell tagging along, the pair generated a media buzz rarely seen in the climbing world. With athletes this determined, images this good, and a backdrop of one of America's favorite locations, the ingredients add up to history on the Dawn Wall.
Photo: Climbers Tommy Caldwell and Kevin Jorgeson relied on a network of rigged ropes to move from their portaledge camps before tackling the next pitches. Each afternoon, they would leave their camps as the sun would dip around the corner and use mechanical ascenders to position themselves for the night's climbing, when they did much of their ascending.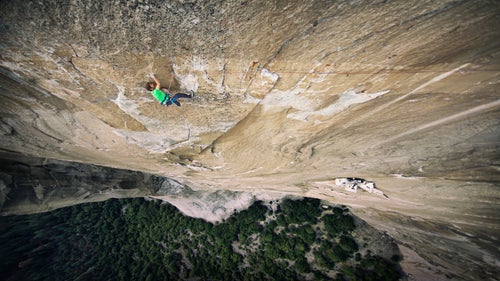 Jorgeson hard at work on Day 8 of the Dawn Wall ascent. The two climbers divided the route into 32 pitches, most of which were vertical. Others were horizontal traverses connecting pitches together.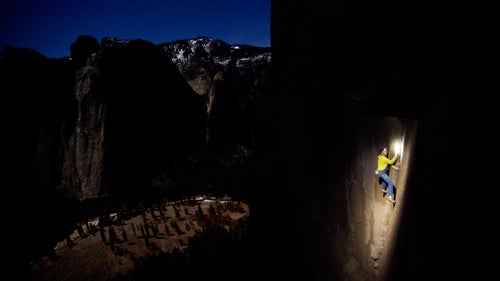 Caldwell climbing the Loop Pitch (5.14a)—his variation of pitch 16—on the Dawn Wall (VI 5.14d), considered the longest, hardest free climb in the world. The duo often climbed at night, when their hands sweated less and their shoes had better grip.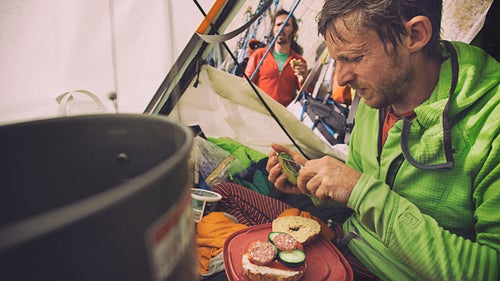 One benefit of climbing El Capitan in January: Food stays fresh much longer with high temperatures in the 50s. The climbers were delivered food on several occasions so they weren't forced to carry two weeks' worth of supplies.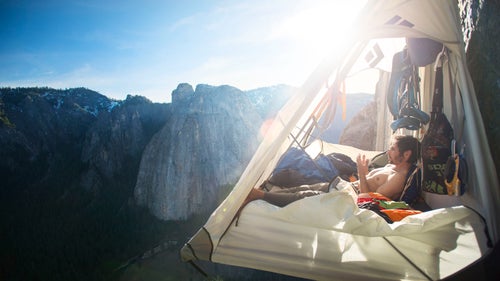 Jorgeson examining his hands just a few days into the climb. The condition of the climbers' hands and fingertips was one of the major variables on the Dawn Wall. Rest days were built into the schedule so their hands and skin could heal between climbs.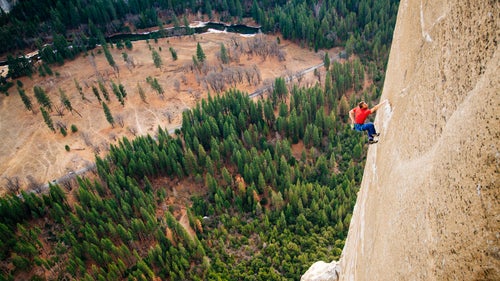 Caldwell climbing on Day 12. The Dawn Wall has been Caldwell's major focus for the better part of a decade. He and Jorgeson spent years training and scouting this ascent after failed attempts in 2010 and 2011.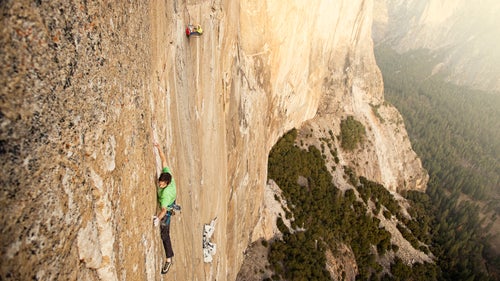 Pitch 15, rated 5.14d, gave Jorgeson the most difficulty during his ascent. It took him seven days and 10 attempts to complete the horizontal traverse as his partner continued upward.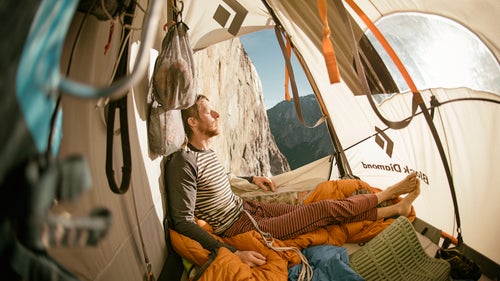 Caldwell rests in his portaledge. The two climbers would spend around 18 hours a day confined to the space inside their suspended tents.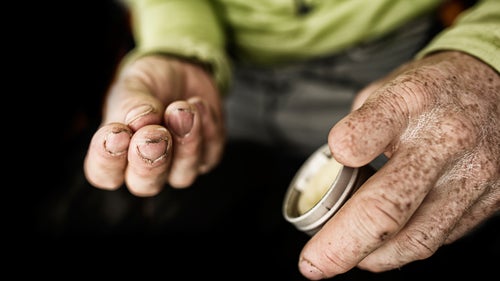 After a day of climbing, Caldwell applies Climb On salve, a blend of beeswax and oils, to his fingers. At night, he would set an alarm to reapply the salve every four hours.
Caldwell lost his left index finger to a table saw in 2001. Doctors tried to reattach the finger, but Caldwell ultimately opted for amputation. It hasn't slowed him down.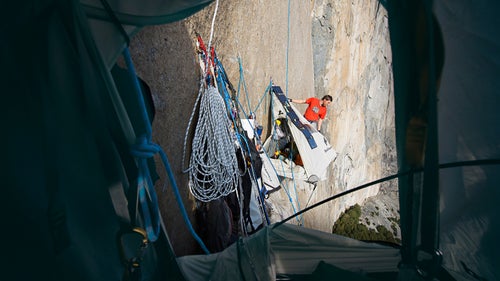 The view from Jorgeson's portaledge camp as Caldwell positions his Goal Zero solar panels to charge his electronic devices. On a big wall, direct sun is bad for rock climbing because it can cause your hands to sweat, shoes to loosen, and affect your grip. But it's great for recharging electronics.