The Dangerous and Beautiful Storms of the Midwest
In the new photo book 'Fierce Beauty,' celebrated photographer Eric Meola chases wild weather across the Great Plains
Eric Meola would be the first to admit that shooting dramatic storms in the Great Plains isn't always glamorous. Horizontal rain hits your face like ice. Baseball-size hail pounds down from the sky. Winds of up to 50 miles per hour threaten to knock you and your tripod to the ground. "You really get a sense of just how unbelievably powerful these storms are," says Meola, a photographer from upstate New York who has driven 900 miles across the country in a single day to capture them on camera. "The reality is fairly grim."
The images, though, are stunning. Meola's decades-long fascination with midwestern superstorms culminated with a photo book, Fierce Beauty: Storms of the Great Plains, published in November. It showcases 105 photographs that Meola took between 1977 and 2019, from the Rio Grande in Texas to quiet country roads in South Dakota.
Meola rose to fame taking portraits of Bruce Springsteen in the seventies (he shot the album cover of Born to Run, among other iconic images). And he took his first storm picture while on a road trip with the Boss in 1977. As the two traversed Nevada one evening, the blue skies suddenly darkened and lightning lit up the world in front of them. Meola snapped a photo; Springsteen took it as inspiration for his hit song "The Promised Land."
In 2011, Meola witnessed a storm destroy the town of Joplin, Missouri, and decided to dedicate a full project to the wild weather and midwestern landscape he'd fallen in love with years ago. "If you put the storms aside, which are very seasonal, the Great Plains are extraordinarily beautiful," he says. "There's something serene about the flatness and openness."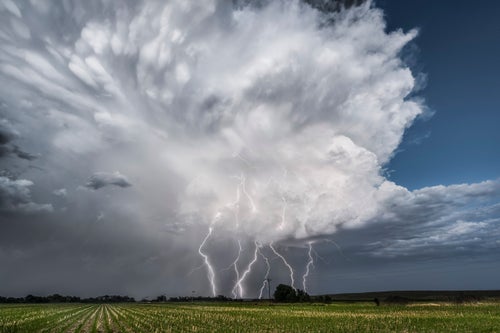 Over a period of an hour, Meola captured six photos of lightning striking over a field in Stamford, Nebraska. He overlaid those shots to create a time-lapse effect in a single image.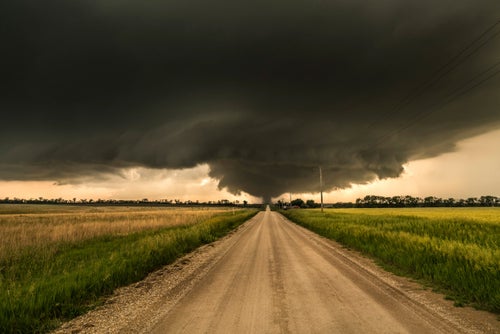 When Meola first spotted this tornado on the right side of a field in Abilene, Kansas, he knew there was a good chance it would eventually line up perfectly with the road—but, being a tornado, it was moving quickly. He would only have one chance to get the perfect shot. "This was one of those things where you check both your cameras to make sure you know beyond any possible doubt that all the settings are right," he says.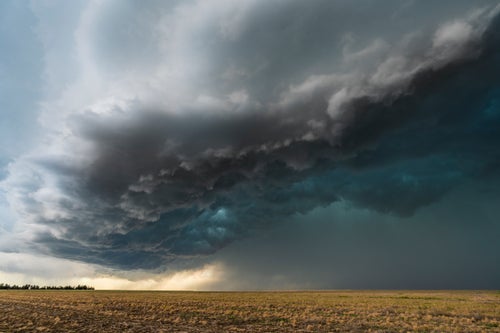 This photo shows the underside of a shelf cloud (a low-hanging, wedge-shaped formation) in Meade, Kansas. Meola says it's challenging to capture an entire shelf cloud in one shot; they're usually so large that they spill out of the frame. This was one of the most spectacular examples he'd ever seen, because it also included what meteorologists call a whale's mouth structure—the cloud appears to open up and envelope the world around it. Meola shot the image while battling against strong winds. It was a stroke of luck to remain standing and capture the massive cloud.
Meola included the quiet field in the foreground of this photo to contrast with the turbulent sky, where a dust storm was colliding with a powerful thunderstorm in Aurora, Nebraska, causing an updraft in the base of the clouds. An updraft is caused early during a storm by air currents, as warm air rises to a level where condensation begins and precipitation develops.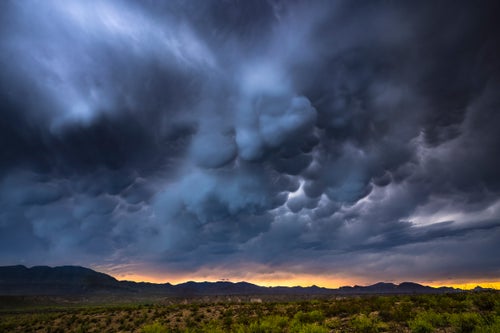 The Great Plains extend into northern Mexico, but Meola doesn't like to cross the border because it takes too much time. He was able to capture this image of mammatus clouds during a sunset over the Chinati Mountains on the U.S. side of the Rio Grande while a storm was dissipating. Mammatus clouds generally hang from the base of cumulonimbus clouds. The word, derived from mamma in Latin, means "udder" or "breast."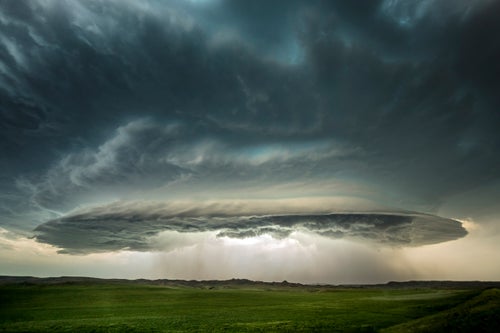 Meola called this supercell storm in Circle, Montana, a "close encounter of the third kind." He says everyone who witnessed it grew quiet as they took in its strangeness and enormity. Supercell storms are characterized by a rotating updraft of moisture, which usually causes tornadoes.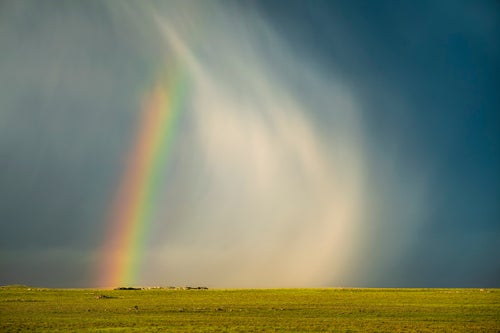 This rainbow in Keota, Colorado, was caused by a hailstorm, which fascinated Meola. The wind also blew the hail in such a way that it created an image akin to a sail in the clouds. This photograph was one of Meola's favorites of the project.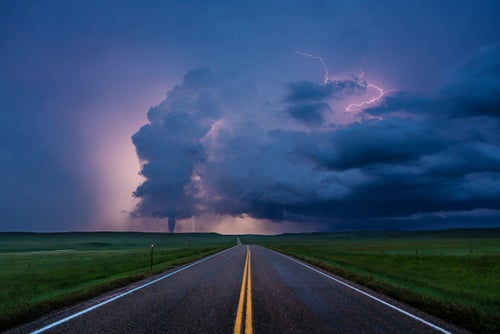 This tornado formed at night and was dangerous for Meola to photograph because it was virtually invisible. Already tired after a day of shooting, Meola simply set up his camera on State Road 20 in Buffalo, South Dakota, and started clicking away. He had no idea that the result would become an epic grand finale for his book. "It was the most unusual thing I've ever photographed," he says.