The Ultimate Joshua Tree National Park Travel Guide
Those iconic bulbous boulders, lucid skies, and namesake trees are mere backdrops to a Californian desert playground filled with jaw-dropping vistas, dynamic hiking trails, and that famous grippy rock. Here's everything you need to know to explore it.
Heading out the door? Read this article on the new Outside+ app available now on iOS devices for members! Download the app.
It's embarrassing to admit, but ten years ago, when I first started going to Joshua Tree National Park, I got lost. I'd been shuffling along, marveling at the sheer magnitude of the fractured monzogranite towers, when I realized that the trail had vanished. I clambered atop the nearest pile of boulders and took stock of the situation: an endless, undulating desert sparkling in the midday heat—and thankfully, a familiar beige ribbon in the not too far distance.
I offer this anecdote not to dissuade a visit, but to say that Joshua Tree is so mesmerizing that it's pretty easy to get turned around out there. It's also pretty damn vast. Originally home to the Cahuilla, Chemehuevi, Mojave, Serrano, and Western Shoshone peoples, the park contains nearly 800,000 acres, more than a third of them designated wilderness, and many of those trail-free, a siren call to anyone who might enjoy a little desert solitaire.
But this is no lonely swath of sand. The whole place is riddled with snaking canyons, hidden oases, and bulbous rocks hosting a variety of wildlife, including bobcats, coyotes, jackrabbits, and the threatened Mojave desert tortoise. In addition, the Southern California park receives nearly three million visitors a year who fan across its dual regions—the more arid and remote Colorado Desert, to the east, and the higher-elevation and more heavily developed Mojave Desert, to the west. The latter is where you'll find the highest concentration of the park's Seussian namesake, which is not a tree at all but a monocot, a flowering plant that's related to yucca.
What You Need to Know Before Visiting Joshua Tree National Park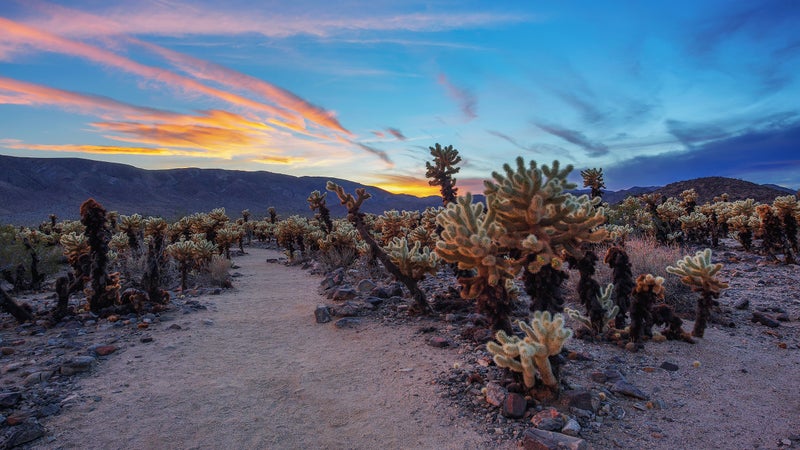 Beware the spiky chollas.
During one of my earliest Joshua Tree hikes, a spindly segment of pencil cholla pierced through the thick rubber of my boot soles. Not long after plucking it out, I accidentally kicked a hefty wad of Teddybear Cholla into my tender calf. This is to say: pay attention to your surroundings. Long sleeves and pants help prevent contact with pointy pests, but the importance of a kit featuring a beefy set of pliers to pry off stems from shoes can't be underestimated.
Prepare to put your navigational skills to the test.
Despite all the thorny traps, my favorite way to experience Joshua Tree is to ramble cross-country; for this, a good map and solid backcountry skills are crucial. Spend a day finding your way to Quail Mountain, the park's high point at 5,814 feet, and nearby Mount Minerva Hoyt, neither of which have developed trails to their summits. The latter is named for a woman who lobbied Franklin D. Roosevelt to designate the area as a national park; while it was first protected as a national monument, Hoyt's wish was granted in 1994, almost 50 years after her death. The peaks are located several miles west of the Hidden Valley Picnic Area as the crow flies; several established off-trail routes exist from the north and the east, so dig into some research and consult a topo map before committing to a plan.
Embrace the golden hours.
Joshua Tree is pure magic during the wee hours. Light pollution is minimal, so the night skies absolutely sparkle. August is a stargazer's delight during the Perseid meteor shower. Set your alarm to catch sunrise the next day. The Cholla Cactus Garden, located on Pinto Basin Road at the park's center, and Keys View (boasting sight lines to the glittering Salton Sea and beyond), farther west at the end of Keys View Road, are especially picturesque at this time.
How to Get There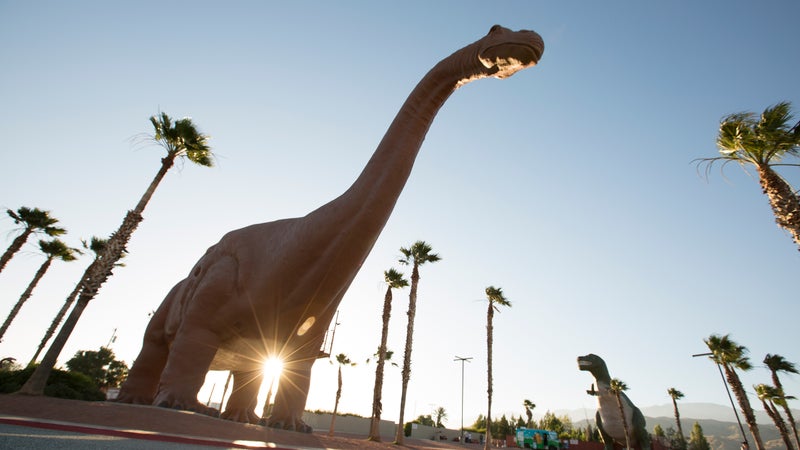 The nearest airport is Palm Springs International, located less than an hour from the park's quiet south entrance off Interstate 10. There's not much in this area besides tumbleweeds and highway traffic, but you'll find Cottonwood Visitor Center seven miles from the park's southern entrance. Its 62-site campground is a less in-demand option than lodging within the park during high season (from the end of August through early June, when it accepts reservations only, from $25), and has several hiking trails. Detour to Lappert's Ice Cream in Palm Desert, 25 minutes southeast of the airport, for a thick date shake to sweeten the drive.
The small but colorful community of Joshua Tree is home to the west entrance and its namesake visitor center, although the park's most popular features are about a 30-minute drive into the park. It's most frequently used by visitors coming from Los Angeles. The two-and-a-half-hour drive from Los Angeles International Airport offers plenty of diversions; it's practically required to stop and snap a photo beside one of the famous Cabazon Dinosaurs—you'll know them when you see them, especially if you're a Pee-wee Herman fan.
The north entrance is located just below the city of Twentynine Palms, known for its Marine Corps base and vibrant public murals. Enjoy the sights, then cool down with a stroll through the shady Oasis of Mara and adjacent visitor center. During high season, use this entrance to avoid long waits, and pay park fees at the visitor center for even faster entry.
What's the Best Time of Year to Visit Joshua Tree?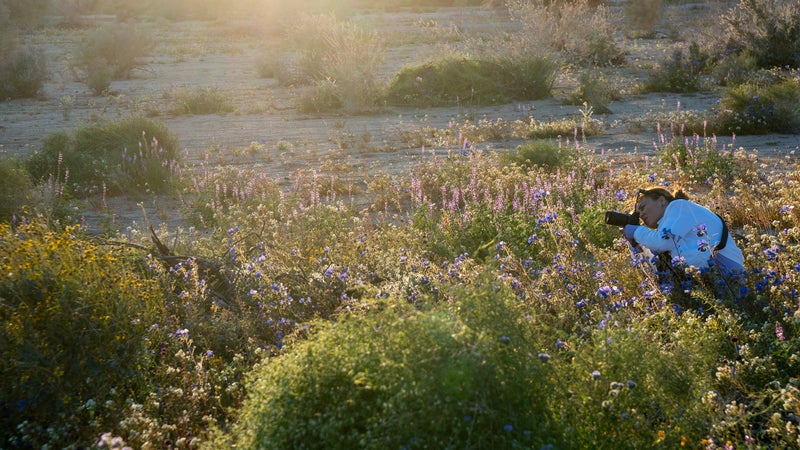 While hearty locals and curious visitors cruise the park year-round (even during its sultry summer season, when temperatures often hit 100 degrees), crowds swell in the more temperate fall and spring months, which maintain a range of 50 to 85 degrees, dipping only during the harshest winter conditions, when it can get as low as 35 degrees.
Fall
Prime time begins in October, when temperatures downshift from summer's triple-digit highs and visitors begin to pour in. You'll likely have to jockey for parking at most established trailheads, so arrive early in the day. Campgrounds also fill up quickly, at least over the weekends, so have a backup plan—say, camping outside the park or springing for a hotel room—if you're rolling up without a reservation.
Winter
The months of December and January are mercurial: one day you're playing lizard on a sunny rock, and the next you're swaddled in a pile of down. Layers are key. Biting winds, rainstorms, and snow showers aren't uncommon, but the upside for those prepared for the finicky elements is that cold temperatures and precipitation keep the shoulder season's larger crowds at bay (though you won't be completely alone on trails or at camp).
Spring
Thanks to abundant wildflowers and mild temperatures, spring is the most popular season in Joshua Tree. Joshua trees begin sprouting their creamy blossoms in February, and bright splotches from blooming cacti and wildflowers—including the desert lily, sand verbena, and ocotillo—dot the desert floor through April.
Summer
A visit between May and September grants more solitude but not without significant cost: temperatures often top 100 degrees. Come prepared with ample water, protective clothing, and perhaps even an umbrella or shade structure for your campsite. And take it easy—heat-related illnesses are common and sometimes prove fatal.
Where to Stay in Joshua Tree National Park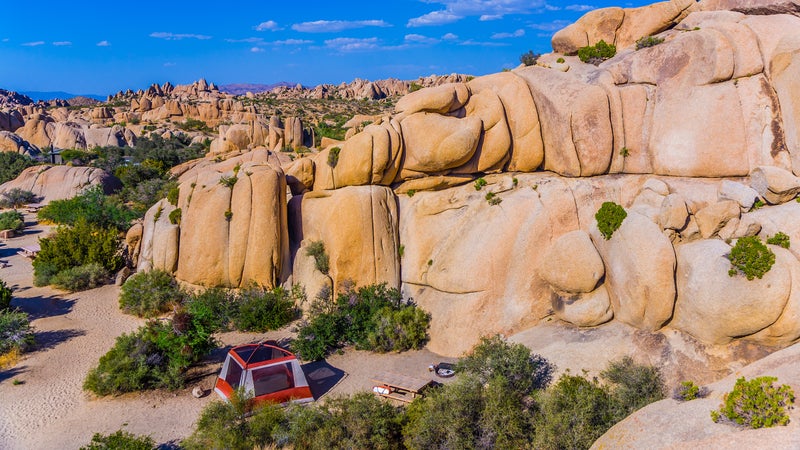 In the Park
Snagging a campsite in Joshua Tree is a competitive sport during peak seasons; no day of the week is easy, though the odds improve midweek. The Indian Cove, Black Rock, Jumbo Rocks, Ryan, and Cottonwood Campgrounds (from $20) are reservable; Hidden Valley, Belle, and White Tank are first-come, first-served (and some, including Belle and Ryan, with the latter two closed during the summer (from $15). My favorite of these is White Tank, a small and somewhat remote campground that's a 20-minute drive from the park's Twentynine Palms entrance on Pinto Basin Road. From camp, it's a short walk along a half-mile nature trail to find excellent sunrise views at nearby Arch Rock. Dirtbags frequent the more centrally located Hidden Valley Campground for its proximity to primo climbing at massive Intersection Rock. Expect to make friends if you have climbing gear lying around.
Beyond the Park
If you strike out in the park, there's Joshua Tree Lake RV and Campground (from $15), about 20 minutes north of the main entrance. It's an affordable option that lacks the park's iconic boulder piles but makes up for it with a small, serene fishing lake. Alternatively, you can set up on a checkerboard of BLM parcels scattered just below the southern entrance, off of Cottonwood Springs Road and Interstate 10. For less sandy digs, book a room at the charming Joshua Tree Inn (from $138), or bunk down in one of ten themed rentals at Hicksville Trailer Palace (from $115), something of a summer camp for adults thanks to amenities that include an archery range, Ping-Pong table, and mini-golf course. Both are a ten-minute drive from the park's west entrance. Twentynine Palms boasts far more lodging. The 29 Palms Inn (from $140) is one of its most unique, with lush landscaping, rustic cabins, colorful adobes, and an organic garden that's harvested for an on-site restaurant. And Instagrammable Airbnb rentals abound along Highway 62, from rustic desert cabins to geodesic dome houses.
The Best Adventures in Joshua Tree National Park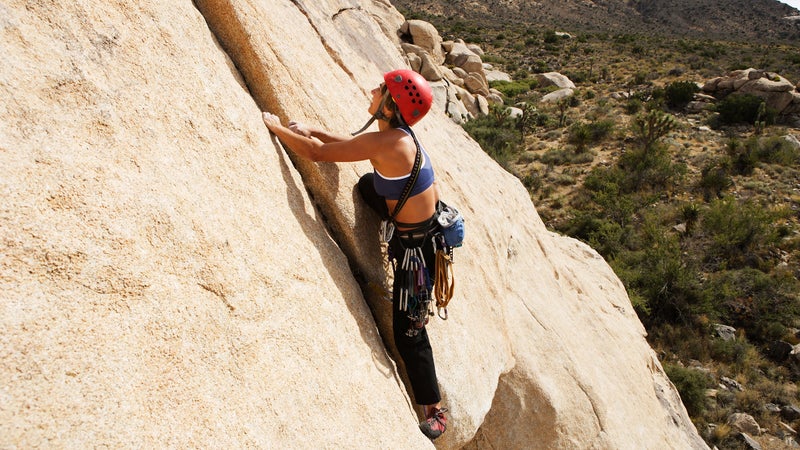 While driving around to ogle Joshua Tree's iconic rock formations is a noble pursuit in itself, this playful landscape is best experienced on foot. Be sure to pack in all the water you'll need, because there's very little available in the park beyond at the visitor centers and Black Rock Campground. And download any maps or apps ahead of time as cell service is effectively nonexistent.
Hiking
The one-mile loop around Barker Dam, located off its namesake road in the north side of the park, is a family-friendly option that passes one of Joshua Tree's few watering holes, a pond that nurtures plant life and rises during winter rains, which makes it one of the best sites to view migrating birds. At the dam site, look for an inscription in the concrete and a spiral-shaped trough below, remnants of the area's cattle-ranching history. Farther ahead, an obvious turnoff leads to a cave decorated with petroglyphs.
Ten minutes south, on Park Boulevard, the popular three-mile out-and-back hike to Ryan Mountain leads to can't-miss views of the park's western half, including the massive boulder piles that form the Wonderland of Rocks. For more solitude, depart from Black Rock Campground on the park's quieter western edge for a 6.3-mile out-and-back hike to the summit of Warren Peak, a craggy promontory that offers front-row views of two SoCal gems—San Gorgonio Mountain and Mount San Jacinto, often snowcapped from fall through spring.
Of course, no Joshua Tree experience is complete without a trip through its gold-loving past. The moderately difficult 6.5-mile loop to Lost Horse Mine, located off Keys View Road, features the well-preserved remnants of a successful mine that generated the modern equivalent of $5 million worth of gold and silver ore during its heyday as well as expansive vistas across the park's southernmost reaches. For a longer alternative, set up a car shuttle to day-hike or backpack the 16-mile roundtrip Boy Scout Trail, which skirts the impressive Wonderland of Rocks and offers a side trip just over a mile from its southern terminus to visit Willow Hole, a seasonal water source and wildlife draw that rings its famed tree.
Climbing
The rock here is world-famous—and famously sandbagged—so check your ego before chalking up. Winter and spring offer the grippiest rock, but that iconic grit will also chew the flesh right off your fingers, so pack plenty of tape and antibiotic ointment.
While it doesn't have much to offer sport climbers, the park boasts thousands of slabby boulder problems and crack-laden trad routes spread far and wide. A bike, car, or opposable thumb is necessary to get around. The Hidden Valley area is popular, due to its proximity to its namesake campground, but no matter where you climb, bring plenty of sun protection, approach shoes, and a level head. Runouts are common, as are surprisingly spicy walk-offs.
Robert Miramontes's Joshua Tree Bouldering is the book to carry if you're dragging a crash pad. Joshua Tree Outfitters rents well-worn copies. For more hands-on instruction, consider taking a class or springing for a private guide from Vertical Adventures. You can also snag beta from rangers and fellow dirtbags at the Climbers Coffee sessions offered weekend mornings at Hidden Valley Campground during the high season.
Horseback Riding
While riding across an exposed, waterless desert isn't for everyone, well-prepared equestrians (including those who hire the knowledgeable guides at Knob Hill Ranch, from $135 for 90 minutes) will be able to access over 250 miles of …horse-friendly paths, including a 37-mile chunk of the much larger California Riding and Hiking Trail, which stretches from Black Rock Campground in the park's northwest corner to its north entrance near Twentynine Palms.
Bird-Watching
Pack your binoculars, bird nerds. Thanks to its location along the famous Pacific Flyway migration route, the park hosts over 250 species of songbirds, waterbirds, and raptors. Year-round, you'll likely spot quail, roadrunners, egrets, osprey, red-tailed hawks, and bald eagles. But visit in spring for max avian stoke.
Cycling
While singletrack is off-limits, bikes are allowed on all of Joshua Tree's public roads. Stick to the dirt roads for more solitude and adventure. Queen Valley Road, which begins just south of the Barker Dam Trailhead, is a relatively chill cruise that leads to the trailhead for Desert Queen Mine. Lock your bike at the trailhead and hike in 1.5 miles to view the remains of historic stone buildings and mining equipment. Farther west, climb some 400 feet on remote Eureka Peak Road to reach its eponymous summit and excellent views. Check in with the folks at Joshua Tree Bicycle Shop for additional recommendations and rentals.
Where to Eat and Drink Around Joshua Tree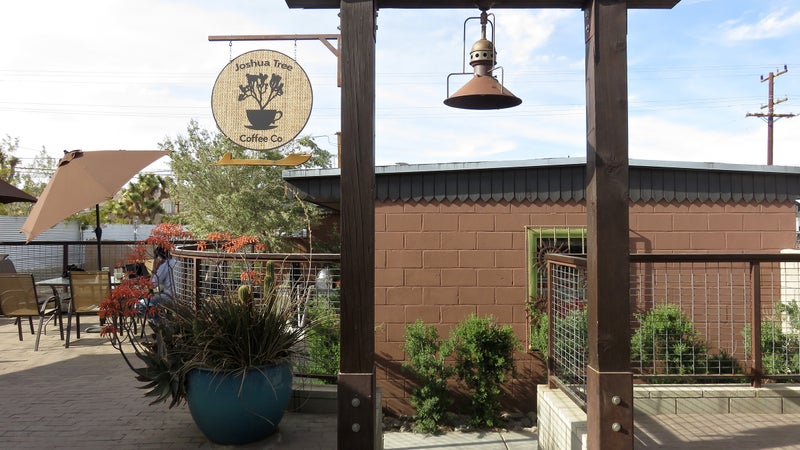 The community of Joshua Tree, ten minutes north of the park's west entrance, is small but mighty when it comes to eats; plus, everything is within walking distance of the town's sole stoplight. I've spent more mornings than I can count hunched over a strong cup of joe (roasted by Joshua Tree Coffee Company; snag an excellent bag of beans at their storefront across the road) and a plate of salsa-slathered eggs and polenta at Crossroads Café.
For lunch I pull up a stool (and order a pint), then sink into a portobello burger at the Joshua Tree Saloon. For lighter fare, it's over to the Natural Sisters Café for a smoothie. On the rare occasion I'm not scarfing dinner by headlamp, I head straight to Sam's Fine Indian Cuisine and Pizza (these multitasking entrepreneurs also own a convenience store next door) for a belly full of curry.
Twentynine Palms offers a more expansive selection of eateries, including fast-food joints you won't find in the town of Joshua Tree. Skip those in favor of Kitchen in the Desert, a cozy and creative eatery with Caribbean-inspired food located on Mesquite Avenue; it's also a great place to hammer away at your keyboard if the need should arise. You don't need to be a guest to enjoy an evening at the 29 Palms Inn; grab a seat at the poolside bar and restaurant for cocktails and upscale comfort food, much of it crafted from its on-site garden.
If You Have Time for a Detour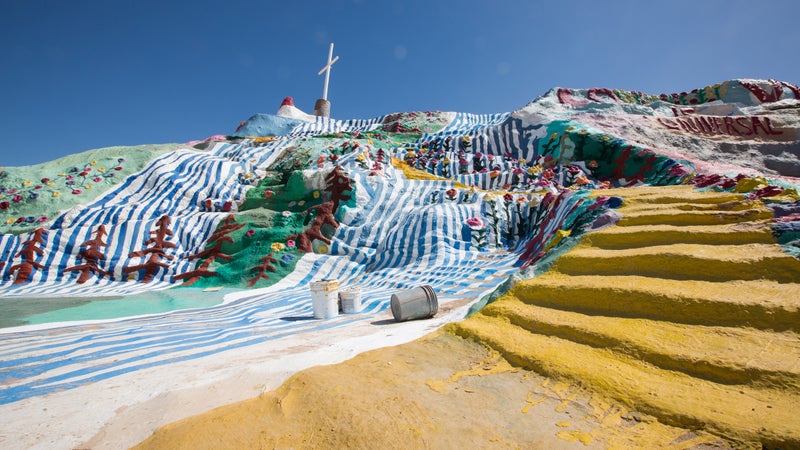 South Entrance
If entering from the south, it's worth the mileage to drop 30 minutes down to the Salton Sea, a highly saline (and rapidly disappearing) lake formed accidentally at the turn of the 20th century when the Colorado River flooded an existing irrigation system. There's a visitor center and campground on its north shore at the Salton Sea State Recreation Area, which offers great bird-watching, with several hundred species of feathered friends making their way through on their winter migrations. Forty minutes southeast of here sits Salvation Mountain, a vibrant folk-art installation with religious overtones and pop-culture connotations. The site served as a backdrop for a memorable scene in the film adaptation of Into the Wild.
West Entrance
The long stretch of Highway 62 between Morongo Valley and Twentynine Palms offers plenty of diversions and deserves at least a full day of your itinerary. Heading east, begin with a saunter around the lush Big Morongo Canyon Preserve, a major stopover on the Pacific Flyway and part of the Sand to Snow National Monument, to enjoy the very rare sight of desert wetlands. From there, drive ten minutes to caffeinate at Yucca Valley's rustic Frontier Café, then veer north a few minutes more to sit a spell at the rustic Pappy and Harriet's Pioneertown Palace, equal parts dive bar, BBQ joint, and world-class music venue (I highly recommend making dinner reservations and scoring show tickets as its outdoor stage is unforgettable, no matter who's playing). Farther north, in tiny Landers, make an appointment well ahead of time to align your chakras to the dulcet tones of a sound bath at the Integratron (from $50), a domed structure that sits on a geomagnetic vortex in the Mojave Desert. Closer to the park's Joshua Tree entrance, trace a series of dusty roads to arrive at the Noah Purifoy Desert Art Museum of Assemblage Art (free of charge, open sunrise to sunset), an immersive homage to its namesake creator, who used discarded materials to concoct fantastical sculptures.
How to Be Conscious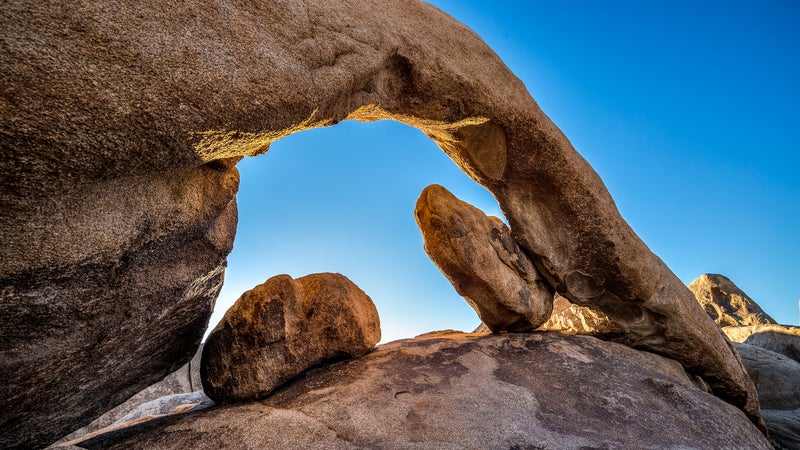 Judging from the news coverage of vandals running amok, you'd think Joshua Tree was overrun with trash and criminals. While some damage has occurred over the years, the impacts were mitigated by local groups, including Friends of Joshua Tree and the Mojave Desert Land Trust, which take stewardship seriously, and aside from occasional sprays of graffiti, most visitors do as well.
The park's ecosystems are fragile, so enter with a spirit of respect, and research seasonal restrictions. If you venture off-trail, take care to avoid trampling cryptobiotic soil underfoot. This dark and delicate crust, which traps rainfall and provides structural stability, is comprised of living organisms and can take years to rebuild once crushed.
In more well-traveled areas, look out for climbing and overnight-camping restrictions, which are frequently enacted to protect nesting raptors and desert bighorn sheep as well as allow wildlife unfettered access to precious water resources. On the subject of climbing: any bolting, even the replacement of existing hardware, requires permits, and power drills are not allowed in the wilderness. The place is packed with traces of human history—petroglyphs, pictographs, shelters, mines, mills, and beyond, which endure damage over time just from human touch.
---
Editor's Note: We frequently update this National Parks guide, which was originally published on Oct 28, 2019.
Lead Photo: Sasha • Stories/Unsplash