The New Hut Trip: Durango to Moab on Mountain Bikes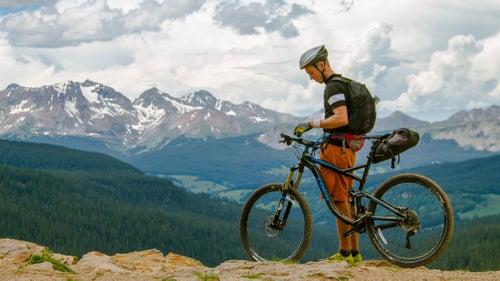 Riding from Durango to Moab on a mountain bike isn't easy: you cover around 215-miles, climbing 3,500 feet a day, some of it probably during a lightning storm or through thick mud, with temperatures ranging from forty to 115 degrees and plenty of route-finding involved. But, as I learned on a July trip with my girlfriend, it's also a lot of fun: you start in one of the best mountain towns in America (Steamworks Brewing Company and El Moro Tavern would stand out in much larger cities) and end up in a desert oasis (the burgers and milkshakes at Milt's Stop & Eat are worth the ride alone) after a world-class 7,500-foot descent on the Kokopelli and Porcupine Rim Trails. In seven days, you traverse alpine terrain, desert slickrock and canyon country, sleeping in simple but comfortable shelters with bunk beds, sleeping bags, beer and bacon supplied. (Bring your own cannabis from Durango.) This experience is what the San Juan Huts people have offered to a few hundred hardy riders each summer—around 350 this year—since 1988. All you need to carry between each hut is water (a lot of it), extra socks and a few tools. Oh, and chamois cream. Whatever else you do, we learned, don't skimp on that.
Photo: The best view on day one (pictured above) comes at the end, less than a mile from the hut, at Bolam Pass. The valley below is happily devoid of humanity. As with most of the rest of the trip, there's no cell service here. We just found a dog, a few guys on four-wheelers and a trio of thru-bikers talking shop.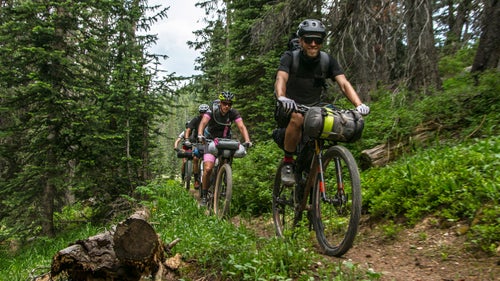 There are multiple singletrack options each day, for those who want to deviate from forest service roads. (Highly recommended.) All riders are provided with turn-by-turn directions as well as GPS tracks. If you don't pay attention, you'll probably get lost. Keep your GPS (and other devices) charged with a portable solar charger.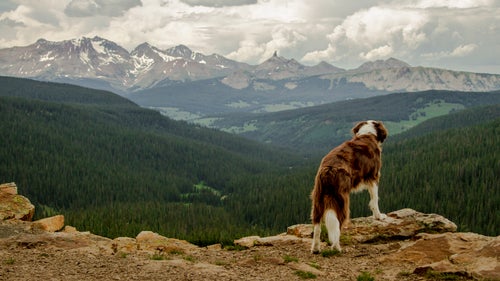 Above the dog's head and to the left is Lizard Head Peak, seen from Bolam Pass, pointing into the sky. At one time, it was considered the hardest climb in Colorado, with a 500-foot vertical pillar problem at its peak.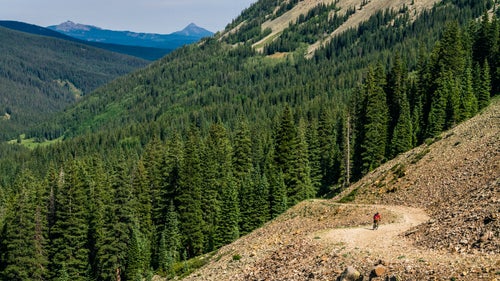 Quickly descending from Bolam Pass on day two. You'll encounter every kind of road on the ride: from deeply rutted and apparently decommissioned, to steep and loose, to sunbaked mud and recently raked gravel. Keep an eye out for occasional vehicles on the doubletrack.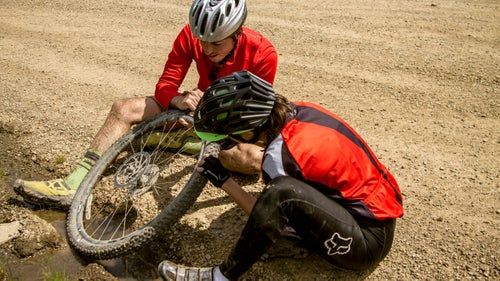 Bring tools (patch kit, extra tubes, chain breaker, multi-tool) and know how to use them. You won't be passing bike shops and fellow riders with mechanic skills will be scarce and possibly unhelpful. Fortunately, a flat on day three was the worst mechanical problem we encountered.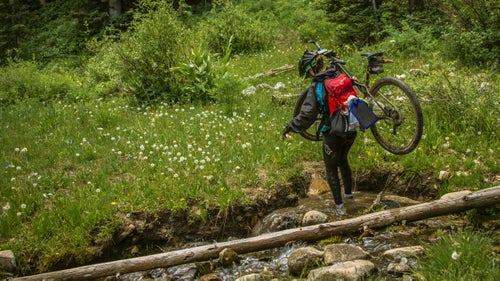 The only other thru-biker riding on our schedule was a Brazilian in her thirties, living in Minneapolis, who was handy with a hex wrench and rolling papers.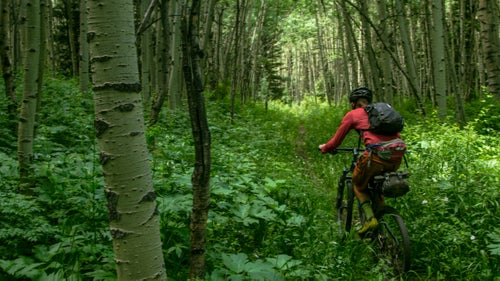 Goat Creek trail, on day three, is some of the single track worth trying. Winding through young Aspen groves and over creeks, it occasionally crosses into "bike-whacking" territory. And a "Hey Bear" chorus felt necessary.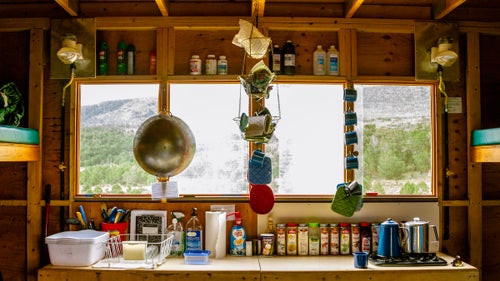 Dry Creek Basin Hut, on day three, looks out on the southwestern Colorado mesa. Every hut's stovetop view makes getting involved with dinner prep worth it. From a giant wok to Ginsu knives, pretty much everything you need to cook is here. If you're lucky, you'll end up sharing a hut with a backcountry chef.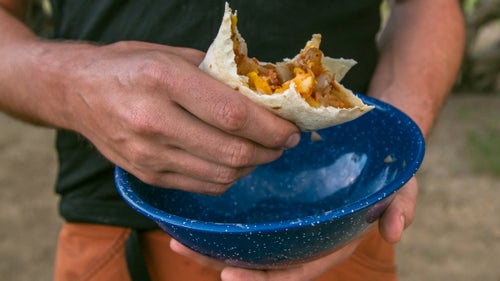 Both shelf-stable (candy bars, canned food, a dozen spices) and fresh foods (bacon, cheese, veggies) fill the huts shelves and coolers. Burritos are an easy-to-pack meal, which we made often. Preferred variety: bacon, fried potatoes, sautéed onion, cheddar cheese and Cholula hot sauce.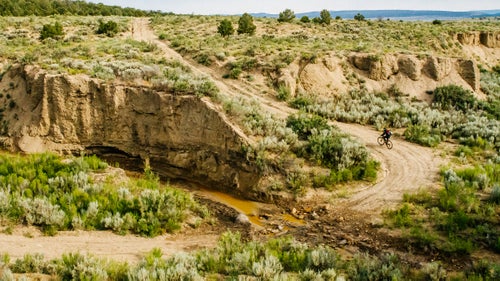 Crossing a deep gully wash on day four, heading out of Dry Creek Basin.