An Ode to the Most Underrated Winter Sport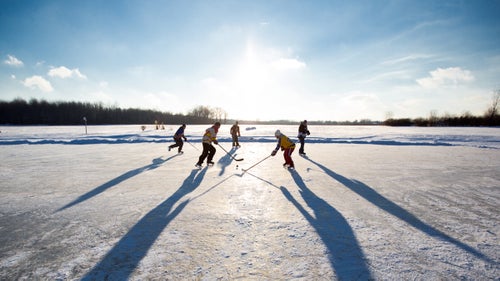 When the temperature drops, hardcore hockey players around the world leave behind climate-controlled rinks and return to the frozen ponds where the sport was born. Northland Films created an award-winning ode to these hallowed grounds in the 2008 documentary 'Pond Hockey'. Earlier this month, the Great Lakes-based production company released a follow-up photo book called 'Pond Hockey: Frozen Moments'. The 128-page anthology includes shots by photographers based everywhere from Denali to Helsinki, a testament to the sport's global popularity—and a reminder that hockey still shines away from the bright lights of today's rinks.
"There's just something to being outside and playing with your friends that you can't beat," says Tommy Haines, co-partner of Northland Films. "The speed and the wind and being surrounded by mountains—we wanted to celebrate that."
Photo: The majority of shots in the book came from Nicholas Wynia, a freelance photographer based in Iowa City. Wynia spent three and a half weeks driving 6,000 miles through Canada, up the East Coast, and back along the Great Lakes—in a rental Nissan Maxima without snow tires, no less. While he drove, the Northland Films team was back in Iowa City, scouring Facebook for local pond hockey teams and rinks. On Acorn Pond in Fredonia, New York, 50 miles outside of Buffalo, Wynia met a team of middle-aged chargers who still travel to local pond hockey tournaments in their beloved ramshackle RV.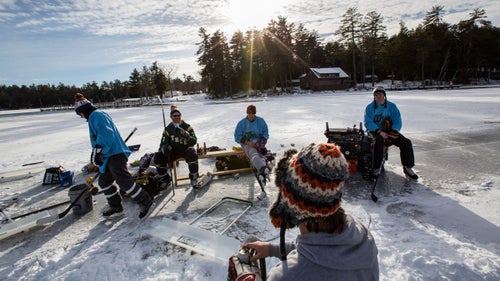 Scott Crowder (grey sweatshirt), the son of former Boston Bruins player Bruce Crowder, founded the Pond Hockey Classic, a series of tournaments held across the country, from Kalispell, Montana, to New York City. This game in Meredith, New Hampshire, kicked off with beers on the ice, but most of the crew has played competitively, and the heckling started as soon as the puck dropped.
Players take a break in a warming house. These teenagers were in Winchester, Ontario, as part of a hockey exchange program, since they have aspirations to play professionally. "They were like heroes to the little kids out on the ice," says Wynia.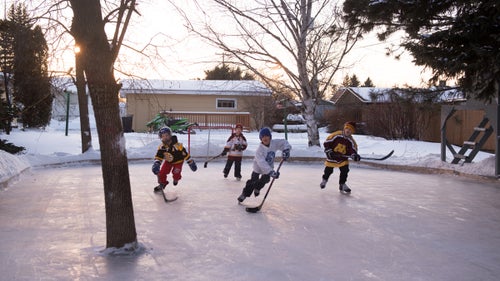 David Greedy caught the Dahl family from Mountain Iron, Minnesota playing in a backyard rink, complete with an extra obstacle. "Obviously they didn't mind playing around the tree in the middle," says Haines, who grew up with the Dahls. "It helps your hockey skills to keep your head up."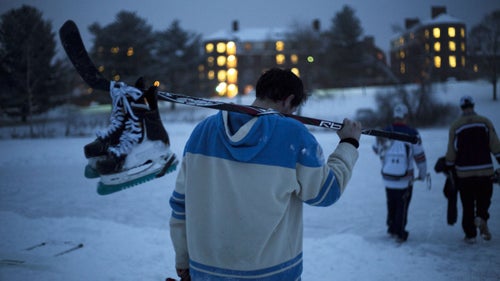 Wynia stopped by Colby College in Waterville, Maine, to capture the school's unofficial hockey scene, where, when rink time is scarce, club players practice on Johnson's Pond. Wynia never joined the games he photographed, but he didn't escape unchecked. "I tried to stay out of the way and only got hit a couple of times," he says. "I just scooted off the edge and pretended like it didn't hurt."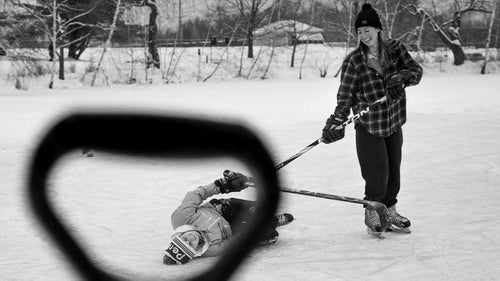 Two Colby students are shown through the handle of a shovel used to clear the ice. Though the game was competitive, the atmosphere was decidedly lighthearted. "The whole point was to balance the teams and just try to get the level of the game as high as possible," Wynia says. "It seemed to be a battle against winter—getting your heart rate up on a freezing afternoon—more than anything."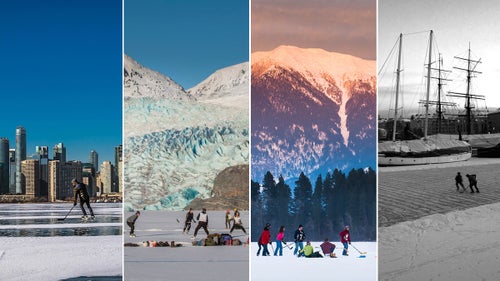 Photographers from all over the world contributed shots of pond hockey moments set against impressive landscapes. A few examples, from left: Rob Nelson captured a player skating across Toronto's inner harbor. Ron Gile photographed players passing the puck around below Mendenhall Glacier in Juneau, Alaska. Heidi Long captured a group of local kids playing a game of sunset shinny, hockey-speak for pick-up, in the shadow Montana's Swan Range. And Jere Ketola caught two players passing the puck in Helsinki's Kruununhaka Harbor.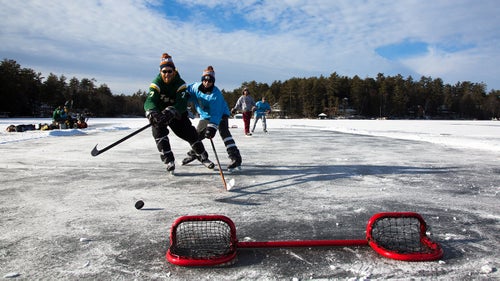 "Each pond has its own rules," including what constitutes a goal, says Haines. Over his three weeks of travel, Wynia saw teams aiming their puck toward boots, holes dug into the ground, and traditional nets. "There usually aren't goalies in pond hockey, so the goal has to be small and hard to score on," says Wynia. "People aren't taking shots from halfway because the ice isn't smoothed out—you have to be close or it will hit a rough spot that will take it off course."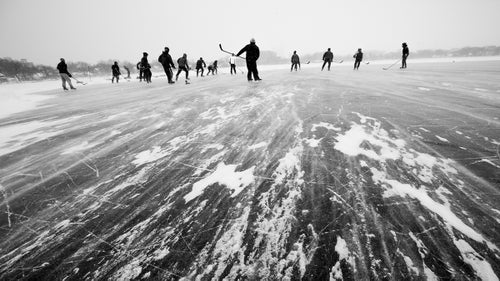 Wynia remembers this afternoon on Monona Bay in Madison, Wisconsin, as bitterly cold, well below zero degrees. "There was a lot of wind blowing snow around, but a huge group of people who met every week were still playing," he says.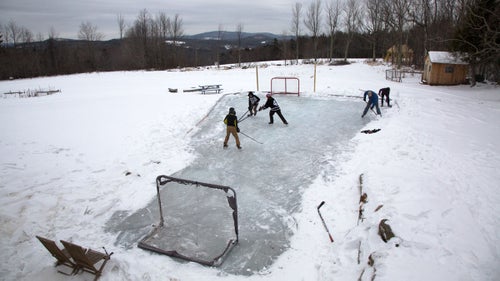 In Mount Vernon, Maine, kids play on a backyard rink while mom and dad shovel. "It takes a ton of work to maintain those ponds and lakes," Wynia says. "There were a lot of dedicated people who did that for the community, to get them out when it's dark and cold."