Inside the Unprecedented End of the 2020 Ski Season
There's more at stake now than skiing, but it's OK to be bummed out about it
Blue Collectors/Stocksy(Photo)
Heading out the door? Read this article on the new Outside+ app available now on iOS devices for members! Download the app.
Closing weekend at a ski hill is always bittersweet, but costumes and free-flowing beer usually soften the blow. Over the weekend, the party ended early across North America, after the vast majority of ski areas suspended operations to stem the spread of the novel coronavirus. 
On Friday, Taos Ski Valley—my home hill in northern New Mexico—announced that it would cut the season short, ending two weeks early, on Sunday, March 22, to help protect our community and the many travelers who come through it.
I learned about the news when I got in the car on Saturday morning to head up the mountain and a friend filled me in. I had hoped the day would be a respite from a chaotic week, but instead it became another place to watch the pandemic play out in real time. Then, on Saturday afternoon, Colorado governor Jared Polis ordered all ski areas in the state to close down immediately. Taos, an hour south of the Colorado–New Mexico border, announced shortly after that it would wind down operations immediately. And just like that, it was closing weekend. As a growing public-health crisis spreads across the globe, it was the right call.
On Sunday morning, I boot-packed to the top of Taos's Kachina Peak with a pit in my stomach. Storms had deposited nearly a foot and a half of fresh snow throughout the week, and the steep terrain off the 12,481-foot summit had just opened. My lungs felt tight, which could have been a number of things: anxiety after a late night of scrolling through updates on Twitter, sadness about the sunny hot laps we'll all miss out on this year, or maybe just my body fighting for air at high altitude. I can't say I felt terribly excited about the thousand feet of fresh snow beneath me. A friend joked that he felt like he was playing the violin as the Titanic sank. I told him I felt like the girl dancing to Mariah Carey through tears.
Skiing is a sport with a built-in sense of scarcity. Powder gets tracked out, smooth groomers get chopped up, and the season is only so long. We count days, vertical feet, and laps spun on our favorite chairlifts. We celebrate. Then we count the months until we can do it again. 
When an injury ends your season early, the one small mercy is that it's a surprise. Sunday it felt like we were all hanging out with someone we knew we were about to break up with: still trying to enjoy the ride but doing a little preemptive grieving. Instead of closing down the bar, we avoided going indoors entirely. A pall hung over the lift line: we read coronavirus updates out loud and avoided sharing chairs.
The great ski-area shutdown started on Thursday, when Berkshire East, in Massachusetts, and Catamount Ski Area, in upstate New York, announced they were closing for the season. "No ski turn is worth a life," their general manager Jon Schaefer wrote in a release. Taos announced its initial projected closure date Friday evening. On Saturday afternoon, Alterra Mountain Company and Vail Resorts, which run 52 resorts between them, announced that they would suspend operations at all of their North American ski areas. Governor Polis's announcement came shortly after. Meanwhile, on the East Coast, resorts were shuttering at a similar rate: Jay Peak, Sugarbush, Killington, Mad River Glen, and the Lake Placid Olympic Sites all closed.
Few resorts remain open. Mount Hood Skibowl, in Oregon, is currently operating on a restricted schedule. Alaska's Alyeska is still running lifts but has restricted indoor operations like food service. Smuggler's Notch, in Vermont, is doing the same. Chances are low that they'll remain open much longer.
The sudden closures created a hectic scene at some resorts. The San Francisco Chronicle reported chaos in Lake Tahoe, which just received four feet of snow—critical highways were closed for avalanche mitigation, so many tourists couldn't ski or leave the area. Taos was shockingly busy, with a mix of locals hoping to enjoy their last few turns of the season, Ikon Pass holders who turn up for weekend storms, and spring breakers who hadn't yet decided to cancel their travel. 
Many skiers and mountain employees commended the resorts on social media for making a responsible, difficult decision. Other people, like former Lieutenant Governor of Florida Jeff Kottkamp, had a hard time seeing beyond the end of their own skis. He responded to Vail's announcement with a now deleted tweet: "Thank you for making this announcement as we are driving in to Vail. Came all the way from Florida only to have our family's vacation destroyed." Polis responded: "Thank you for your deep concerns regarding the health of our residents in the face of a global pandemic, as well as your heartfelt sympathy for the difficulties faced by those who work in the ski industry and hospitality."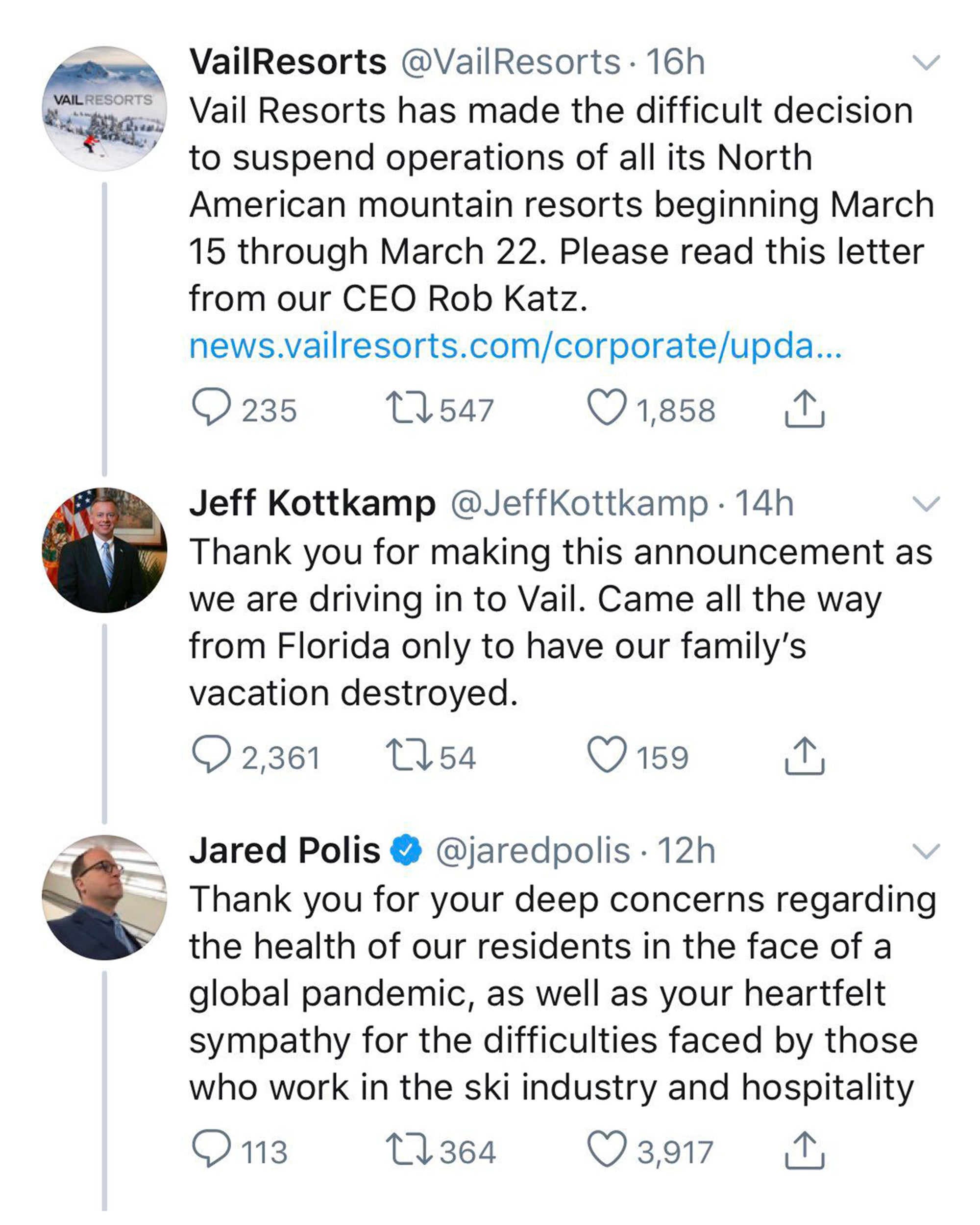 Spring break in small mountain communities creates a perfect storm for the proliferation of the virus. It's spreading in Colorado's high country faster than anywhere else in the state. But those communities also depend heavily on travel for their economic survival. Losing out on nearly a month's worth of tourism creates a precarious situation for ritzy lodges and lifties alike. Many mountains are taking steps to support their seasonal workers. My friends who work at Taos told me that non-salaried workers are getting severance pay. Steve Wright, Jay Peak's president and general manager, explained on the Wintry Mix podcast that the resort would continue to house its international employees free of charge until they could safely find their way home.
Skiing isn't necessarily canceled just because the lifts stopped spinning. In some areas, outdoor recreation away from other people may still provide appropriate social distancing, though this could change soon. If you're thinking about taking a tour, don't carpool with other households, maintain six feet of distance from your friends, and make conservative decisions with your skiing and terrain. If your local health care system isn't already overburdened, chances are high it will be soon. Now is not the time to tear an ACL. 
There's much more at stake in this moment than skiing, and shutting down early was the right decision, but we can still mourn the loss of these final weeks. Instead of a raucous send-off, our season went out with an anxious fizzle. And it's all right to be bummed out about it. Everything is changing quickly, but I'm hopeful that, come April, I'll be skinning up Kachina, sampling the finest spring snow New Mexico has to offer. 
Lead Photo: Blue Collectors/Stocksy
Trending on Outside Online