We Followed Someone with a 2-Hour Bike Commute
Most of us would groan at the thought of a two-hour one-way commute. Not Chris Schierholtz. Every day he rides 35 miles to and from his office at Mission Workshop, in the heart of San Francisco.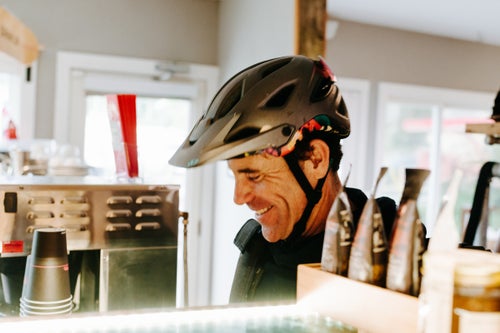 8:07 A.M.
Chris, 46, starts most days with a black coffee and sometimes a doughnut at Equator Coffee on Shoreline Highway in Mill Valley. "Not only do they have great coffee, but it's like a community center. It's a nice way to start the day, see friendly faces, meet new people, and just kind of have a hug," he says.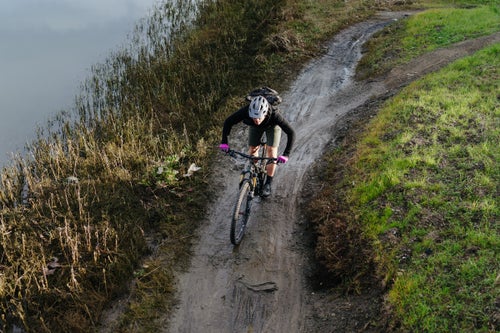 8:19 A.M.
About 15 minutes from home, Chris makes a hairpin turn under Highway 1 to hit his first dose of dirt. "It's where I start to shift from the city streets and cars and start my descent into the natural world," he says.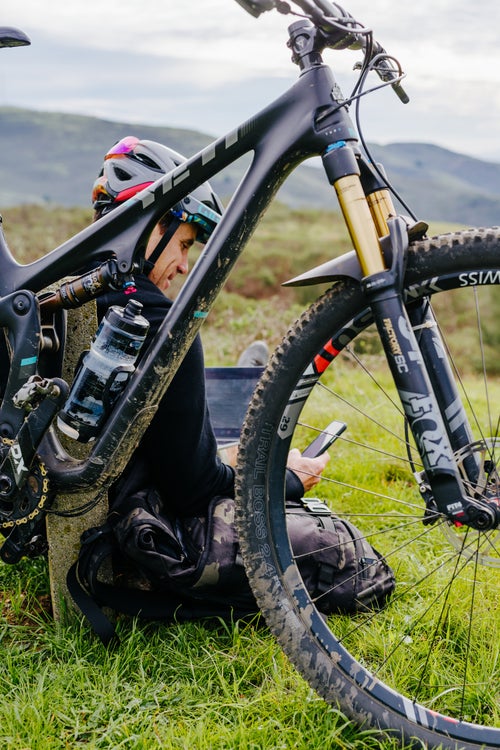 8:49 A.M.
After pedaling through Tennessee Valley, deep into the Marin Headlands, Chris turns onto the Marincello Trail, a dirt road built in 1965 for a 30,000-person development that was ultimately thwarted by local conservationists. This road delivers him to the geographical high point of his ride. "Often I need to stop, connect my laptop to Wi-Fi, and get some work done," he says. "I've had meetings up here, I've had really great moments of inspiration up here, I'll often have calls up here. It's kind of a unique office space."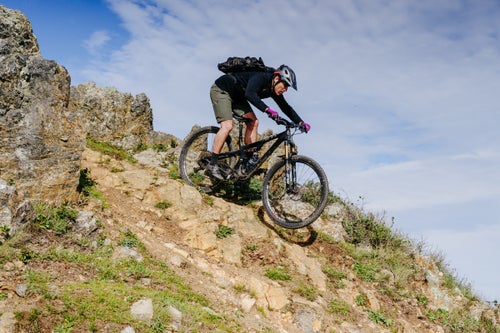 8:59 A.M.
Chris hits the most technical part of his commute. "This is why I ride a full-suspension mountain bike, all for this one little 400-yard section," he says. "And it's enough to kind of switch my mind into a really great flow state. You gotta really be focused. This drop-off can dictate how the rest of my day goes. If I don't clean the section super well, it's kind of like, 'Ugh. Is that setting me up for the day? It's not going so good.' But when I clean it and ride it really effortlessly, it's a really powerful way to drop into the day."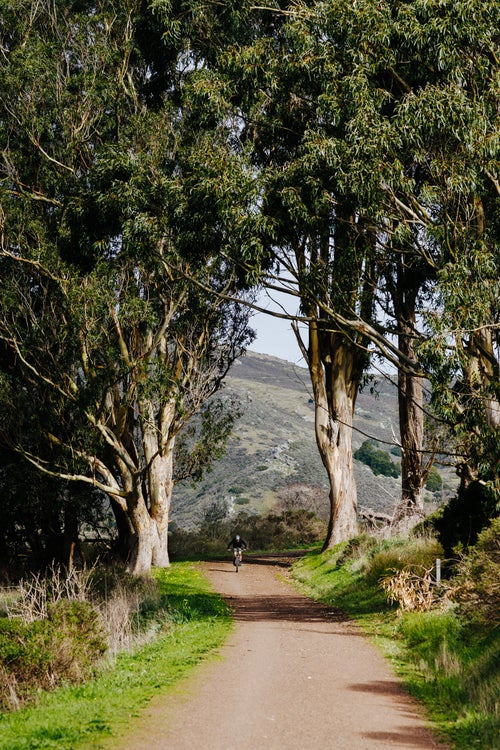 9:06 A.M.
Chris sweeps down Bobcat Trail into Gerbode Valley. "Usually, when I go, I won't even see a single person on it. And it's kind of like my own little freeway down into work. From the top, you start descending, and you can see the ocean and San Francisco, and you start getting lower into the valley, and it just gets more and more like peaceful and calm down there, the deeper you go. And it's nice to be able to zone out a little bit on this part, because it's really smooth and easy to ride," he says.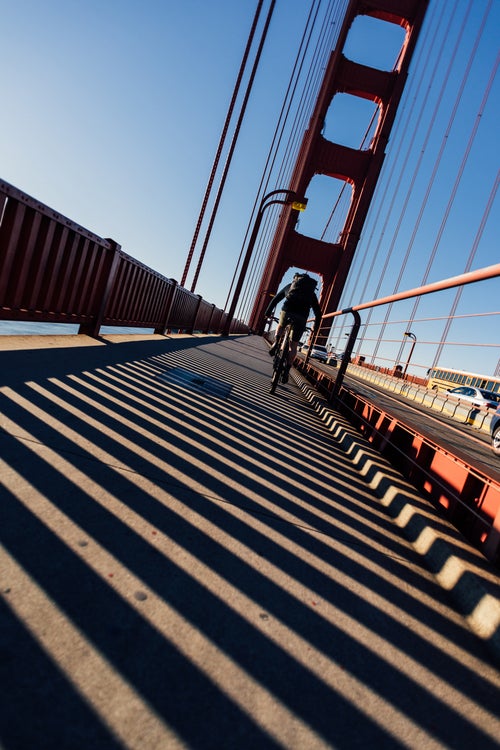 9:21 A.M.
At this hour on the Golden Gate Bridge, bike commuters are sparse and the tourists have yet to arrive. "I've ridden over the bridge well over a thousand times in my life. And I've seen a lot of things beautiful and traumatic and sad happen here," he says.
It's superpowerful, and it never gets old. "It's really special to be able to do this. Plus, it saves me like $8 per day in bridge toll."
9:31 A.M.
The Golden Gate Bridge lands in the Presidio, a former military fort now under the purview of the Presidio Trust, which has "innovated a way to take an old military base and rebuild it for civilian use in a way that can sustain itself," Chris says. He has seen it evolve from "kind of a ghost town to a thriving, beautiful, repurposed space, and it's really peaceful. This specific zone is usually one of the first places that gets sheltered from the wind. You can feel the warmth of the sun come at you when you're on this one little section."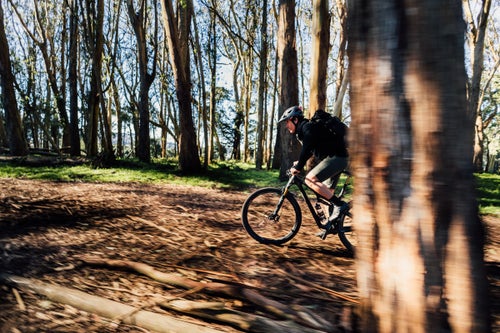 9:34 A.M.
"Again, always trying to find dirt to work!" Chris takes a cutoff alongside the Presidio Golf Course. "The Australians had been using eucalyptus to build boats and do all sorts of cool stuff, and they grew superfast. So they introduced it in the U.S. with the hopes of getting rich quick. Unfortunately, the boat materials that the Australians were using were from old-growth eucalyptus, and it was a much different wood than the new growth being grown here," he says. Still, the trees are pretty. "I love the smell of eucalyptus. This is a really nice place to take deep breaths, and it's the last dirt part of my commute. So I always drink it in, knowing that I'm gonna be in the concrete jungle shortly thereafter."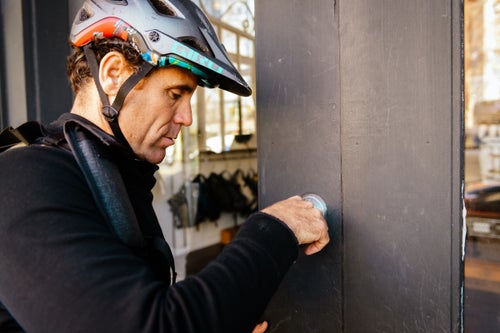 9:55 A.M.
"Going into work, unlocking the door, getting the day started—it's always nice when I open this up, because it means I've had a safe and successful journey into the city. And it's time to, like, change clothes and start working," he says.
Chris works as the "Director of Radness" at sportswear-maker Mission Workshop, where he's one of the most avid cyclists on the roster. "They always give me products to try out, and it's fun doing product development on my way to work and being able to give them quick feedback." He does a little bit of everything for the company, from communications to managing collabs with other brands to testing product to HR.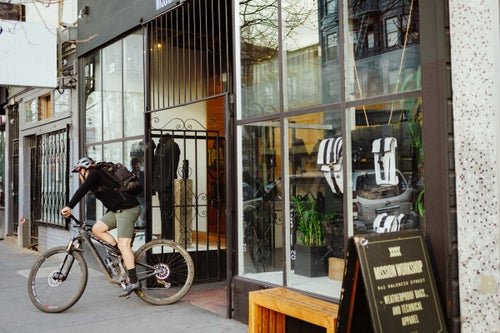 5:01 P.M.
"One of my favorite things is to get suited back up, and I just go ripping out the front door of the office," Chris says. "It's a really liberating feeling to be on a mountain bike. It's not typical in the city, in this concrete zone."