Sasha DiGuilian's Epic Climb on the Canadian Trilogy
The pro climber just made history on three big, big walls near Banff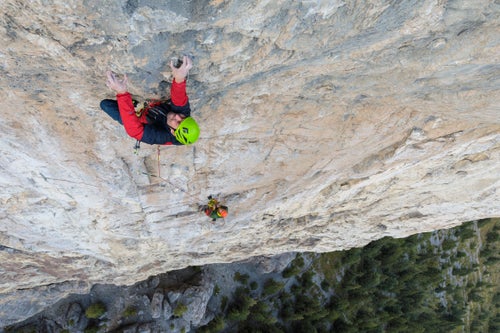 Sonnie Trotter on the 5.14 pitch of Blue Jeans Direct on Mount Yamnuska.
Last February, the cover of a climbing magazine caught my eye: shot by Tim Banfield, the photograph showed Sonnie Trotter high on an impressive limestone face on a route called Blue Jeans Direct, on Mount Yamnuska. Trotter had just completed the Canadian Trilogy—first ascents of three 5.14 big walls on three mountains: Castle Mountain, Mount Louis, and Mount Yamnuska.
I had just finished an ice-climbing trip in the Upper Peninsula of Michigan and was searching for a new 2018 goal. The trilogy sounded like an intriguing challenge. I wanted to follow in Trotter's footsteps with the second ascent of the trilogy—and the first by a woman.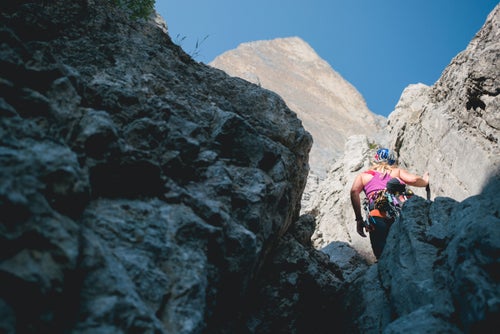 The approach.
During the spring, I trained inside and outside, logging about 30 to 40 hours per week. But by June, my original climbing partner and I were having personal disagreements. Days before we were supposed to go to Canada, we decided not to do the project together. I questioned whether the project was going to happen. Could I do it alone? I wanted to try.
In July, I packed my car and drove the 20 hours from Boulder to Banff, arriving late on July 10. My original plan was to commit three weeks to each climb, each of which required different techniques. Now that I was traveling alone, I needed to find local climbers to belay me.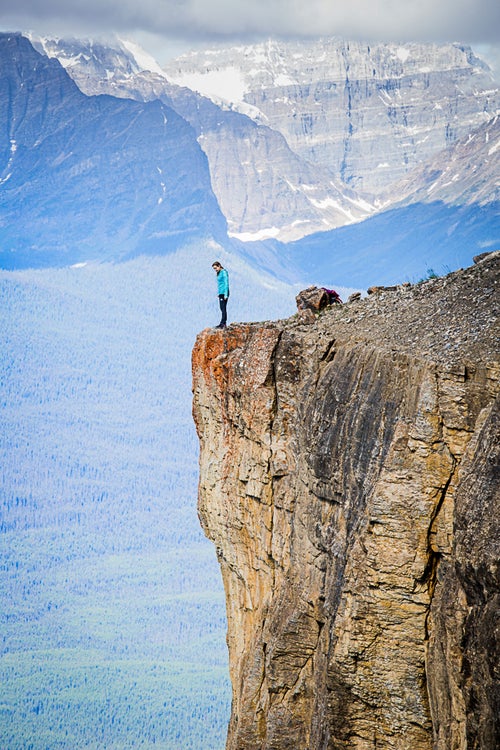 Standing atop the midway ledge of Warhammer, my first day on Castle Mountain.
My projects in Banff would be on exposed big walls, and I was worried about finding partners I could trust. I'd gotten so used to climbing with my previous partner, with whom I'd climbed many of my big walls before.
I soon got to know the Banff climbing scene through my friends Mike Doyle and Sonnie Trotter. Finding a climbing partner takes some planning, especially when you're asking someone to come out to attempt a big wall that might take 18-plus hours. But I found plenty of people willing to support me.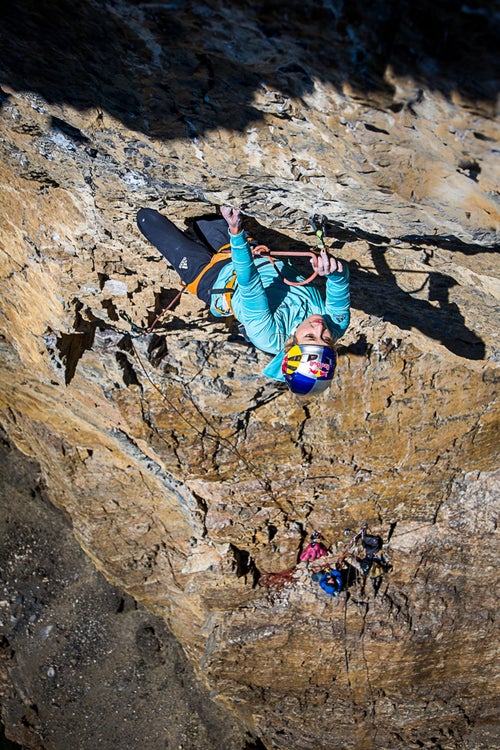 Climbing the crux pitch (5.14a) of Warhammer, Castle Mountain.
On July 21, Mike Doyle and I climbed Warhammer up Castle Mountain, the first of the Canadian Trilogy. I've known Doyle for many years, and he's always been an inspiration as a fellow climber, as well as a mentor and friend. Having Sonnie Trotter there to film the climb was icing on the cake.
But then I hit a roadblock at the beginning of the next climb, on Mount Louis.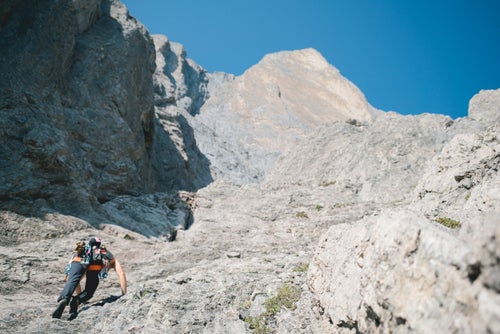 Looking up at Mount Louis. The Shining is the only route up the entire face of the Diamond, which is a separated piece from the mountain. At the pinnacle of the Diamond, you rappel down into the notch and climb up the other side, which brings you to the peak of Mount Louis.
I headed out to try the climb, the Shining Uncut, bone tired after Castle. I had a new partner, a local Canmore crusher named Dexter. He was capable and trustworthy, but I had never climbed with him. I was so tired, afraid, and unsettled that I couldn't even bring myself to lead climb. Given the quick success on the previous climb, I expected to climb instantly well on this one, even though the styles were completely different. But I didn't trust my feet and making my way up the sheer face felt really difficult.
To top it all off, I injured my shoulder that day when I chicken-winged my rotator cuff into an awkward position that tweaked my AC joint. By evening, I couldn't lift my left arm. The next day, I linked up with Fabienne Moser, a physical therapist for the Canadian Ski Team who works at Altitude Physiotherapy, and she began treating the injury right away.
I slowly began to regain my shoulder strength over the week. The injury wasn't fully recovered, but the weather window was small and my fatigue had passed. Fabienne recommended I wait three more days before climbing again, and though I felt anxious and impatient, I followed her orders.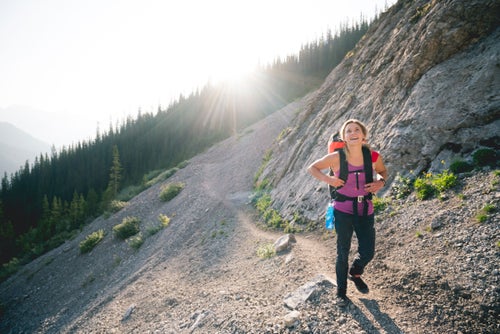 An alpine-start morning, hiking up to the Shining.
On July 31, with clear weather and an almost fully recovered shoulder, I set out at 5 a.m. with Peter Hoang, whom I had just met over pizza and beer a few nights earlier. Setting my alarm felt exciting rather than like a chore. I was ready.
That day, my only expectation was to go and try the Shining, the pitched-out version of the Shining Uncut and the climb that Sonnie Trotter had established with Tommy Caldwell months ago. Everything from the approach to the solo scramble to the first pitches was going smoother than the last time. I was still nervous on the run-out 5.12s, but I could feel a connection with the rock. This time, I trusted my feet. I made it to the bottom of the crux and told Peter to watch me because I need to work out these moves and take some whippers so I can break my fear of falling. He was ready for me to fly off the wall. But when I pulled through the beginning difficult sections, I was sticking to the rock like Velcro.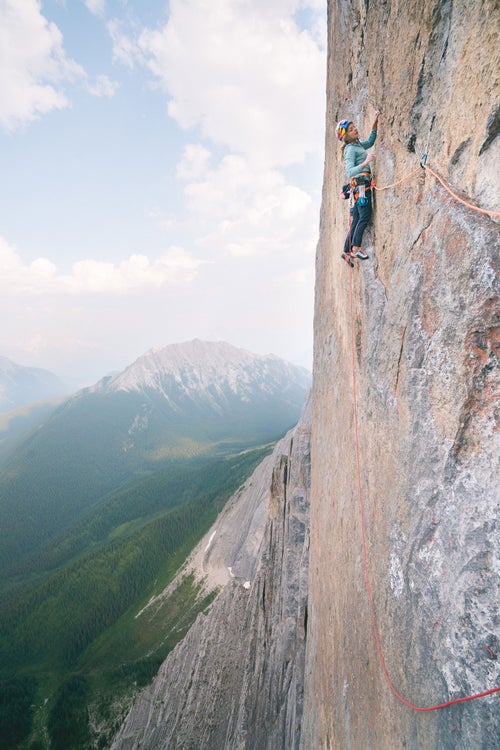 The fourth pitch of the Shining, after the crux; captured by Peter Hoang while on the hanging belay.
The ideal state of climbing for me is when my body operates without needing to be told what to do. This flow state, where mind and matter fuse, is hard to tap into on demand, but when I really care about a climb or am being pushed to my limits, I find it often just happens. I wasn't there yet at the beginning of this climb. Though as I methodically punched through sequences, all of a sudden I had passed the hardest section of the climb: a series of bad side pulls with minimal feet. I yelled down to Peter Hoang in disbelief, "Oh my god! I just got through the crux!"
After sending the crux pitch, 5.14a, of the Shining Uncut, I felt a surge of disbelief, elation, and motivation to get to the top.
After a few days of rest, on August 7, I returned and did the climb from the bottom to the top, but this time doing the harder, uncut variation, with Mike Doyle belaying and Peter Hoang filming and taking photos. I had completed my second ascent.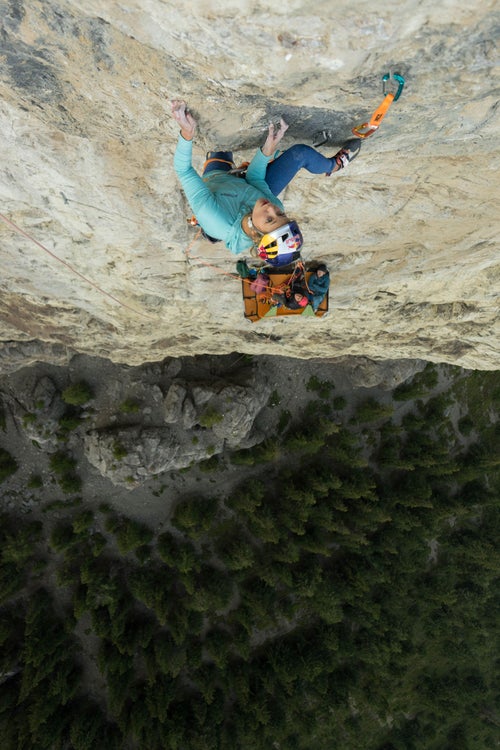 The crux pitch (5.14a) of Blue Jeans Direct.
Then, on August 19, I successfully free-climbed Blue Jeans Direct—the route that inspired me in the first place. In the end, I accomplished each climb in the Canadian Trilogy in single-day pushes, with zero falls.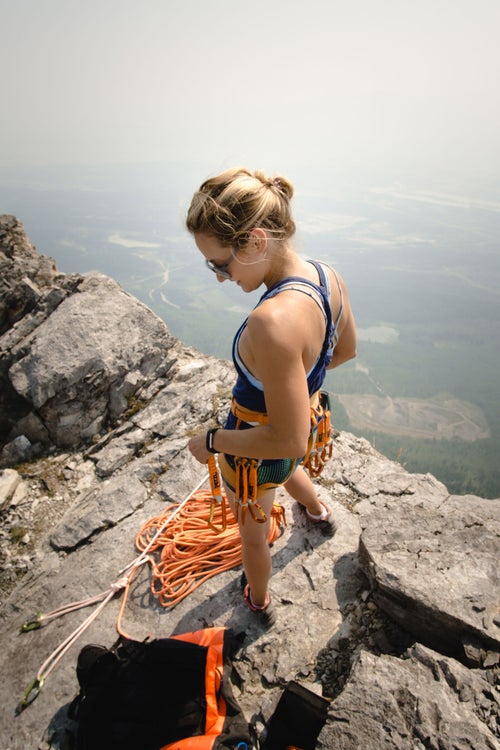 Standing on top of Mount Yamnuska, about to rappel down the route to fix the static lines for the videographers and check out where the Blue Jeans Direct line goes.
I learned a lot over this summer—lessons about respecting my body, resting, knowing when to push myself, and the importance of having confidence in myself and my climbing partner. There were days when my motivation lagged and my fatigue caught up with me, but I realize that there is rhythm to trusting the timing of our lives, living through the uncomfortable moments and accepting the ups and downs.