Sharks Like You've Never Seen Them Before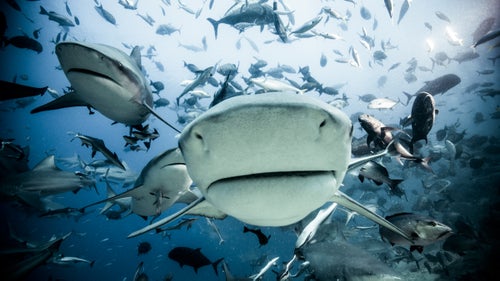 This month, Exposure celebrates the release of Sharks: Face-to-Face with the Ocean's Endangered Predator, a 334-page project by longtime Outside contributor Michael Muller (@michaelmuller7). The book is the culmination of more than a decade photographing sharks in the Bahamas, South Africa, and the Galápagos, among other locations. "I want to change people's perceptions of these animals, Muller says. "Shooting them in a way no one has before, I thought maybe I can alter how people see them."
Photo: In February 2012, Muller traveled to Fiji with a set of 1,200-watt strobe lights modified for underwater use. "I bring a full studio down with me," says the Los Angeles photographer, who started taking pictures of snowboarders when he was 15. At a depth of 80 feet, Muller encountered scores of bull sharks. "Three or four were coming right at me," he says. "I felt like Neo dodging bullets in The Matrix: swerving to my right, pushing a shark's nose as it swam by. It was wild."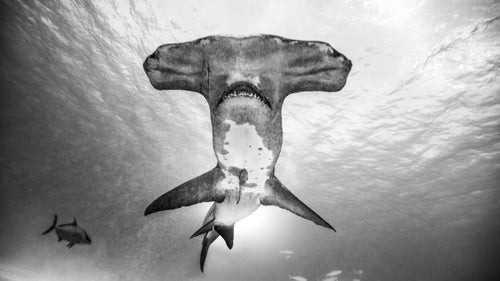 Muller had a narrow window to photograph great hammerheads near Bimini, in the Bahamas, in February of last year. The sharks are often skittish—divers tend to use a rebreather instead of scuba gear, because the bubbles can scare the animals away—but the hammers Muller swam with were unflappable. "There are photos of us grabbing the head of a shark and pushing it away," he says. "They're definitely not afraid of people. You really have to manhandle them to get them to back off."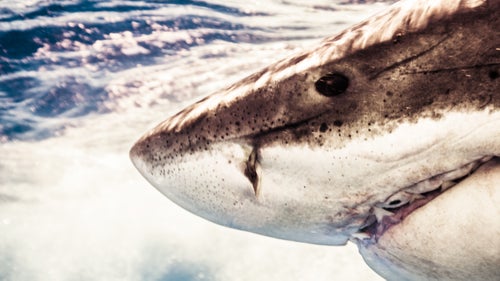 Muller's conversion experience traces back to 2007, when he dropped into a cage off the coast of Guadalupe Island, 130 miles west of Baja California. Ultraclear waters make it one of the best viewing locations on earth. "After five minutes in the water, a great white appeared out of the darkness," says Muller. "I'd been programmed to think that swimming by me was a mindless killing machine. Instead I saw a calm, highly intelligent, calculated creature. We locked eyes, and that was it."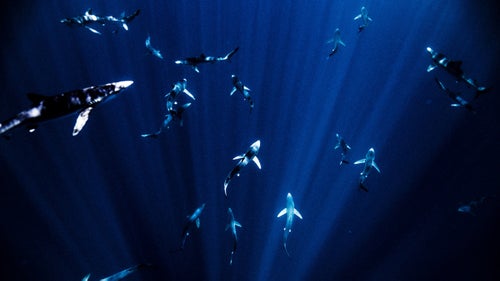 Blue sharks, 40 miles south of Cape Town, January 2014.
"Over the years I've had many high-profile actors, athletes, and musicians ask to go diving, but when the time comes to book the ticket, most find a reason they can't go… but not Ben Stiller. Knowing full well that if I took him down to see great whites first he'd probably never get in the water again, I decided it would be better to start with sevengills, a prehistoric breed of sharks that are typically pretty mellow until you break out a piece of fish. Dropping down we came into a junglelike area where 25 or 30 were circling around. Stiller was in heaven.
"The second day, we went 50 miles out to sea and dropped into a part of the ocean that is 3,000 feet deep to swim with 130 blue sharks and a half dozen makos. There were sharks everywhere! When I handed Ben one of my cameras, he said, 'Mike, I don't want to take pictures, I'm fine to just watch.' Laughing, I explained that the camera was for protection, what we use to bat the sharks away when they get too curious or decide they want to take a taste."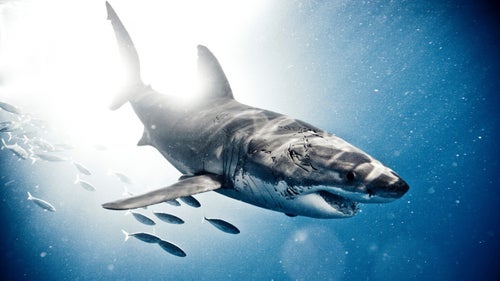 Great white, Guadalupe Island, October 2009.
"Have you ever seen a great white shark exploding out of light? Neither had I, except in my head. One of the most exciting things about creating is having the vision first, and then the journey begins taking that vision, that dream, and making it into a reality. This moment, this image, wouldn't have been possible without my custom-built 1200-watt waterproof strobe lighting system."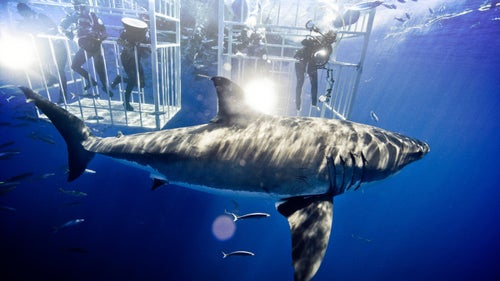 Muller's crew lights a great white from cinema cages, Guadalupe Island, October 2009.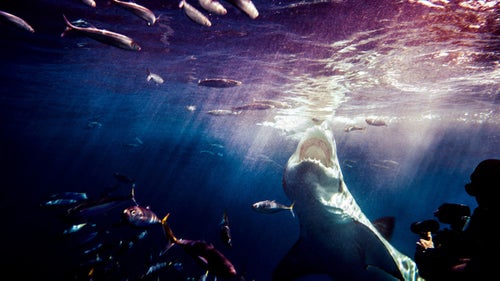 Great white being filmed by Shawn Heinrichs, Guadalupe Island, October 2009.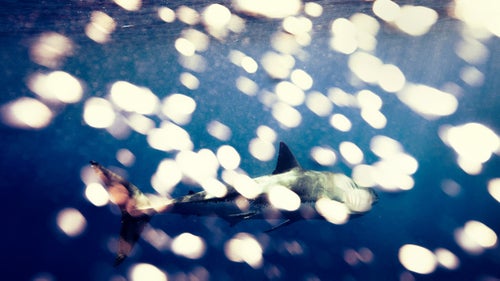 Great whites, Guadalupe Island, October 2009.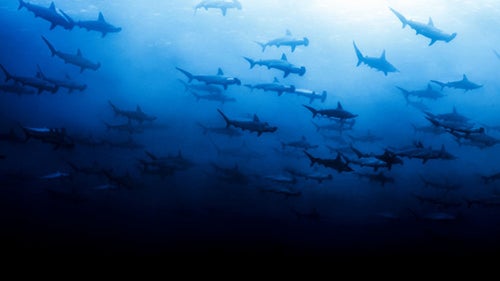 School of scalloped hammerheads, Galápagos Islands, October 2008.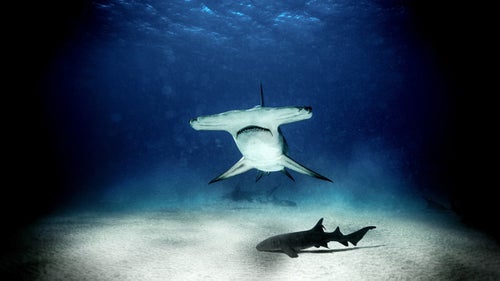 Great hammerhead, Bimini Island, February 2015.