The Snowshoeing Artist Making Mountains Even More Beautiful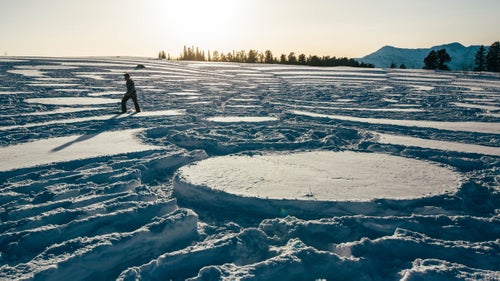 Simon Beck spends a lot of his time with snowshoes strapped to his feet, clomping in circles through powder. It's much more than a futile exercise—it's art.
"My parents are quite proud that finally, in middle-age, I've accomplished something," says the 57-year-old British artist. Beck's achievements take the form of painstakingly detailed fractals and mandalas spanning over 300 square feet. It's his job to travel to some of the world's most beautiful places in search of, as he puts it, "the canvas of white and expansive."
Beck used to make orienteering maps, so his cartography and surveying skills came in handy 10 years ago when he started mapping out the snowshoe designs, initially as a form of exercise. Now he does 30 snow murals in a season and estimates that he's done 210 in his lifetime.
His creations are gone with the next snowfall. The longest one of his works has lasted—a mandala in the French Alps—was eight weeks. But Beck doesn't mind as long as he can secure a photograph (ten years' of which can be found in his 2014 book Simon Beck: Snow Art).
Outside spoke to Beck just before his second trip to Utah's Powder Mountain (and his second time setting foot on U.S. snow), where he created the largest snow mandala made by a single person.
Photo: Although Beck requires relatively minimal equipment—snowshoes and an orienteering compass—he faces a host of potential obstacles from the elements. "Wind can destroy a drawing," he says. "My feet get cold. Sometimes I get sunburned. The best conditions are -5 to -10 degrees, and powder snow."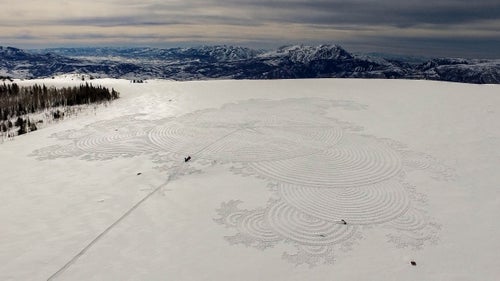 Beck estimates that this mandala, created on his most recent trip to Utah's Powder Mountain, reaches 620 feet in diameter. That would make it the largest snow mandala ever created by one person.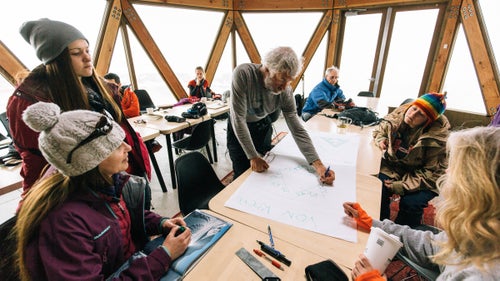 "I do as much prep indoors to make things as slick as possible when I get outdoors," Beck says. "The size of the location determines the design. I map out the design on a sheet of paper and make certain measurements—one millimeter represents one pace, for example."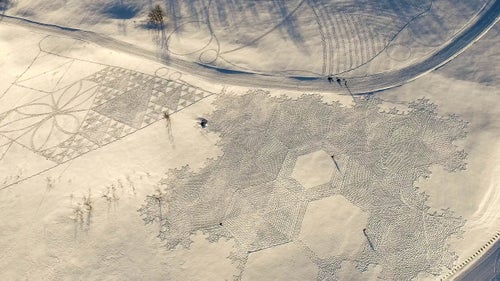 Beck has created 11 murals over the course of two visits to Powder Mountain. The second trip, from February 8-to-20 of this year, Beck completed as part of an artist residency with Summit, an organization that brings together and sponsors "entrepreneurs, innovators, and thought leaders" that's headquartered on the mountain. "The credo of the Powder Mountain residency is 'Make No Small Plans,' and Beck is an artist who definitely does not make small plans," says Marshall Birnbaum, director of artist residencies at Summit. The mural pictured above was created this February.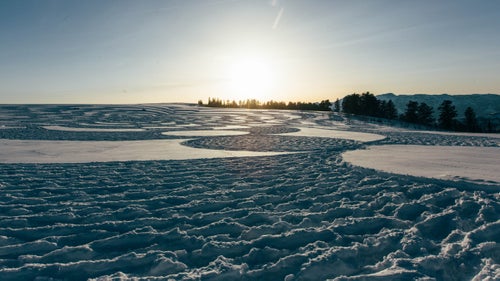 A frozen lake with a good viewpoint for photos is Beck's ideal canvas. He tries to steer clear of popular ski paths.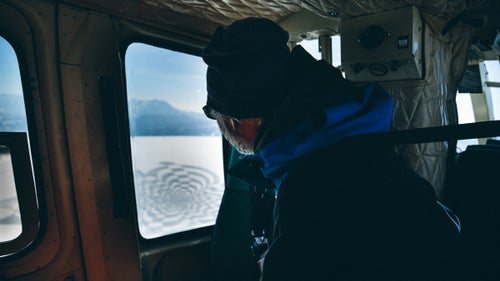 "Climate change makes things increasingly frenetic for me," Beck says. "It means I spend hours and hours on airplanes trying to chase the snow." Beck has worked to raise awareness about climate change through a clothing line inspired by his drawings, which helped make $20,000 for the non-profit Protect Our Winters.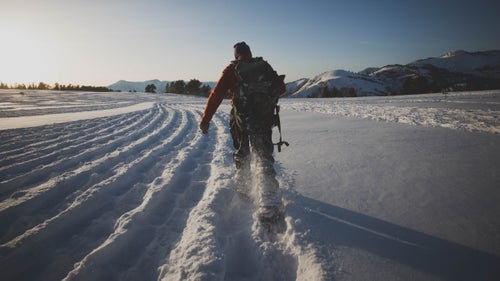 Beck can spend up to 12 hours straight and walk close to 30 miles on a single drawing, so he always has a supply of candy and cookies to keep his strength up. Walking once through the snow creates a dotted line; Beck will go over the same path three or more times for a continuous line.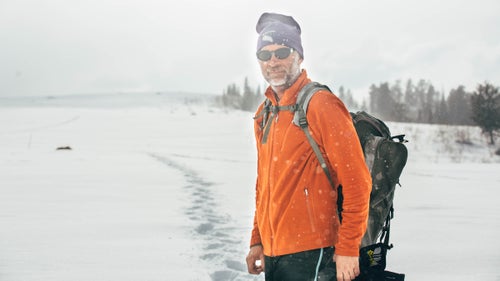 "People are designed to be active," says Beck. "Life should be about keeping in shape, not about this whole culture of desk jobs and eating at restaurants and paying lots of money on buying things that save you physical work. That's heading in the wrong direction."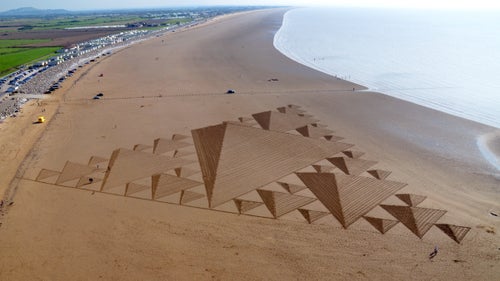 Although he prefers the texture of snow, Beck has done around 50 sand drawings. Sand art, he says, is a "race against the incoming tide." Here, a large-scale, 3D Sierpinksi triangle adorns Brean Beach in England.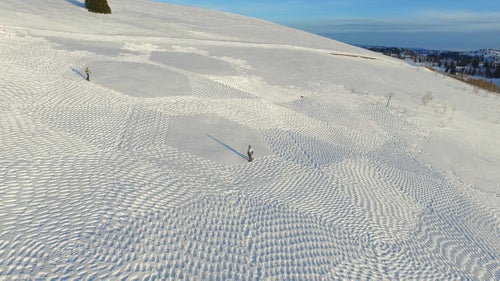 The meticulous, repetitive snow art process has a meditative quality to it, and Beck will occasionally listen to music as he draws lines in the snow. "It's a privilege to have a job that I enjoy," he says. "It's nice to be out in the mountains on a nice day."