The World Heritage Site Home to India's Best Wave
The town of Mahabalipuram, a UNESCO World Heritage site an hour from Chennai, in Tamil Nadu, has blossomed into the epicenter of India's burgeoning surf scene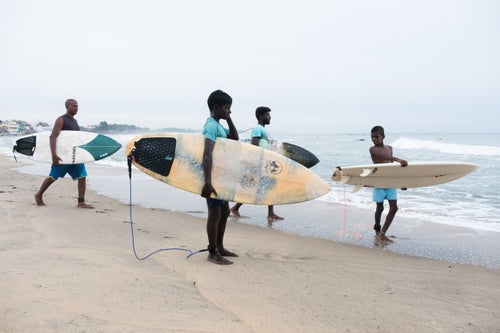 In a small fishing town on the east coast of India, a group of surfers gather at the shoreline in the early morning before paddling out into one of the best swells to hit the country this year. This group of surfers, young and old, are the first generation of Indian surfers in the town. More than a decade ago, several Australians came to surf in Mahabalipuram—called Mahabs for short—after hearing rumors of a world-class wave that broke in front of a temple just near a boulder-formed jetty. Their suspicions were confirmed, and through successive visits over the next decade, they inspired a group of young kids on the beach to surf, teach surfing, and make surfboards. Now Mahabs boasts surf shops, local professionals who compete in International Surfing Association (ISA) contests, surfboard shapers, and a crew of young and old surfers who have formed India's first formidable surfing community. Mumu Surf School, owned and operated by Mukesh Prajanthanam, even provides boards for those who help with beach cleanups as a way to inspire the younger kids to give back to the community.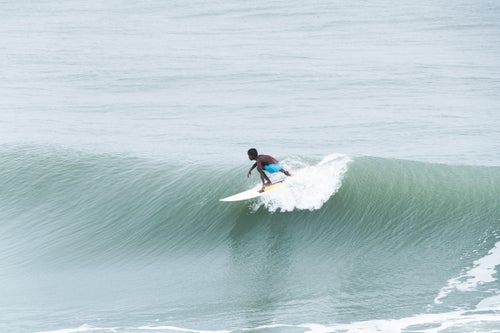 Navin Kumar recently won the under-12 category in the Covelong Point surf competition, held at a nearby beach of the same name, a 20-minute drive north of Mahabalipuram. One of the youngest surfers in Mahabs, Navin won a bicycle at the competition. With the community of surfers in this region growing, comps are becoming commonplace and the level of surfing gets better every year.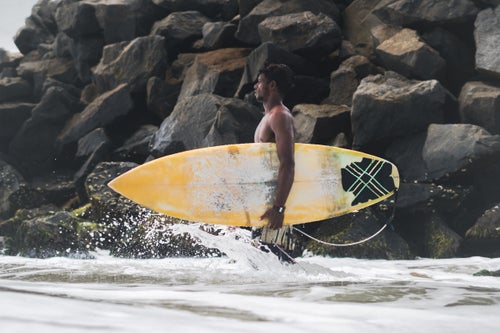 Rahul Paneerselvam, 26, a local surfboard shaper and ding-repair master, walks next to a breakwater before jumping into a day of solid waves. The Indian government put the breakwater in place to protect against erosion threatening a UNESCO World Heritage Site. In the process, they unintentionally helped create one of India's best waves. The site is home to a series of sanctuaries from the seventh- and eighth-century Pallava dynasty and draws throngs of domestic and international tourists.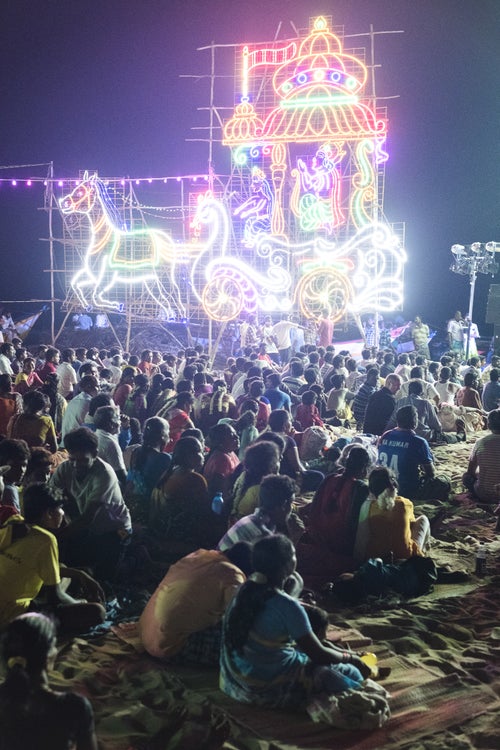 A small local festival sets in a few feet from the waves in Mahabs during a balmy weekend night. Towering neon lights depicting Hindu deities line the waterfront and light up the growing crowd who have come to experience local music and dance performances.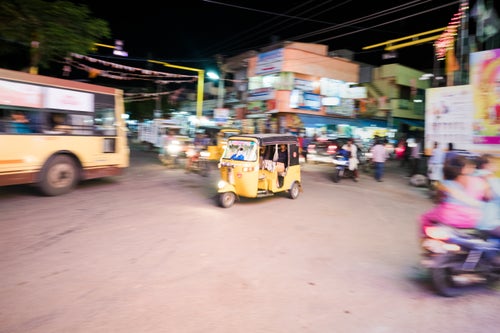 The town is a historic juncture roughly halfway between the bustling South Indian international hub of Chennai and the more sedate former French colonial town Pondicherry. All kinds of people flock to the water, including tourists, local surfers, Pondicherry residents, and contract workers who come down from Chennai on the weekends to get their surfing fix in Mahabs.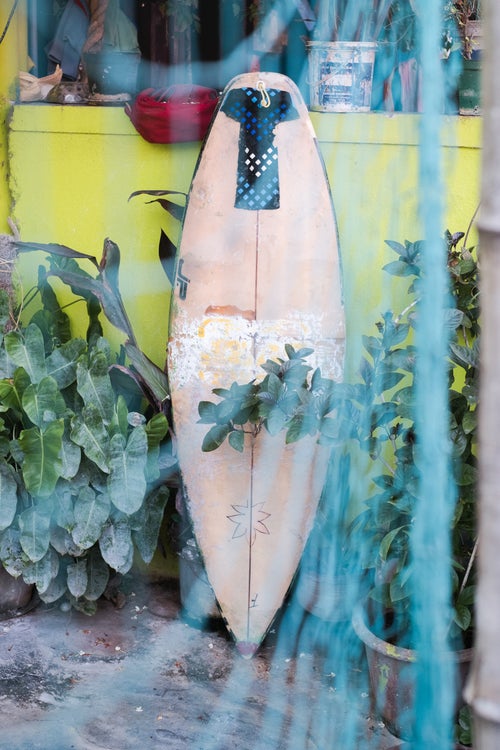 An old buckled surfboard that has been stitched back together with resin and fiberglass sits in a patio behind a fishing net in the aptly named Fisherman Colony neighborhood. While boards were more scarce in the past, nowadays many foreigners visiting town leave their surfboards behind, and local surfboard shapers have started to make their own boards. Many locals also frequently take the four-hour flight to Bali, where they stock up on boards and return to keep the supply healthy in Mahabs.
Two of Mahabs' younger surfers walk toward a sandbank formed by a government-constructed breakwall before jumping out to surf. On big days, a strong current sweeps down the beach from south to north, and with the difficult paddle, many local surfers have perfected a formidable rock dance that allows them to jump out right at the top of the point where the breakwater juts out.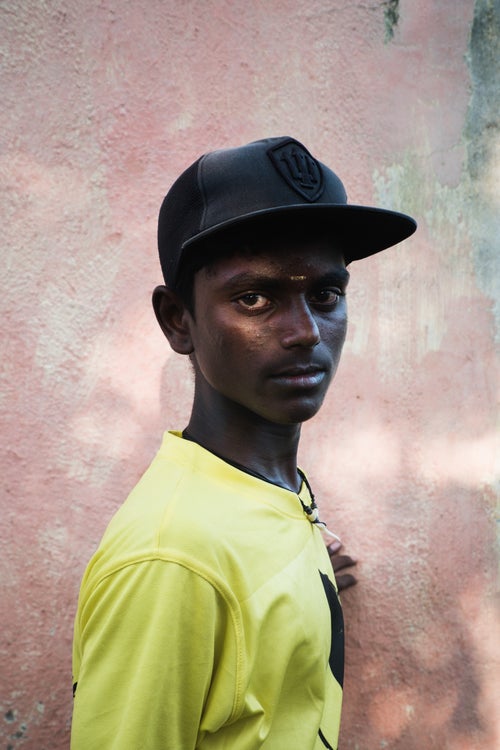 Nithish Varun, 16, leans against a wall one evening near his home in the Fisherman Colony neighborhood. Nithish, who comes from a fishing family, is the leading member of the Sea Sharks. The group consists of about 15 local surfers and serves as a comprehensive support group—members help each other during competitions, loan equipment, and inspire each other to surf.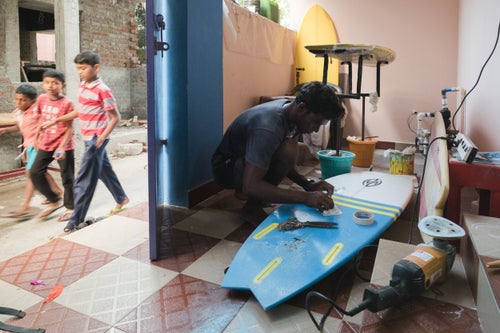 Rahul Paneerselvam placed first and took away a cash prize in the seniors category in the Covelong Point surf competition, held during the height of the southwest monsoon season. Rahul also shapes surfboards and uses his family's ground-level porch as a repair shop. He even fixed my surfboard during my stay.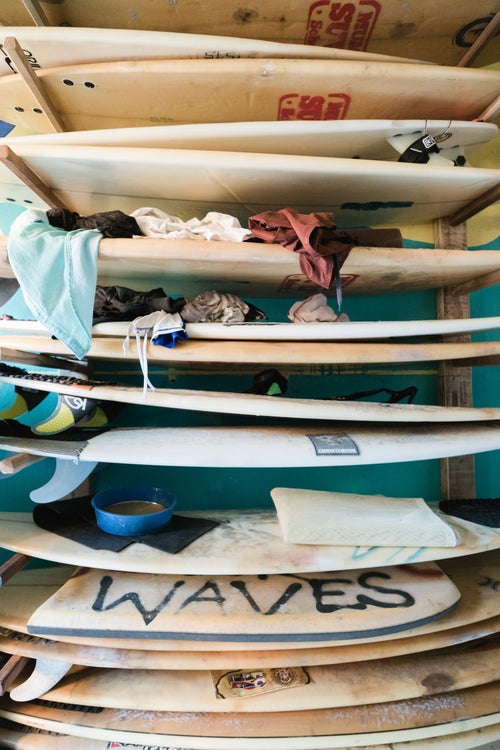 This board room in the Fisherman Colony informally serves as a community stockroom, as some of the surfers in town don't have boards. The boards come from all over the world, from old to new and in all shapes and sizes.