The Ultimate Winter Weekend in the Midwest. Fishing and Surfing Included.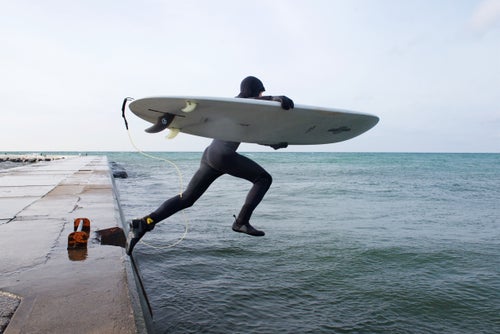 Sure, the Great Lakes have a lot to offer when it comes to recreation, but the region still doesn't make many surfing or fishing bucket lists. But for those willing to fight the weather, there's plenty of feisty winter steelhead and freshwater waves to be chased, all in the same weekend. Photographer Daniel Shepler kicked off his trip looking for waves on Michigan's Sleeping Bear Dunes National Lakeshore, then finished it off with some fishing on one of the dozens of rivers that flow into Lake Superior on the Upper Peninsula.
Photo: Surfer Jake Therrien making the leap into the icy water of Lake Michigan.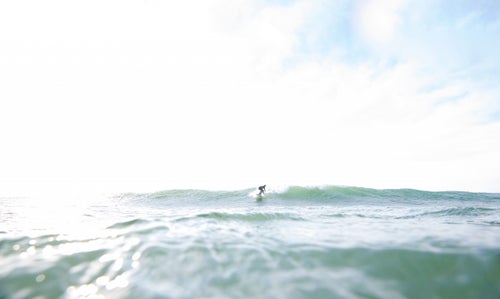 Therrien enjoying a sunny-day swell in Frankfort, Michigan—a freshwater surfing hot spot.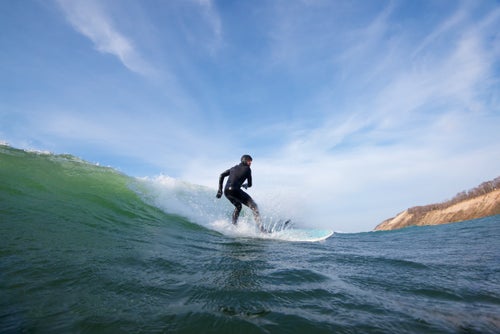 The Sleeping Bear Dunes National Lakeshore can be a pretty reliable place for decent waves all winter as major storm fronts create heavy, swell-producing winds.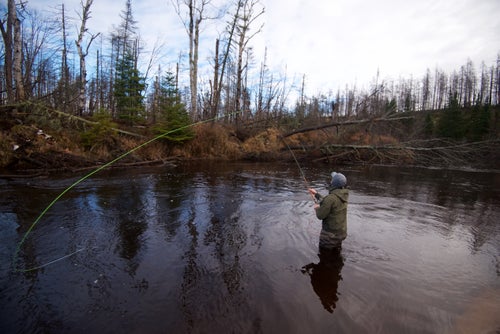 Swinging—a long slow drift of the fly moving with the current—for Great Lakes steelhead often requires two-handed rods, tight loops, and accurate casts. Angler and friend Gerrit Rauch was up to the challenge on the famed Two Hearted River.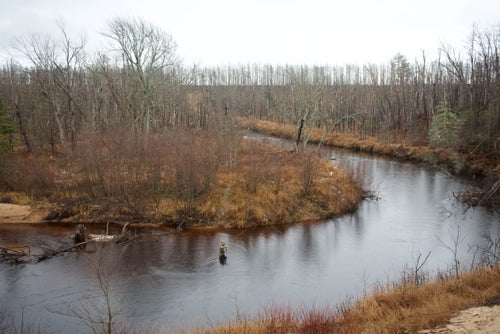 Steelhead are finicky and elusive—that holds true whether you're in the Pacific Northwest or Michigan's Upper Peninsula. Long days are guaranteed. In our case, we even added a little rowing to access the mouth of the river before walking upstream.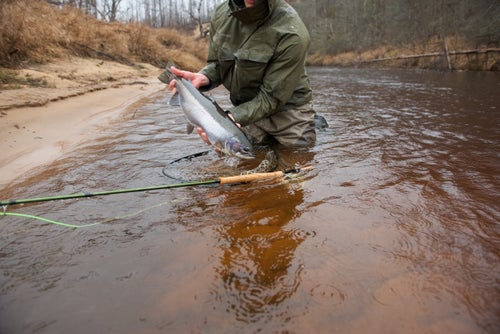 Said to be the hardest-fighting steelhead because of cold water temps and muscular builds, the Lake Superior fish's pull never disappoints.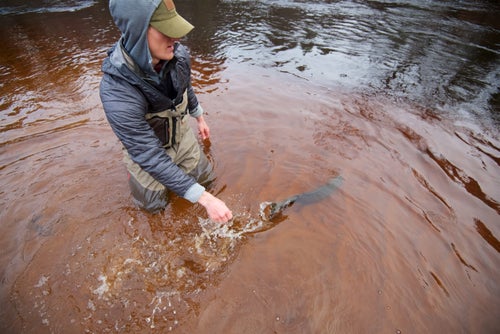 Upper Peninsula steelhead, which migrate up river to spawn, are always an honor to catch and, most importantly, release.
The powerful tail of a freshwater steelhead.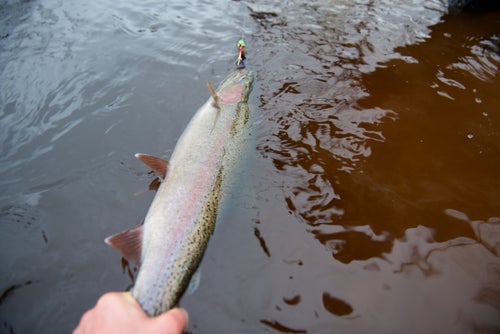 The northern reaches of Michigan are filled with rivers flowing into Lake Superior, many of which hold fish year round. Finding a river is easy. Finding the fish isn't. Hire a guide to figure out exactly where they are.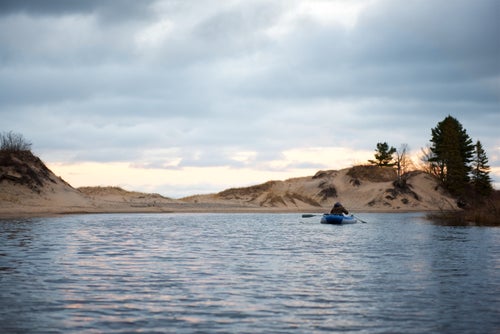 Rowing out to Lake Superior after a full, successful day on the river.