Step into the Most Dangerous Sailing Race on Earth
What it takes to document one of the world's most treacherous races. Words by Marley Walker.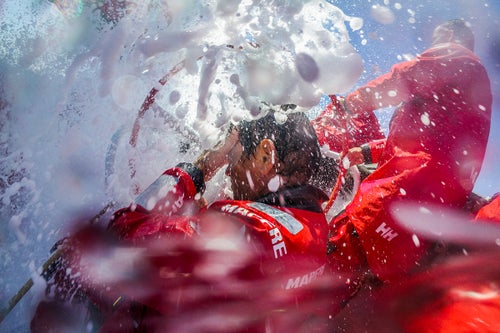 Growing up in Omaha, Nebraska, Jen Edney visited plenty of Midwestern lakes, but she never thought she'd make a career out of being on the water. "I always had a fear of the ocean," says the 35-year-old photojournalist. Edney cured that trepidation after college, when she spent a month with Outward Bound on a 150-foot schooner in the Caribbean. That's where she fell in love with nautical photography. After stints at the Summit Adventure Photography Workshop and the Brooks Institute, Edney now travels as much as nine months of the year on assignment.
Most recently, she embedded with the 2017–18 Volvo Ocean Race—an eight-month, round-the-world yachting competition—where she served as an onboard reporter, covering the teams' progress for the event website. The Volvo is one of sailing's most dangerous races. (In March, during rough conditions in the Southern Ocean, a crew member was swept overboard and never found.) Edney trained for weeks to develop the strength necessary to move around on boats traveling in winds up to 40 knots and waves as high as 30 feet. Before that, she documented the 2012 America's Cup, where she developed a knack for unlikely angles, donning flippers, jumping into the water, and requesting that skippers sail right over her. "I'd get in at the start and shoot from that perspective, or go to a mark rounding and swim with the boats," she says.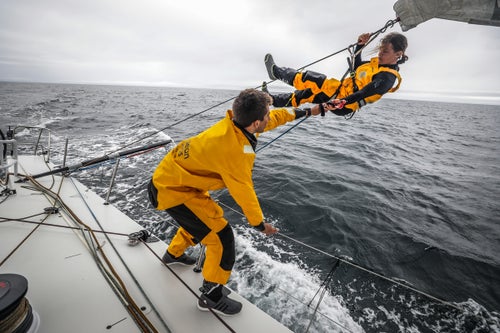 Onboard reporters rotate among the boats and produce daily video, drone footage, photography, and blog posts. "For me it's about telling the story of a team," Edney says. The 2017–18 edition of the Volvo Ocean Race was the first to actively encourage mixed-gender crews, and there were more women sailors at the event than ever. One of the teams Edney spent time with was Turn the Tide on Plastic, skippered by Dee Caffari and boat-captained by Liz Wardley, shown above with fellow crew member Bleddyn Mon.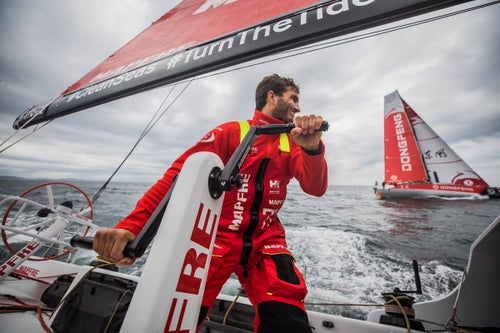 Edney thrived on the adrenaline of the Volvo race, which concluded in June, after Outside went to press. "You go a week sailing a leg, and you're still close to another boat," she says—like the team Mapfre and Dongfeng vessels, seen above outside Sanxenxo, Spain. "That's how competitive these races are." En route to Melbourne, Edney and the Mapfre crew encountered 35-knot winds. The boat went bow-down into a wave, and Edney was pitched into a bulkhead. "The conditions were too rough to stitch up the wound, so we had to glue it," she says.