A Weekend of Masochistic Climbing in Moab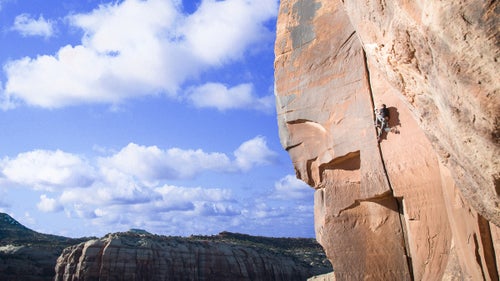 While most of us were waiting in airport security and Thanksgiving traffic, a couple hundred climbers were heading south to Indian Creek, Utah. The Creek, 40 miles south of Moab, is a crack-climbing mecca, chock-full of legendary routes for those willing to suffer.
For the past decade or so, Thanksgiving has brought those masochists out in force, coming together to bloody their knuckles on gritty sandstone and split pumpkin pies pulled out of dumpsters. The gathering, informally dubbed Creeksgiving, is a last hurrah of sorts, a chance to climb a few more pitches in the sun before trading climbing shoes for ski boots—or at least crampons.
Bozeman-based photographer and climber Seth Langbauer was back this year for his third Creeksgiving, drawn to the red rock desert to log one last week of climbing before the snow started to fly. "There's no service, so there's this whole little beatnik climbing community communicating through notes left at message boards," he said. "Everyone's down there for the same reason: to hang out in the sun and climb cracks."
Photo: Crack climbing is just what it sounds like: Climbers use special techniques to follow fissures up a wall. Indian Creek is home to a range of crack sizes, from those just big enough for a fingertip to chimneys wide enough to crawl inside and shimmy up. Looking for a break from hand cracks, climber Jake Woodland, who's been living in his car while traveling from crag to crag, jumped into the wide crack of Big Baby. To inch up the 5.11 route, Woodland had to wedge entire limbs into the crack, topping out with bloody knees and elbows. Said Langbauer, "Shorts were a bad choice."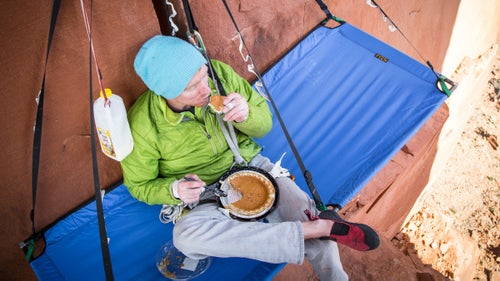 Ryan Davis and his partner hauled a Creeksgiving feast up the first pitch of King of Pain tower, behind the Bridger Jack campgrounds. After finding a suitable place to set up their portaledge, they celebrated with pumpkin pie and eggnog.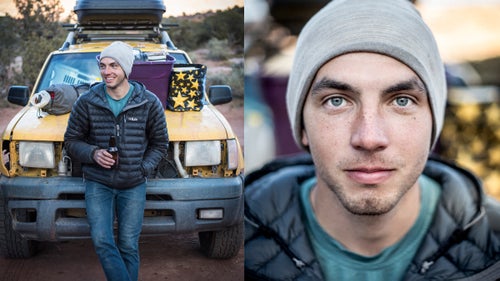 Jake Woodland pulled into Indian Creek after three months on the road, having hit many of the classic spots—Yosemite, Red Rocks, Moab—on his way south. While at the Creek, he'd often slip out early to top out a climb and paraglide down, returning to camp as everyone was waking up. His climbing partner headed back to Montana for Thanksgiving, leaving him considering his next move. "I might just get a job in Moab and live here for a bit."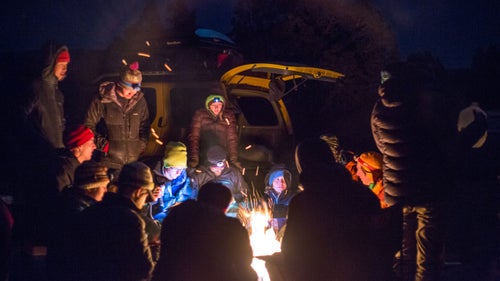 This November brought warm days and cool nights to Indian Creek, perfect conditions for the area's demanding splitter cracks, so-called because the wall appears to have split open. Climbers from around the country came to celebrate at the Creek, often gathering post-climb to share beer and stories around a bonfire.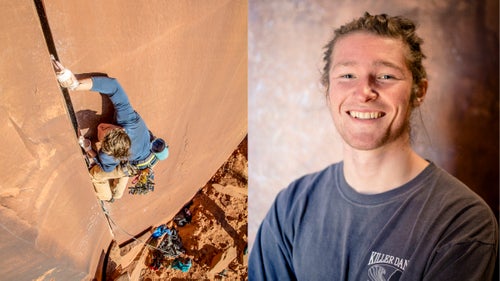 L: Fritz Carpenter setting off on Gold Crown, a classic hand-sized 5.10+ on an overhanging wall. R: Reef Larwood, a Bozeman-based climber, was all smiles on his first trip to the Creek.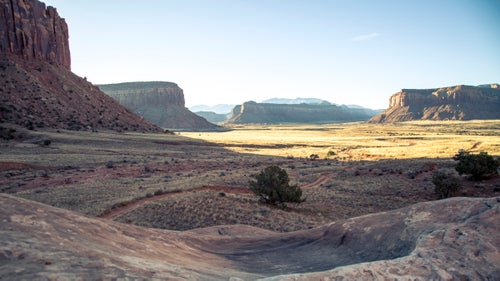 It's hard to beat the morning commute in the Creek. Along the dirt roads to that morning's crag, the sun hit the red-rock desert, turning it gold.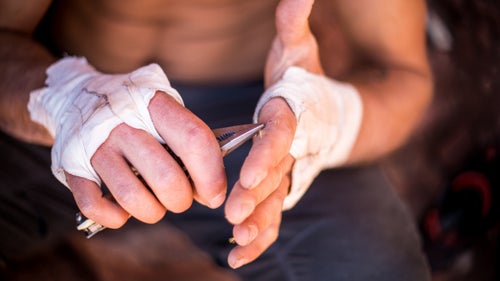 Hamilton Holland came to the Creek from Flagstaff for perfect cracks and the chance to meet up with friends from Montana. While scouting a route, he tripped on a cactus. Here he sits in the shade picking spikes from his hand.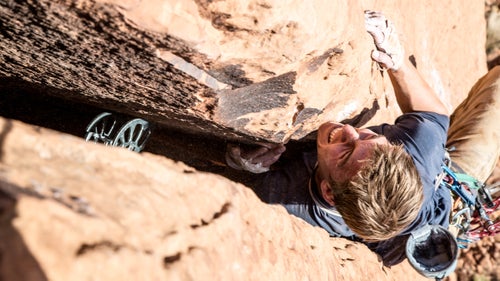 Fritz Carpenter fights his way up Finless Brown, an 80-foot off-width rated at 5.10+. A nerves-inducing 30 feet from his last cam placement, Carpenter was able to place another, but the crack was too wide for the cam to provide good protection. "Eventually Fritz got a bomber placement and forgot about the ground-fall potential," said Langbauer, adding, "A spicy send to say the least."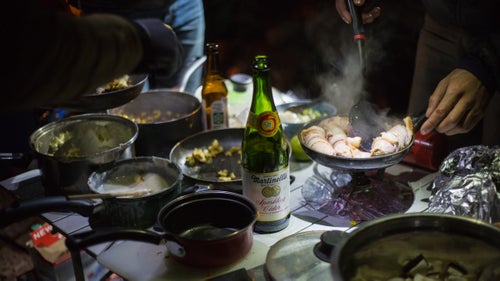 This year's Creeksgiving dinner featured bacon-wrapped hotdogs, boxed stuffing, mashed potatoes, Martinelli's sparkling cider, and, for dessert, nine pies found in a dumpster in Moab.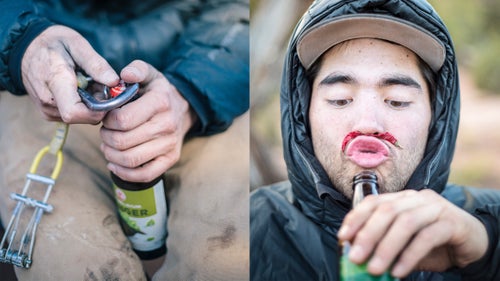 For the past few years, Aki Joy has made the pilgrimage to Creeksgiving from Bozeman, lured by the chance to climb in warm weather one last time before the ice-climbing season cranks up. "He has a one-track mind, and it's devoted to climbing," said Langbauer. "The day Aki returned to Bozeman, he was scrounging up partners, knowing the ice was fully in."