What Glacier Caves Can Tell Us About Climate Change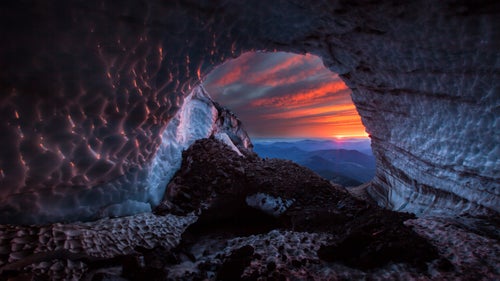 Brent McGregor first learned of the caves under Mt. Hood's Sandy Glacier from a 2010 YouTube video that showed hikers around one of the entrances. An accomplished caver, the then 58-year-old from Sisters, Oregon, was in the midst of writing a book on the state's caves and convinced his caving partners Eddy Cartaya and Scott Linn to help him locate an entrance.
In July 2011, the three rappelled into what is now agreed to be the largest known glacier cave system in the lower 48 states. They became the first to fully explore and map a mile-long cave and, borrowing from avalanche terminology, dubbed it Snow Dragon. Since then, they've located two other caves under the glacier–Pure Imagination and Frozen Minotaur–and worked with astro-biologists and geologists to analyze artifacts, like feathers and bugs, trapped in the ice and measure the caves' rapidly changing volume.
This June, along with German climatologist Andreas Pflitsch and photographer Josh Hydeman, the team completed their third scientific expedition, hoping to figure out how these massive caves were formed and what they tell us about the glacier above.
Photo: In recent years, data collected from the cave system has unlocked an important clue in tracking glacial loss. Mass loss in glaciers has traditionally been calculated using surface measurements from aircraft and satellites, which ignore "under-ice melting" that creates cave systems. But McGregor and Cartaya have shown that in thinner glaciers like Sandy, where caves are less likely to collapse from the weight of the ice and warm air is able to circulate, mass loss from caves is significant. They hope to provide critical new information for understanding its impact on water resources and global sea level rise.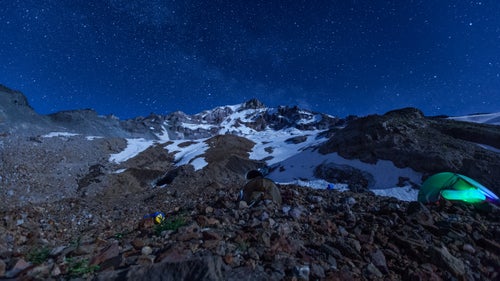 The caves under the Sandy Glacier are changing in two major ways: they're getting shorter as the glacier recedes but also wider and taller as more warm air enters through places where the ice has melted through. Because of this, the volume has to be re-mapped every few weeks. "It's very different from a rock cave, which never changes," said Cartaya, a 46-year-old Forest Service worker and EMT in Bend, Oregon. "Once you survey a rock cave, it's done. With these, every week it's changing."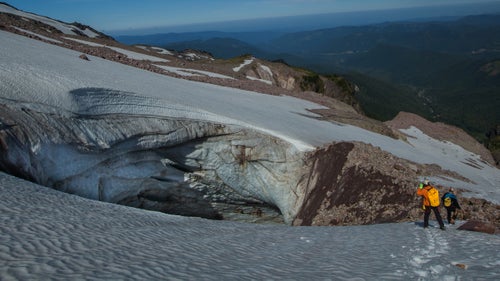 In June, the entrance to Pure Imagination was large enough to fit a metro train, but when McGregor and Cartaya first located the cave, it was just a fissure in the ice. The growing size of the glacier caves indicates the glacier is thinning at an alarming rate. "Normally the weight of the thick ice in a healthy glacier above the caves would crush them before they could reach such massive sizes," said McGregor, who's the chairman of the Oregon High Desert Grotto caving club. "Another way to put it is that the size of these caves is a sign of a sick glacier."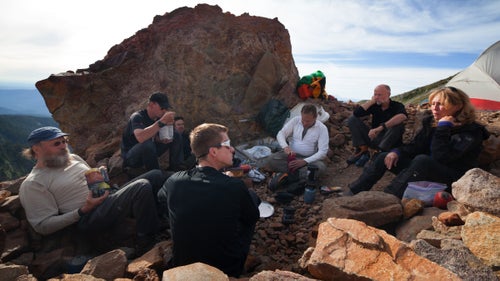 German climatologist Andreas Pflitsch (second from right) met McGregor (left) and Cartaya (third from right) at the International Workshop on Ice Caves in Idaho Falls. Though Pflitsch had never studied glacier caves, he was interested by the dramatic changes happening within the Sandy Glacier and agreed to visit in June. In the five days he was at the glacier, he went into the caves up to three times a day, measuring airflow and temperature.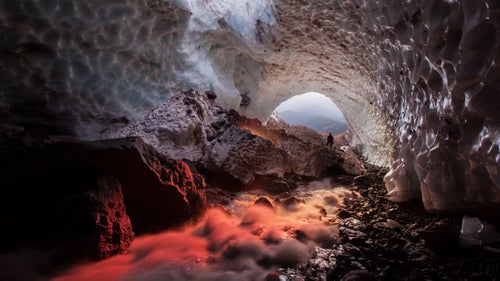 The June expedition was Josh Hydeman's sixth visit to the Sandy Glacier caves, but the 34-year-old cave photographer said the experience–and the state of the caves–is always different. "Every time I visit the caves there are different things that interest me–a frozen column or a new skylight," he said. On this trip, he managed to capture where the glow of sunset entering the cave, making the stream appear red. "I've never seen anything like that."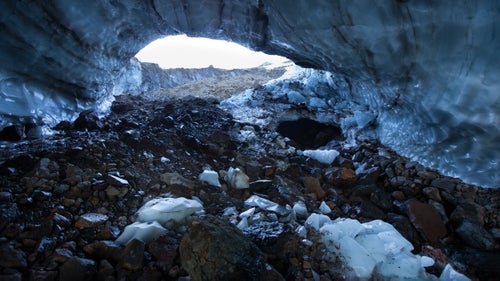 In recent years, the changes to the caves have been dramatic: Pure Imagination, once more than a half mile long, is down to around 1,400 feet. Frozen Minotaur is constantly forming new passages that allow more warm air to enter. And Snow Dragon, more than 2,300-feet-long when it was discovered, is mostly collapsed and too dangerous to continuing surveying. "Everything in a glacier cave is dynamic," said Cartaya. "Everything changes and everything moves."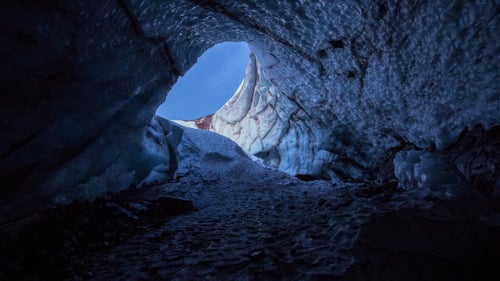 Although thousands of feet of the caves used to be shrouded in darkness, the skylights created by warm air and water have introduced ambient light into the caves. McGregor said the only place still in total darkness is at the very end of Pure Imagination and perhaps a few small passages in Frozen Minotaur.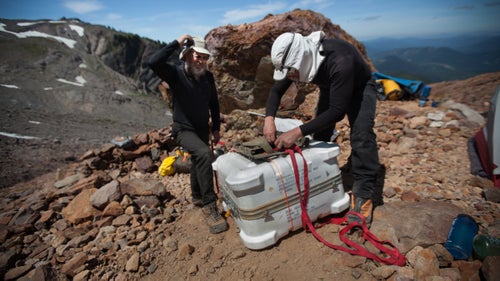 McGregor and Cartaya have worked with glaciologists to track the changes in the caves' volume and relate it to the recession of the glacier above. The goal is to determine how the growth of the cave hastens the demise of the glacier. "Scientists are studying how fast the glacier is receding by monitoring the mass," said Cartaya. "What they've never done before is study the processes going on inside because it's melting from the inside out."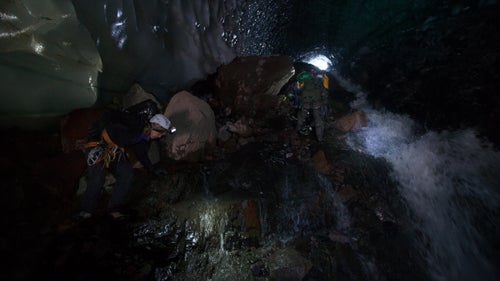 The temperature within the caves ranges from 20 degrees to 40 degrees. Coupled with the wind blowing through the tunnels and the almost constant drip of water from the ceilings, the possibility of cavers succumbing to hypothermia is real. "There are places in there where if you break your ankle it's a fatal injury because, by the time you got help, you would have died from hypothermia," said Cartaya. "It's kind of sobering concept to be in a place where, if you twist your ankle, you're dead."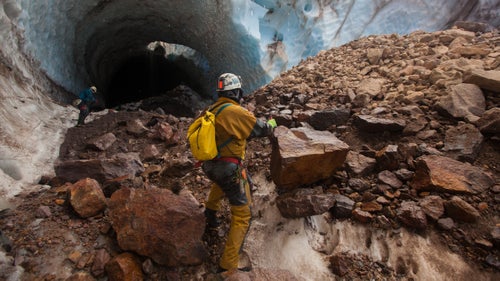 The dangers of traveling within the caves have increased as the ice has started to melt and break apart, threatening to shower the researchers with ice chunks and rock. "You can hear rocks falling a half-mile down the cave and, when a boulder the size of a person comes loose, you can hear it from further than that," said McGregor. "If I'm hearing a lot of rock fall I won't go in the cave that day."