Sasha Digiulian on Michigan's World-Class Ice Climbing
Every year, the Upper Peninsula town of Munising hosts the Michigan Ice Fest. Last month, a certain celebrity rock climber attended the event, working with pro ice climber Angela VanWiemeersch to learn to climb a different type of face.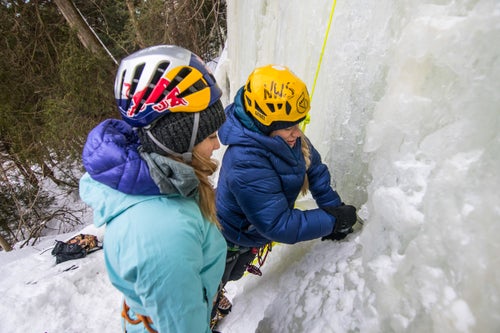 Every February, the Upper Peninsula town of Munising hosts about 1,200 climbers at the Michigan Ice Fest, along the southern shore of Lake Superior. A world champion on rock but a beginner on the ice, Sasha DiGiulian attended the festival this year to become more familiar with climbing frozen faces. Her friend and partner Angela VanWiemeersch—whom she deemed "a real-life Elsa," from the movie Frozen—was there to provide a proper introduction to the new climbing surface. The proclaimed "ice queen" shows DiGiulian how to safely evaluate the placement of her ice screws.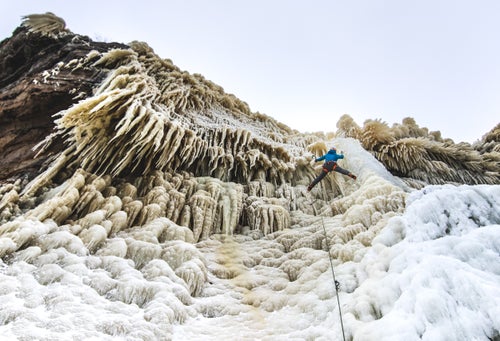 Lake Superior creates remarkable ice formations. Wind and spray from waves slamming into its rocky shores cover vegetation around the cliff line in a frozen glaze. Climbing these formations is a challenge for Midwest adventure seekers. Here, Joseph Thill climbs Bridal Veil Falls, rated WI4, in Munising, Michigan, on the Upper Peninsula's northern shore.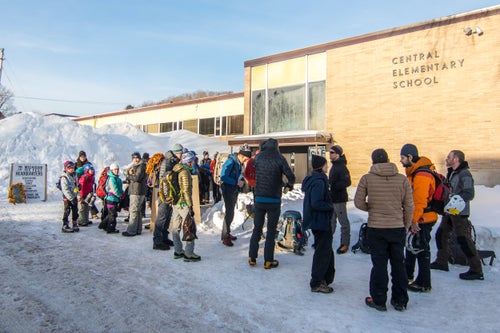 The Michigan Ice Festival is based out of the old Central Middle School, which is now the town's community center, located in downtown Munising. For one weekend a year, climbers and adventurers gather in this town of around 2,000 people to celebrate the relatively unknown natural wonder that is Michigan ice climbing.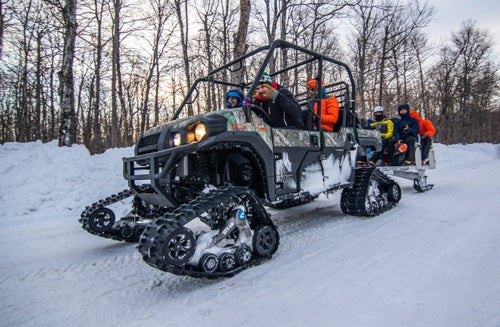 Some climbs are located deep in the backcountry. How does one access the inaccessible? A five-star limo ride, of course. Backcountry classes were shuttled to the climbs in various off-road vehicles specifically designed for navigation in deep snow.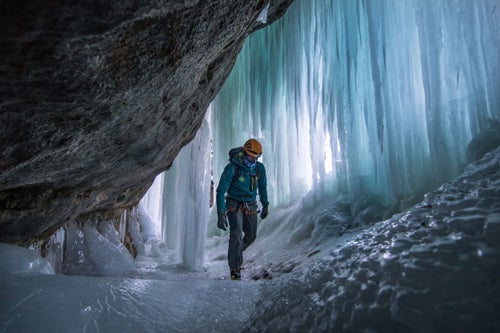 Northern Michigan's soft sandstone seeps water all year long. In winter months, the seeps solidify and form epic corridors and pillars of solid ice. Sometimes the ice caves stretch for miles along the shore of Lake Superior. The caves offer a beautifully surreal playground for climbers and hikers alike.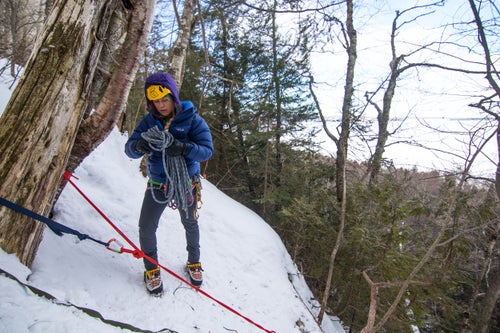 All climbs are accessible from the top, which makes anchor building easy and efficient. Professional climber VanWiemeersch sets up anchors for her Intro to Ice class.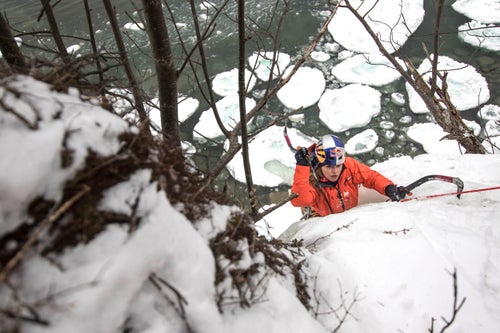 DiGiulian's focus was dialed—every swing calculated and perfectly placed to give her the maximum amount of security while topping out on a wet pitch on Grand Island. VanWiemeersch had ascended the climb moments before and then belayed DiGiulian.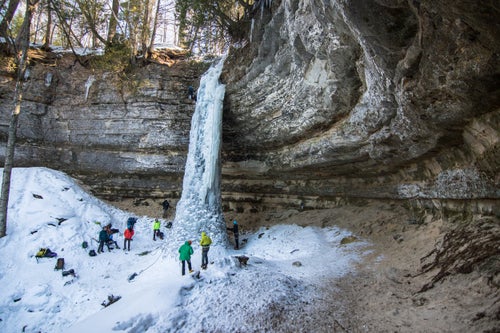 All-time frontcountry classic, the Dryer Hose, is a popular destination for climbers on Sand Point Road. It offers a beautiful and easily accessible freestanding pillar that's tucked away in the woods, with sweeping sandstone cliffs on either side.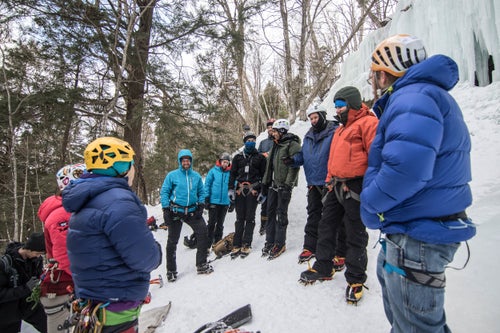 The Michigan Ice Festival prides itself on being 100 percent beginner-friendly. Even those who have never put on a harness are encouraged to come out and experience what the ice has to offer. With guidance from pro climbers and local guides, festival-goers are able to hone their newfound skills on the ice.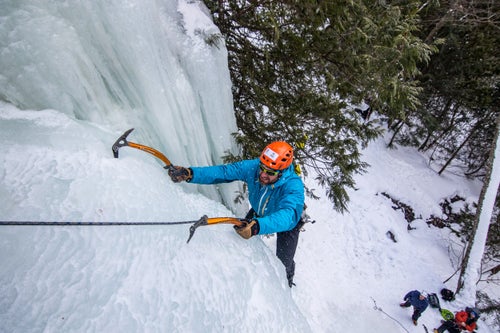 Before long, you'll be swinging like a pro. Feedback from the group allows for continuous forward progression while on the wall.