Wide-Eyed and Breathless
Whether our writers and editors were drawn to flower and tree, bird and creature, or sun and moon, the outdoors wowed them in ways that never let go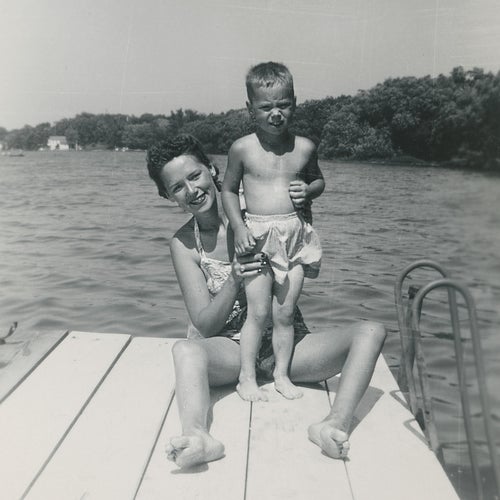 Tim Cahill, editor at large
That's my mother, sometime in the late 1940s, at Nagawicka Lake in Wisconsin, and as you can see, she was beautiful. I spent my summers on the lake, and learned to swim early, in a time before my memories begin. Dad said he just tossed me off the pier into the lake, which is how you taught a kid to swim in those days. Apparently, I sank like a stone. My father had to dive in, fish me out, and explain that the idea was to stay on top of the water and breathe. I guess that made sense to me, and I spent most of my summer days in the lake. When I told my parents that I wanted to travel, they suggested I join the YMCA swim team. I did, and went with the team to such exotic places as Fond du Lac and Beloit. I swam in high school and later for the University of Wisconsin. My first ever plane flight was a university team trip to a meet in Minnesota. So swimming and travel are deeply intertwined in my mind. One of my first jobs in journalism was as a traveling correspondent for a scuba magazine. Over the years, I've reported from almost 100 countries and once took a (brief) swim in the waters under the ice at the North Pole. But that's another story.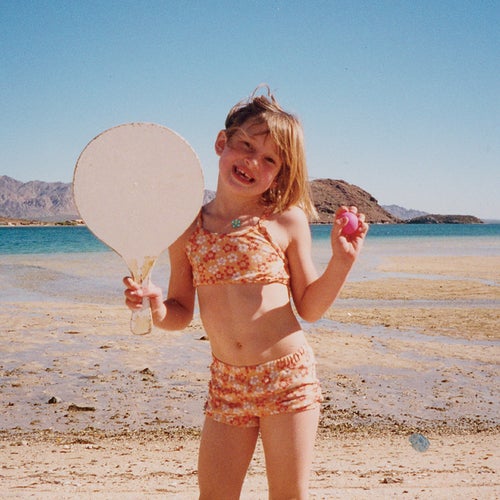 Petra Zeiler, deputy art director
For two weeks every summer, my family would drive three days from Santa Fe, where I grew up, to my grandpa's house in San Bruno, in Baja California Sur. We'd spend our days playing paddleball on the beach, fishing with our friend Miguel and other locals, kayaking, and exploring the caves of San Marcos Island. Since then I've explored and traveled a lot: from ski racing in Sun Valley, Idaho, to attending school in Vancouver, British Columbia, to returning to Santa Fe to work at Outside. Now that I'm home, I know what I'm doing next summer: going back to my grandpa's place in Mexico.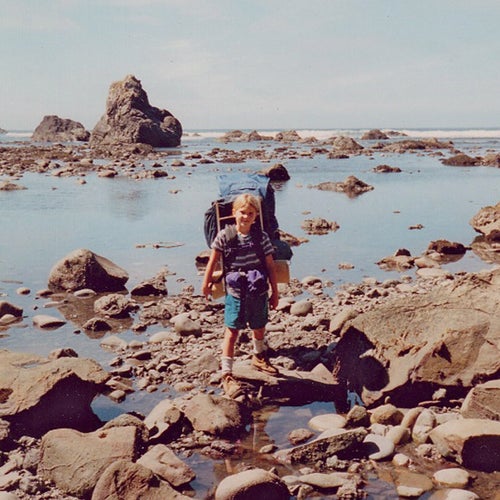 Erica Clifford, designer
Just before starting third grade, during the summer of 1998, I went on my first real backpacking trip, at Cape Alava in Washington's Olympic National Park, with my family and friends. It was the first time I carried all my own things—for a whole 9.4 miles. I was immensely proud. After seeing that I was an accomplished backpacker, and that bribing me with trail treats staved off the more severe bouts of whining, my family began taking me backpacking almost every summer.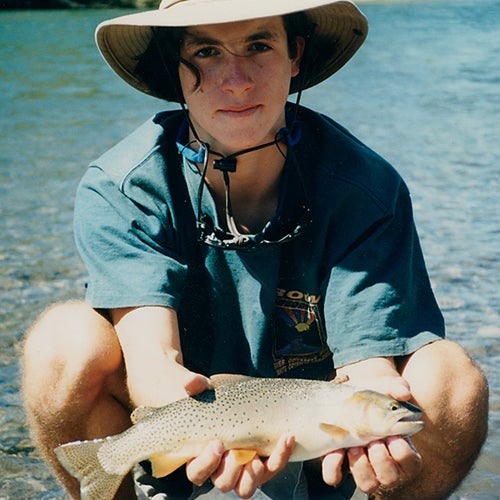 Grayson Schaffer, editor at large
When I was 16, I was really into fishing, so much so that when I was 18 I got a tattoo on my shoulder of a rainbow trout copied out of the Idaho Fish and Game handbook. I got it done in the back of a bar in Sandpoint, Idaho, where a guy took a needle out of a tackle box and assured me that it was clean. My dad was really mad at me for getting it, but I told him I was old enough to make my own decisions. I do wish I'd gotten a better tattoo.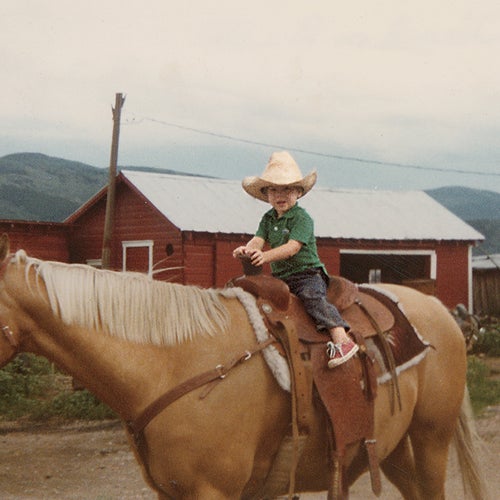 Will Grant, correspondent
I learned to ride on good horses like Buster at the family ranch near Steamboat Springs, Colorado. I've been mad for the animals my whole life and have probably breathed more fresh air sitting in the saddle than anywhere else. After my first feature for Outside, in 2013, about racing 600-plus miles across Mongolia on a horse, my editor Sam Moulton advised that my next stories should be less horse-centric. It's a lesson I've yet to learn: ("Calamity at Every Turn"), I wrote about riding part of the Pony Express trail with nine of them.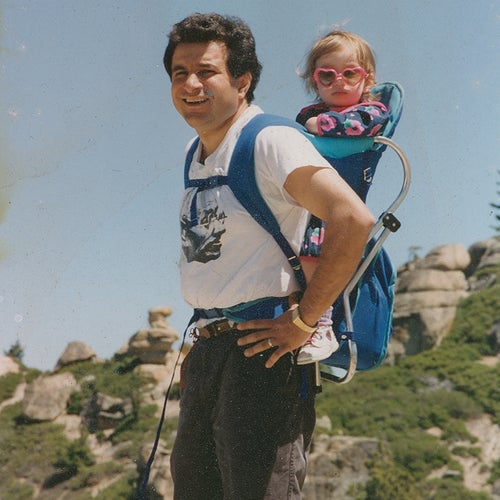 Molly Mirhashem, associate editor
My parents have been dragging me on hikes since I was born. Growing up in New Hampshire, I was spoiled by beautiful trails close to home, though I usually ended up missing the view because I'd fallen asleep in my dad's pack. On any given weekend during my childhood, it was a safe bet that we were going hiking. I wasn't always the most enthusiastic trail com­panion, but eventually all that walking in the woods grew on me. I suppose I should thank my parents for forcing me into the great outdoors before I could even stand up.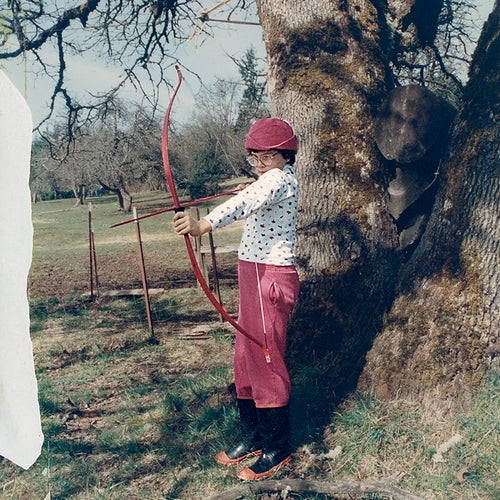 Aleta Burchyski, copy editor
This is me discovering my flow state, learning to breathe, trying to hit the target almost as good as Mom and Dad, who got their first backyard bows when they were little, too. Whenever I felt mad or frustrated or anxious or bored, I'd put on my boots, string up my junior-size Bear bow, and head outside to practice at this pioneer-planted oak behind our little farmhouse in Viola, Oregon. Twenty-five years later, now with a Diamond compound, I'm still not a particularly brilliant shot. But as my parents knew I'd learn, that doesn't have to be the point.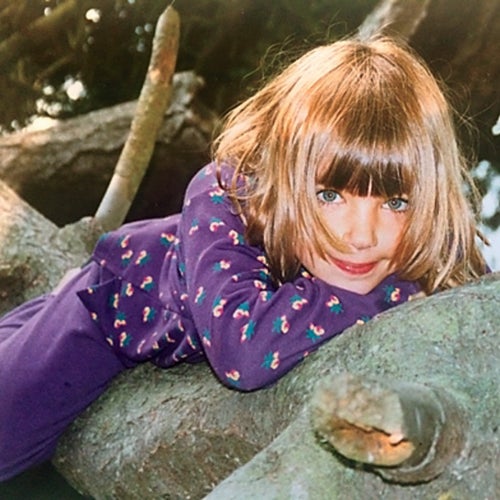 Blair Braverman, correspondent
I grew up an only child in Davis, California, and spent my afternoons tromping around with the family dog, making up stories. My parents indulged my imagination; if I said I was a castaway on a desert island, they'd ask about my shelter and water supply. When I got whooping cough in second grade, my dad read me Adventures of Huckleberry Finn, To Kill a Mockingbird, and Treasure Island. After that I was a reader. I spent long afternoons in the tree in our front yard and rigged a basket on a pulley to hoist up books and Fruit Roll-Ups.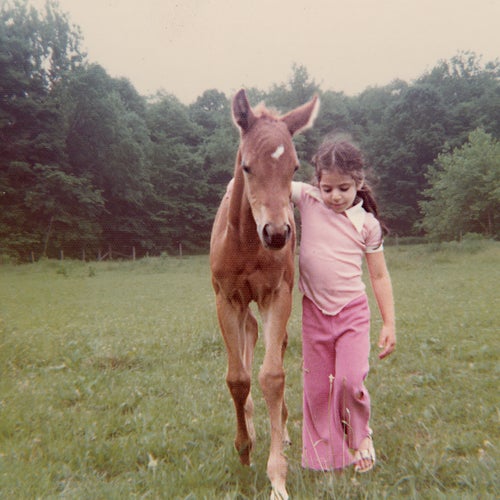 Amy Silverman, photography editor
My family's horse Twist-A-Bit-Late was born at our house in 1975. My dad had moved us from Indianapolis to what was then the country (now a quintessential Midwestern suburb) because he wanted to be a cowboy. We grew up riding horses and roaming the ten acres behind our house. When I read David Quammen's story ("Whose Woods These Are"), I felt like I was reading a description of my own childhood. We, too, spent hours playing in the woods, swinging on a rope over the creek and entertaining ourselves in the trees and fields. I never lost the love of seeking out spaces that feel wild.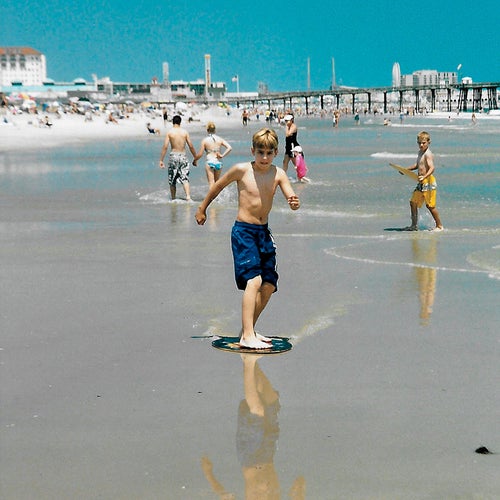 Wes Judd, assistant editor
Much to my chagrin, when I was growing up, my family never really got outside in the summer. Sure, we went on hikes and visited the local pool in ­Geneva, Illinois, but we didn't back­pack, roadtrip to national parks, or even camp. Instead, the staple of my summer was a two-week trip to Ocean City, New Jersey, a coastal resort town with a small amusement park, cotton candy vendors, and lounging beachgoers. Despite the touristy vibe, it was there that I got my adventure fix: skimboarding. It wasn't surfing, but I learned to love it.