Bell Boy
An ex-soviet launches a low-tech revolution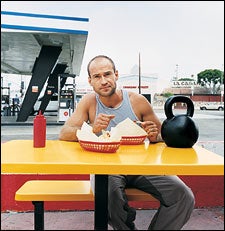 Sian Kennedy
Heading out the door? Read this article on the new Outside+ app available now on iOS devices for members! Download the app.
Leave it to a former Russian military trainer to develop a complete workout using a most rudimentary piece of equipment. The device in question is called a kettlebell, and it's nothing more than a melon-size cast-iron ball with a handle. The trainer making the most of it is Pavel Tsatsouline, who once spent his days beefing up the Soviet special operations forces. Since arriving in the United States 11 years ago, Pavel's renounced his commie ways, settled in leafy Santa Monica, California, and turned into quite the capitalist running dog. He markets his own abdominal machine (the Pavelizer), pens exercise books (Power to the People!), and even sells Red Army fitness tips to his onetime sworn enemies, the U.S. Marines. Tsatsouline's genius, however, rests with the minimalist kettlebell. Using a single girya (they come in six sizes, ranging from nine to 88 pounds), he devises workouts that include lifts, presses, and squats; abdominal exercises; and cardio drills. Done right, he says, his regimen will efficiently work all of your major muscles and, well, "leave you coughing up hair balls." Russkie overstatement? Maybe, but to find out for yourself, grab a 10- to 30-pound dumbbell—or visit www.russiankettlebell.com to order the real thing—and try the following three times a week.

Pavel Tsatsouline: Russia's fitness antidote to Richard Simmons




A. (5 sets of 1 rep per arm)
(1) Lying on your back, perform a one-arm press. (2) Roll onto your side, propping yourself up with your arm. (3) Stand up, keeping the dumbbell overhead. (4) Reverse the steps and lie back down. Repeat with the other hand.

B. (1 set to muscle failure)
(1) Lean over with your back straight, grip the dumbbell with both hands, and swing it under your legs. (2) Snap your hips forward and project the weight to shoulder height.


C. (5 sets of 3 to 5 reps)
(1) With both hands behind you, squat down, grip the dumbbell, and return to a standing position. (2) Set the dumbbell down and repeat.