The Explainer: Can Running Actually Be Good for Your Knees?
A new study shows that, despite everything you've heard—and experienced—running isn't as hard on the body as you might think. But can we trust the results?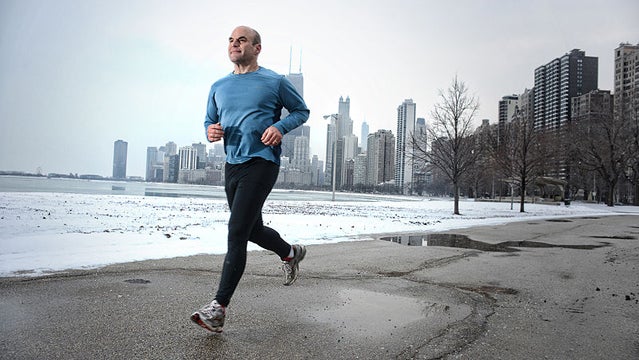 Heading out the door? Read this article on the new Outside+ app available now on iOS devices for members! Download the app.
ABSTRACT: We're always looking for excuses not to run. Sure, it's one of the simplest, cheapest, and most effective forms of exercise out there, but for many of us, running equals suffering. There's no way around it: It sure as hell hurts. So we'll run with any excuse we can—no matter how pathetic—to stay on the couch. My personal go-to: Running is bad for the knees. In fact, it's plainly irresponsible to tie up my Asics laces. But do I have a leg to stand on?
HYPOTHESIS: We may have been born to run, but we've evolved to be couch-bound; running wrecks the knees.
METHODS: A study in the journal Medical Science Sports Exercise tracked 74,752 runners over 7.1 years and 14,625 walkers over 5.7 years looking at the number of hip replacements and cases of osteoarthritis in each group.
RESULTS: The runners had fewer cases of osteoarthritis and needed fewer hip replacements than the walkers. Regardless of their mileage, runners were at roughly half the risk for osteoarthritis and hip replacements than walkers who expended equal amounts of energy (measured in METhr/d). Surprisingly, other forms of exercise were more damaging then either running or walking.
DISCUSSION: Old myths die hard, especially when people are looking for excuses. Still, how can running have the exact opposite effect as what we had expected? "A lot of people think of exercise in sort of the automobile engine model where you tend to wear out the bearings when you use them more and more," says Paul Williams, Ph.D., an epidemiologist at the Lawrence Berkley Laboratory in Berkeley, California . "The difference with the body is that it's successful because it compensates for the stresses."
While sports injuries do raise your risk of developing osteoarthritis and studies examining Olympic-class athletes—who are often injury-prone—show high rates of the disease, the reality is different for nearly everyone else (in his 90,000-person sample, very few people fit this criteria, Williams says). Animal models show that exercise promotes cartilage thickening and protects its stretchy properties, according to Williams. In other words, instead of wearing down your bearings, running may grease them. That's key, because cartilage thinning and the loss of elasticity are both prominent causes of osteoarthritis.
But things are a bit more complicated. Running may have special protective properties, but about half of the effect comes from weight loss, Williams says. "If you were lean by other means would you still have this protective effect? Yes, but we still have the additional protective effect of whatever exercise is doing" to reduce you risk of osteoarthritis. On average, your risk for the disease jumps five percent for every point-increase in your BMI. Surprisingly, the reason why is actually not well understood, he says. But researchers know the "physical strain of carrying your weight around all the time" likely stresses your joints and that obesity causes a cascade of negative effects in your body. Some of those—like inflammation—likely take a toll on your joints, Williams says.
While all physical activity should theoretically provide some protection for your joints, Williams says he was surprised to find that forms of exercise other than running and walking actually boost your risk of osteoarthritis. In fact, people who were most active in activities other than running were at a 21 percent greater risk for osteoarthritis and 99 percent increased risk for hip replacement compared to those who exercised the least.
What makes running and walking safe but going to the gym damaging? It comes down to how you use your knees, and we can take a clue from occupations like carpet-laying, Williams says. The deep knee bending is a known risk factor for osteoarthritis. The problem: When you go to the gym, you're probably repeating some of those same moves. However, when you're running, your knees aren't bending to that same degree. And it's a far more continuous activity—without potentially damaging long pauses or stops and starts—than doing an indoor exercise class, Williams adds.
The one bit of bad news: Your risk of developing osteoarthritis jumps 3.9 percent per year for guys and 6.1 percent per year for women. And the longer you've been running, the more at risk you are. But even then, "the benefits of running outweigh the risks for 70 years," Williams says.
CONCLUSION: We're down another excuse. Injury-free running is not bad for our knees.