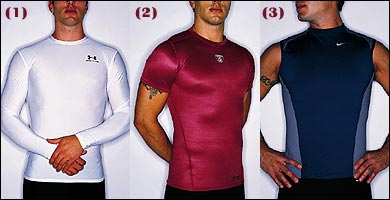 Chris Bartlett
Heading out the door? Read this article on the new Outside+ app available now on iOS devices for members! Download the app.
Can Underwear Make You Stronger?*
fitness tips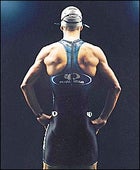 *No, but it sure looks (and feels) that way
Who knew that a stretchy T-shirt made from a more breathable version of the fabric found in ladies' girdles would become the base layer of choice for athletes as diverse as baseball home-run king Barry Bonds and World Cup moguls skier Jeremy Bloom? In 1997, the original (1) UNDER ARMOUR LONG-SLEEVED T-SHIRT ($35; 888-427-6687, www.underarmour.com)—which, by holding muscles firmly in place, reduces fatigue—became a cult favorite of collegiate football programs around the country. REEBOK'S NFL EQUIPMENT has stitched up a comparable garment in its (2) HOT SHIRT ($25; 877-635-7467, www.nflshop.com), while Nike's version, (3) PRO COMPRESSION with PRO VENT ($35; 800-344-6453, www.nike.com), has strategically placed ventilation panels in the upper back and sides to facilitate breathability.
Canned Heat
Balms like Bengay aren't a substitute for stretching, but they could spare you a case of soreness that feels like walking rigor mortis. "Muscle rubs bring heat to an affected area, increasing blood flow, which reduces spasms and also speeds recovery," says Robert C. Palumbo, a doctor with the NFL Players Association. Active ingredients like methyl salicylate and menthol—both found in Bengay—have documented soothing effects, and companies have started adding moisturizers and pleasant scents like vanilla to cut the medicinal odor. Other companies, like Neal's Yard Remedies, go the homeopathic route, using natural substances like arnica. "I've worked with a lot of elite athletes and have seen these natural salves work," says Palumbo. When your schedule cuts stretching or sauna time out of your workout, reach for a rub.
SPINAL RAP
The easiest way to get an instant fitness boost is with good posture, just like your first-grade teacher recommended. So sit up and listen:
BREATHE DEEPER Correct posture allows you to fill your lungs to full capacity and maximize your oxygen intake, which means more oxygen reaches your muscles, reducing fatigue.
CONSERVE ENERGY "When you're properly aligned and vertical in your stance, your muscles don't have to work as hard to hold you up," says Bill Sands, head of sport biomechanics for the U.S. Olympic Training Center in Chula Vista, California.
AVOID BACK INJURY "Most back injuries are associated with a rounded or arched back," says Stuart McGill, professor of spine biomechanics at the University of Waterloo, in Ontario, Canada. "That's because you're overloading your back muscles," says McGill. Good posture can eliminate that risk.
GENERATE MORE POWER Most sports require the back muscles, hips, and legs to work together. "A rigid torso protects all your flexible limb joints: your hips, legs, knees, and shoulders," says McGill. The result is that all your effort goes into powering through an exercise instead of compensating for poor form.
THREE KEYS TO A PERFECT STANCE
1. The main signs of misalignment are hunched shoulders, one shoulder higher than the other, uneven pelvis, butt sticking out, and locked knees. "Standing in front of a mirror can be revealing," says Sands. Look for asymmetries in the way you hold yourself and focus on bringing them more in line.
2. Roll your shoulders back, slightly arch your spine, and hold your head up. "When your gaze is directed about 11 feet ahead," says Sands, "you're well balanced."
3. Regular exercise and paying attention to your posture while working out will take care of many postural problems. Sands says, "Most of what controls posture is plain, old-fashioned strength."