The Most Chaotic Finish Line Moments
From wipeouts to ties to near violence, here are the least graceful—but most memorable—finish line moments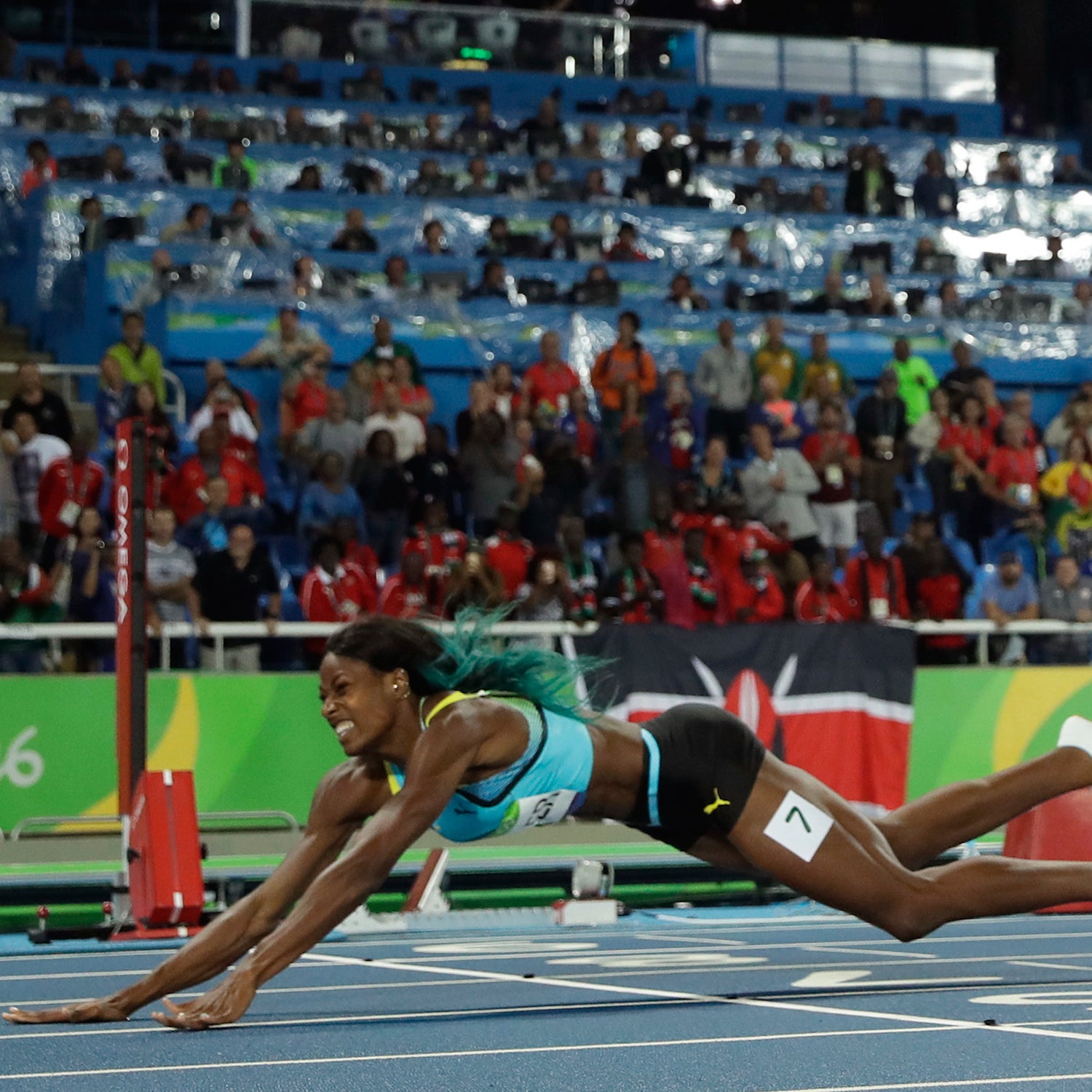 Heading out the door? Read this article on the new Outside+ app available now on iOS devices for members! Download the app.
On Monday in Rio de Janeiro, U.S. sprinter Allyson Felix was robbed of the gold in the 400-meter sprint when Shaunae Miller of the Bahamas dove head-first over the finish line seven-hundredths of a second ahead of her. Bahamians have celebrated, while many spectators were left confused, wondering, "Wait, you can dive across the finish line?!"
Miller's coach later told reporters that "her legs gave out at the line." But no matter: the rules say sprinters win when their torso crosses the finish line before their opponent's—it says nothing of their head, arms, or feet. And so when she dove, Miller's torso finished at 49.44 seconds, a personal best, and faster than Felix's time of 49.51.
In losing the race, Felix suffered her second defeat to a methodical, desperate, or clumsy opponent, depending on who you ask: another U.S. sprinter, Jenna Prandini, beat Felix for the third spot on the 200-meter team last month when she dove at the finish line of the Olympic trials in Oregon. Felix has had tough luck, but she's not the only athlete to lose under controversial circumstances. Here are some of the most dubious, unconventional, or otherwise memorable finish line moments.
Men's Ski Cross Quarter-Final: Sochi 2014 Winter Olympics
Sweden's Victor Oehling Norberg was in the lead approaching the final jump of the men's freestyle ski cross quarterfinals at the 2014 Sochi Winter Olympics when he lost control and crashed, causing Russia's Egor Korotkov and Finland's Jouni Pellinen to wipe out as well. Switzerland's Armin Niederer, who moments before was in third, skied off to the side to victory. By extending his arms while careening down the hill, Korotkov inched his way to the second qualifying spot past Oehling and Jouni in one of the more dramatic photo finishes we've seen.
2006 Chicago Marathon
While Robert Cheruiyot of Kenya won the Lasalle Bank Chicago Marathon in 2006, it came at a price, thanks to a slippery finish-line plastic decal, which caused the runner to slip, fall, and hit his head on the asphalt. Cheruiyot was sent to the Northwestern Memorial Hospital where he was treated and told he suffered a bruise to the brain. At the medal ceremony, two days later, Cheruiyot said, "I just fell down. I was speeding and I just fell…but I won the race." The four-time winner of the Boston Marathon has since told reporters that he suffers from headaches.
2016 Tour de France
https://youtube.com/watch?v=MEx2T6YDb58
British cyclist Chris Froome turned into a sprinter last month when he was forced to run after his bike was destroyed during Stage 12 of the Tour de France. Fans had crowded a portion of of the course at Mont Ventoux and forced a motorcycle into the way of the competitors, causing Froome and Richie Porte to crash and hit the asphalt. Froome was sprawled on the ground when a police motorcycle ran over his bike, leaving him no choice but to run towards the finish line (although he later was given a replacement bike). He was unsurprisingly overtaken by opponents, but a review concluded that he with him keeping the yellow jersey.
Men's 100-meter Butterfly Final: 2008 Beijing Olympics
Even Michael Phelps' mother and coach thought he lost the 100-meter butterfly final in the 2008 Olympics. And they were right. Milorad Cavic of Serbia had technically touched the wall first—but not hard enough to register with the Omega timing system. Phelps won by 0.01 of a second due to the extra force generated by the last half-stroke he took before reaching the wall. The Serbian delegation filed a protest, but ultimately conceded after reviewing the tape. Cavic told reporters: "I'm stoked with what happened. I don't want to fight this. People will be bringing this up for years and saying [I] won that race. If we got to do this again, I would win it."
Cavic got his 100-meter butterfly rematch at the 2012 Olympics, but did not place. Meanwhile, Phelps took gold.
2012 Women's 100-meter Olympic Trials
In 2012, Allyson Felix (a seeming veteran of controversy) was neck-in-neck with Jeneba Tarmoh down the stretch, fighting for third place in the women's 100-meter Olympic trials. After crossing, the scoreboard showed that Tarmac finished the race in 11.067 seconds and Felix in 11.068. But twenty-minutes later, in a press conference, the USA Track and Field public affairs officer announced the result was changed to a tie—a dead heat. The head finish line judge said he could not base his decision off the finish photo, so he made his call by interpolating that Tarmoh's chest had hit the line first, using data points. A second photo finish judge didn't disagree with the interpolation, but thought it would be challenged given the high stakes of the Olympic trials. The following week, in school yard fashion, the two sprinters were asked to compete in a 100-meter runoff race. Tarmoh, upset with the decision, pulled out, opening a spot for Felix to compete.
Molly Huddle: IAAF 2015 World Championships and 2016 New York City Half Marathon
The American distance runner Molly Huddle is a veteran of chaotic finishes. Last year, while approaching the finish line of the 10,000 meter world championship in Beijing, she slowed down and raised her arms in celebration just as another American, Emily Infeld, passed her for the win.
In March, Huddle won the New York City Half Marathon, but was criticized for appearing to force Kenyan runner Joyce Chepkirui out of her way to victory. She later told a reporter, "That was really hard to get over. Having my integrity questioned based on something that was accidental, incidental contact."
​https://www.youtube.com/embed/x0WiUP-l2Q4
Huddle broke the American record in the 10,000 meters at the Olympics last week. The run was bittersweet—she placed sixth behind suspect world record setters—but she garnered support from fans and her teammate, Infeld, who told a reporter, "I'm so excited for her. She's been working so hard for so long. She's a class act, phenomenal, great competitor, just an awesome person, I'm really, really stoked for her. It's incredible to see that."
We also congratulate Huddle. But we caution she never throw up her arms again when crossing the finish.
Lead Photo: Matt Slocum/Associated Press