5 Recovery Foods That Pro Athletes Can't Get Enough Of
Plus, why post workout fueling is so important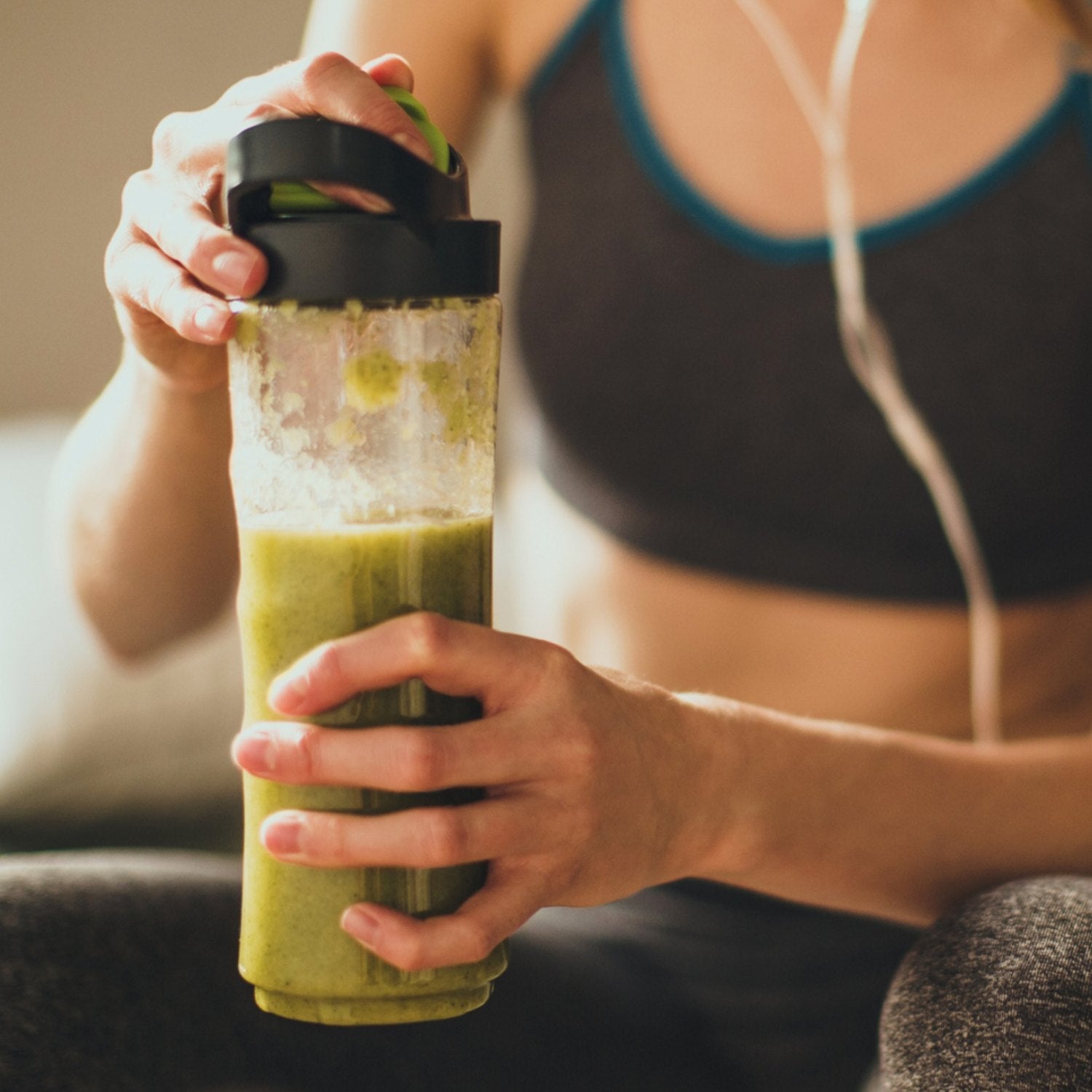 Heading out the door? Read this article on the new Outside+ app available now on iOS devices for members! Download the app.
The best athletes don't just train hard—they also recover smart. And a big part of effective recovery is the post-workout meal.
A good after-exercise nutrition plan can help an athlete replace the energy they burned during a workout, repair and rebuild muscles, and provide the fuel they need to crush their next training session, according to Jordan Hill, a Colorado-based registered dietitian and certified specialist in sports dietetics with Top Nutrition Coaching. The resulting gains can be significant.
Just ask Lea Davison. When the two-time Olympic mountain biker worked with a nutritionist some 10 years ago to dial in her post-workout fueling plan, she "really noticed the difference," describing a reduction in rabid hunger and a feeling of being "stronger all around."
When curating a post-workout snack or meal, folks should look for two main things: carbs and protein, says Hill. Carbs help reduce inflammation, boost immunity, and stimulate the release of insulin, a muscle-building hormone that also helps refill your body's glycogen stores (your muscles  energy source). Protein helps refill your glycogen stores as well, and also halts muscle breakdown and promotes the growth of new muscle, Hill explains. Moreover, when combined, carbs and protein reduce cortisol, a hormone that causes muscle breakdown.
Athletes should consider foods rich in antioxidants like fruits and vegetables, and omega-3s like nuts, seeds, and fish, as they tamp down inflammation and further assist in the recovery process, Hill explains. It's also important to keep in mind hydration and electrolyte replenishment, especially sodium and potassium.
When it comes to carbs and protein, the amount you consume matters. After an intense workout, look for a three-to-one ratio of carbs to protein, or closer to a two-to-one ratio if your goal is weight loss, says Hill. You can calculate your target amount of protein in grams by dividing your bodyweight in kilograms in half. Then, multiple that figure by two or three to get your carbohydrate value in grams, Hill explains.
For example, with the three-to-one ratio, someone who weighs 150 pounds (68 kilograms) would have a target protein goal of 30 to 35 grams and a target carbohydrate goal of 90 to 105 grams. Keep in mind this guidance applies only to intense workouts—the type that leave you sweaty, tired, and potentially sore the next day. Following a gentler workout—say, a yoga session or quick 20-minute strength routine—these specific ratios aren't as important, says Hill, who recommends folks in those scenarios just follow their general eating patterns for the day.
Last tip: Pay attention to timing. Women should aim to eat their protein amount within 30 minutes of a workout. That's because certain hormone fluctuations that occur in women post training can accelerate muscle breakdown, explains Hill, and getting in protein quickly can help combat that. Women can eat their carbs alongside the protein, or eat the carbs separately up to two hours after the workout. The guidance is a little less strict for men: so long as they eat both the protein and carbs within two hours of exercising, they'll reap the benefits.
Need some inspiration for your next post workout meal? We tapped two-time Olympic mountain biker Davison and four other elite athletes to learn what they typically feast on after a tough training session.
1. Fruit Smoothie
Pro snowboarder and Olympic silver medalist Julia Marino usually gravitates towards a smoothie with a mixture of frozen fruit, coconut milk, yogurt, and protein powder. "It's not too heavy," says Marino of her go-to snack. "When I'm done working out and pretty warm, I'm craving something light and colder that's easily digestible."
Meagan Martin, a pro climber and American Ninja Warrior women's champion, is also a fan of the post workout smoothie. Her concoction often features a mix of frozen fruits and veggies (like banana, pineapple, blueberries and spinach), along with cinnamon, chia seeds, almond milk, almond butter, and sometimes whey protein. "I have this after any workout," says Martin. "Whether it's a climbing session or a cardio workout, it's just the thing my body needs."
Hill, the nutritionist, endorses these types of smoothies as a great way to get antioxidants, hydration, and protein following a workout. Just be sure to pay attention to portion sizes to ensure you're hitting a good ratio of carbs to protein, she advises.
2. Strawberry Lemonade Slushie
During cold months, Davison frequently refuels with a fruit smoothie, similar to the ones described above. But after a long ride on hot days, she favors a DIY slushie: She blends a scoop of unflavored protein powder with lemonade and frozen, locally-picked strawberries."It's easy to drink," she says, adding that the tartness of the lemonade helps counterbalance the sweet chews, bars, and gummies she consumes during her ride. If her workout concludes at home, she'll quickly whip this up within the 30-minute recovery window, or, if she's ending a ride at a trailhead, she'll make it in advance and stash it in a Yeti cooler so it stays chilled.
This concoction, says Hill, offers "great hydration" and electrolytes in addition to protein. The strawberries and lemonade (so long as it's sugared) provide carbs, she adds. If you're making this at home, Hill recommends monitoring the portion size to ensure the carb to protein ratio is sufficient.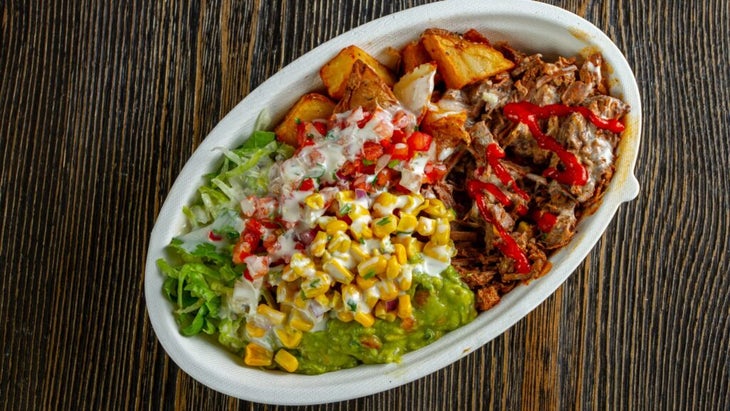 3. Burrito Bowl
Adidas-sponsored athlete Chris Nikic, who in October became the first person with Down syndrome to finish the Ironman World Championship, is a Chipotle devotee. The 23-year-old athlete's favorite food is rice, and every day for lunch he orders a heaping burrito bowl with all the fixings: brown and white rice, brown and black beans, chicken, veggies, corn, cheese, and guacamole. The end result is "a four-pound bowl," says Nikic, who is currently training for the Tokyo Marathon and notes the meal tastes best after a run.
Nikic's go-to is a "great option," says Hill. It provides protein, lots of carbs—including both easy-to-digest simple carbs from the white rice and satiating fiber-rich carbs from the brown rice—as well as antioxidants from the veggies.
4. Eggs, Greens, and Toast
When it comes to post exercise fueling, Dylan Bowman is a creature of habit. For years now, the professional trail runner has consumed the same recovery meal pretty much every day. He'll scramble two eggs with greens and onions and then "liberally" butter two pieces of bread. Sometimes, he adds avocado if he's feeling extra hungry. "I love it because it's simple and quick," Bowman explains. "I can get it in quickly and get the recovery process started before I begin the work day."
This meal hits the big components, says Hill: protein with the eggs, healthy fat with the avocado, and carbohydrates with the toast. If you need more calories depending on the intensity of your workout, Hill recommends either increasing the portion sizes or pairing the meal alongside something else, like oatmeal with berries and honey.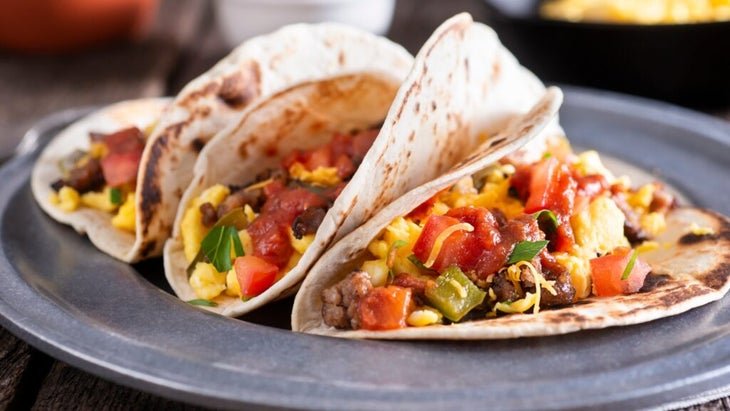 5. Breakfast Tacos
When Davison is craving "real" food (i.e. something she can chew, not just sip) she whips up eggs fried over medium with toast, or concocts egg tacos with cheddar cheese, salsa, scrambled eggs, and corn tortillas. "Eggs are my go-to for lunch mostly," she says.
The breakfast taco option is really similar to Bowman's staple and provides carbs from the tortillas plus protein from the eggs. The salsa adds antioxidants. Depending on the intensity of the workout, Hill might recommend adding extra carbs to properly refuel—things like orange juice, chocolate milk, or a small cup of fruit.
Lead Photo: Getty Images/ Geber86