8 Healthy Dinners
It's your final chance of the day to recover from training and to prep muscles for tomorrow's adventure. Follow the lead of these eight athletes.
Heading out the door? Read this article on the new Outside+ app available now on iOS devices for members! Download the app.
It's the last of our three-part series, and we're taking you to dinner. (See breakfast and lunch here.) Eight athletes share their evening fuel strategies, from wild-caught salmon to prosciutto and chocolate. (We'll have what he's having.)
Our dinner expert: Krista Austin is a physiologist and a fitness and nutrition consultant for the national governing bodies of triathlon, tae kwon do, and weight lifting. "Performance metrics are the keys to helping people determine their ideal body weight and composition," says Austin. "They drive how I use someone's personal food preferences to optimize their goals." For Austin's take on each meal, see Why It Works.
Venison Steak
The Chef: Surfer Shane Dorian 
Dorian, 42, charges 50-foot waves all over the world. But on days off, he hunts for his dinner in the mountains near his home in Kona, Hawaii. "I bow-hunt for deer as much as I can," he says. " I have a freezer full of free-range venison most of the time." He pairs the meat with baked sweet potato fries and avocado. "I feel much better and more energetic eating venison rather than store-bought meat," he says. 
Why It Works: "Wild game is leaner than most meats, so it's easy to digest," says Austin, which is why Dorian feels more energetic. But Austin also likes that it's combined with sweet potato and healthy fat from avocado, creating a slow-burning meal. "That means his blood-glucose levels won't bounce, which allows him to sleep better and recover faster." 
Make It: Cut a venison loin into 1.5-inch-thick steaks. Sprinkle with Hawaiian rock salt and let sit at room temperature for 30 minutes. Sauté steaks over medium-high heat in an oiled pan until medium rare, about five minutes. "Venison has hardly any fat, so it's very tender when medium rare or under but super tough if cooked past that," says Dorian. Season with more salt and pepper. Serve with half an avocado and some baked organic sweet potato fries.
---
Calorie Binge with Chocolate Digestif
The Chef: Cyclist Tejay van Garderen
For Van Garderen, who won the 2014 USA Pro Cycling Challenge, dinner is a major event. Because he's riding as much as 150 miles per day and burning upwards of 7,000 calories, Van Garderen will spend well over an hour eating to replenish the fuel he needs for another day in the saddle. "Sometimes I'm not pushing back from the table until ten o'clock," he says. A typical training dinner consists of a smorgasbord of prosciutto, salami, and pâté, followed by pici pasta, roasted lamb, potatoes, and roasted veggies. His favorite part? "Afterward I indulge with a little espresso and chocolate." 
Why It Works: Clearly, by consuming so much, Van Garderen is getting all the protein, carbs, and nutrients he needs. But Austin particularly likes his dessert. "Chocolate is high in antioxidants," she says. "And the caffeine from the espresso might help promote the restoration of carbohydrates in muscles by increasing the availability of glucose." 
---
Kenyan Ugali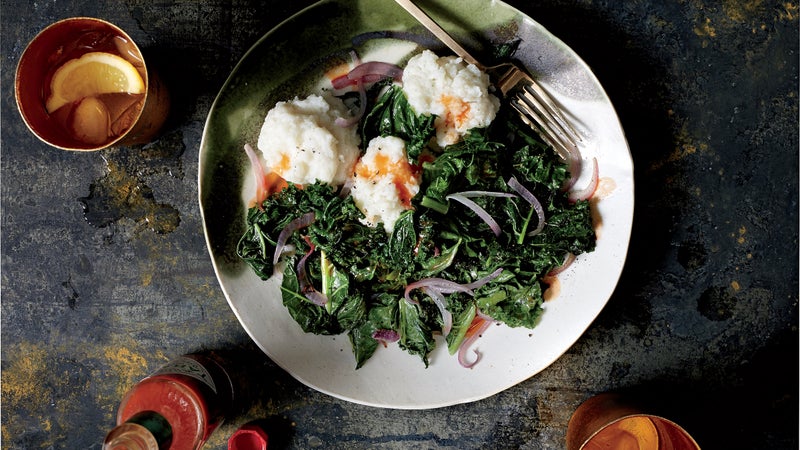 The Chef: Runner Dennis Kimetto
For years experts have wondered what makes Kenyan distance runners like Kimetto so dominant. (Kimetto broke the marathon world record, running 2:02:57 in Berlin in 2014.) Is it genetics? Training? Maybe it's the ugali. For dinner he often digs into the dough-like Kenyan staple, made from cornmeal or flour, along with kale and kidney beans sautéed with onions and tomato. "I've been eating this since I was a young boy," says Kimetto. "I stick with what works." The dish is so popular among Kenyan runners that marathons like Boston and Prague have begun serving it at pre-race dinners. 
Why It Works: Ugali acts a lot like pasta. "Starches help top off the muscles' carbohydrate stores," says physiologist Krista Austin. "That gives him the fuel he needs to perform the next day." Austin also likes Kimetto's addition of beans, which burn slowly and promote fat oxidation. 
Make It: In a deep saucepan, bring four cups of water and two teaspoons of salt to a rolling boil. Stir in two cups of white cornmeal a little at a time. Reduce heat to medium-low and stir regularly, smoothing out any lumps by pressing them against the side of the pan. Cook until the mixture forms a thick mush, about ten minutes. Remove from heat and let stand until cool. Wet hands and form the mixture into palm-size balls. Serve with kale and onions that have been lightly sautéed in olive oil. 
---
Chicken Teriyaki 
The Chef: Swimmer Michael Andrew
At 16, Andrew is widely considered the heir to Michael Phelps's gold-medal kingdom. The Lawrence, Kansas, native has smashed times that Phelps set at the same age, and he's expected to compete in the 2016 Rio Olympics. A lot of the credit for his meteoric rise goes to his 13-year-old sister, Michaela. "She's our family chef," he says. "She plans and cooks all our meals. I couldn't perform as well without her." After a long day of laps, Andrew digs into teriyaki chicken, sautéed zucchini, and a sweet potato. 
Why It Works: It's all in the sauce. Teriyaki has a lot of sodium, which Austin says is critical for long days in the pool. "That sauce can help replace salt lost to sweat," she says. Andrew also gets plenty of carbs and protein to help him recover and store fuel. 
Make It: Michaela likes Kikkoman Original Teriyaki sauce, but you can also whip some up from scratch. In a saucepan, simmer one cup of water, 1/4 cup of soy sauce, 1/2 teaspoon of minced garlic, 1/2 teaspoon of ground ginger, four tablespoons of brown sugar, and one tablespoon of honey. In a cup, dissolve two tablespoons of corn starch in 1/4 cup of cold water. Whisk into sauce and heat until thickened.
---
Pasta Bolognese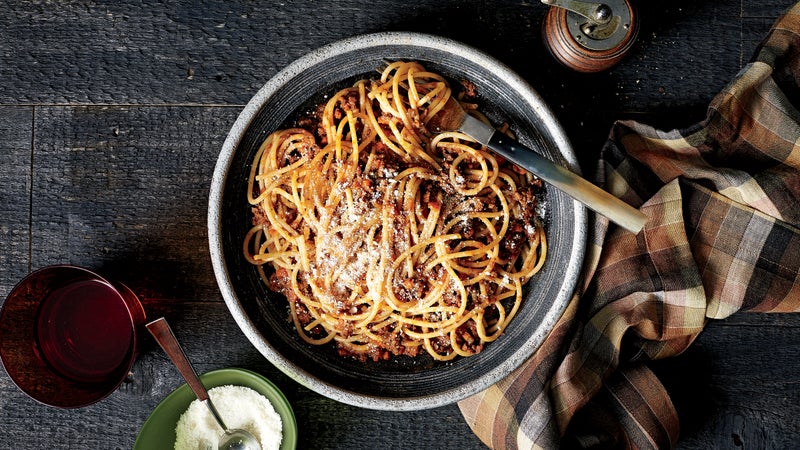 The Chef: Golfer Keegan Bradley
Bradley makes a living racking up wins on the PGA Tour—he won the 2011 PGA Championship and is often ranked in the top ten—but his dinner choices stem from his days as a youth ski racer growing up in Vermont. "I ordered a lot of pasta and would notice I had good energy the next day for training," he says. The same holds true on the golf course. The night before tournaments, Bradley cooks up whole-wheat pasta with Bolognese sauce (usually made with hamburger meat) and a salad with balsamic vinaigrette. 
Why It Works: Wheat gets a bad rap, but it's a healthy choice for athletes who tolerate gluten. "It's high in fiber," says Austin, "so it burns slowly and prevents big drops in energy." Pasta is perfect for anyone doing a long event. "It's hard to eat during a day of competition, so these guys are often just nibbling on things," says Austin. "It's important that they refuel with plenty of carbs and protein at dinnertime."
---
Eggs and Toast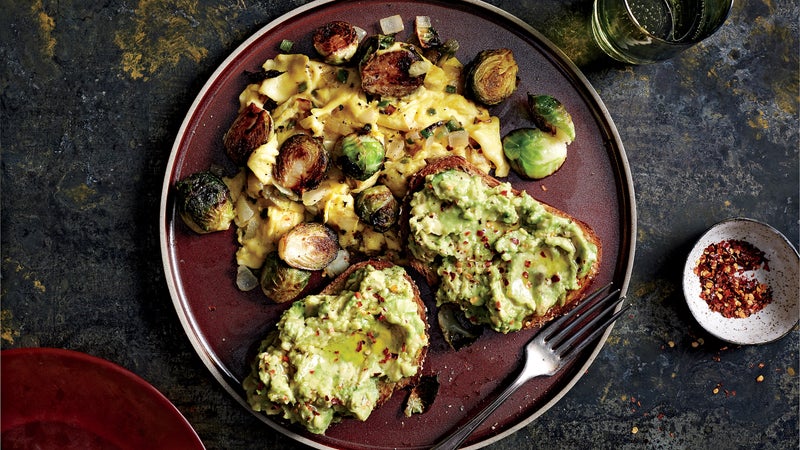 The Chef: Climber Emily Harrington 
This year, Harrington, who lives in Squaw Valley, California, joined the very small contingent of women who have free-climbed a route on Yosemite's El Capitan. In September, the 28-year-old will attempt to climb Nepal's 27,838-foot Makalu without supplemental oxygen. Because mountaineering and climbing both require duffel bags full of gear, simple meals work best. "Eggs, avocado, spices, and whole-grain toast reminds me of when I was a kid," she says. "Also, it's quick to make."
Why It Works: Harrington does a good job packing essential nutrients into her cooler. "She uses energy-dense foods that promote fat burning and stabilize the level of carbohydrates in the blood," says Austin. And the kick Harrington couples with her eggs isn't just a way to add punch. "Spicy seasonings may help produce bile acids, which are important for digestion."
Make It: Sauté a few teaspoons each of garlic, onion, and serrano pepper in olive oil for one minute. Add eight Brussels sprouts, halved. After about seven minutes, scramble two eggs into the pan. Serve with two pieces of whole-grain toast topped with avocado. Drizzle with olive oil and season with salt, pepper, and red chile flakes.
---
Ribs, Potatoes, and Slaw 
The Chef: Alpine ski racer Steven Nyman
Nyman has spent 13 years on the U.S. Ski Team, but last year was a break-out season for the 33-year-old. The Park City, Utah, resident scored a World Cup win in Val Gardena, Italy, and barely missed the podium with a fourth-place finish at the Alpine World Championships in Beaver Creek, Colorado. Nyman spends most of his season in Europe, so for dinner—especially when he's home and training—he likes a very American meal: ribs, potatoes, coleslaw, and salad. "It's great because I can throw the ribs in a Crock-Pot and go out and train," he says. "Then when I get home, they're fall-off-the-bone good."
Why It Works: Nyman is notorious for being one of the fitter athletes on the World Cup tour. He's also burning massive amounts of carbo-hydrates while racing in freezing-cold temperatures, so it's important that his meals have lots of fat, which he can use as energy when the carbs run out, says Austin. To that end, one serving of pork ribs packs 25 grams of fat. And thanks to his cabbage and carrot slaw, Nyman's also eating plenty of dense vegetables that will restore his vitamins and minerals, which keeps his immune system strong. 
Make It: In the morning, put two pounds of pork ribs in a slow cooker with barbecue sauce (Nyman likes Sweet Baby Ray's). Cook all day. In the evening, chop one pound of baby potatoes into quarters. Fry in a pan over medium heat with a few teaspoons each of rosemary, thyme, and olive oil. Garnish with slaw: in a bowl, toss one cup of shredded green cabbage, one cup of shredded purple cabbage, and two julienned carrots with two tablespoons of raisins, one tablespoon of mustard, one tablespoon of mayonnaise, and the juice of one lemon. 
---
Baked Salmon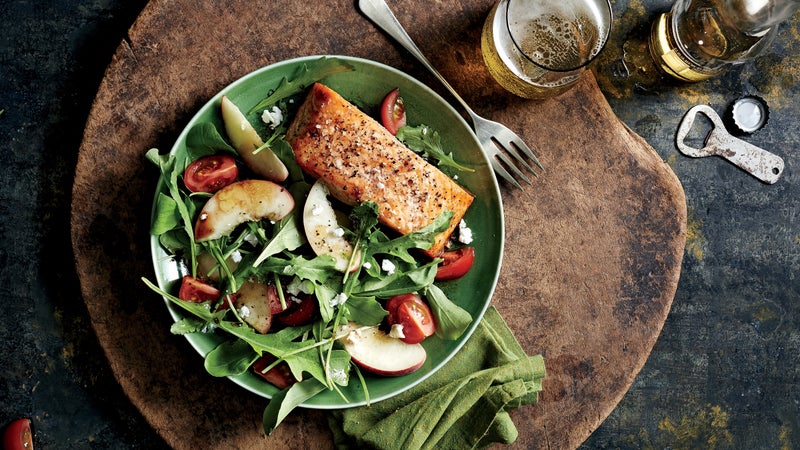 The Chef: Beach volleyball player Kerri Walsh Jennings
Walsh Jennings is best known for her Olympic dominance on the beach-volleyball court with partner Misty May-Treanor: the pair won gold in Athens, Beijing, and London. May-Treanor has since retired, but at 37, Walsh Jennings is still going strong, winning the MVP award on the Beach Volleyball World Tour for the past three years. Part of her longevity can be attributed to her diet. Her go-to dinner of wild-caught salmon, arugula salad, Brussels sprouts, and a large glass of warm water with fresh lemon juice helps her elevate for devastating blocks and punishing spikes, even in soft, deep sand.
Why It Works: Volleyball players have to stay light and lean in order to be quick and agile around the court. "They need to focus on high-quality protein and fat combined with vegetables and fruits that are dense in vitamins and minerals," Austin says. Walsh Jennings's diet is low in carbohydrates, which promotes the burning of fat for energy, allowing her to maintain strength and lean muscle. In addition, warm lemon water might help with digestion, says Austin, and lemons are full of powerful antioxidants, which could help decrease inflammation. 
Make It: Preheat oven to 425. Place a salmon fillet skin-side down on a baking sheet. Drizzle with extra-virgin olive oil and season with sea salt and pepper. Bake until the center flakes apart with a fork, about 20 minutes. Serve with a salad of arugula, tomatoes, sliced peaches, olive oil, balsamic vinegar, goat cheese, and a drizzle of honey. 
---
Your Most Pressing Dinnertime Questions, Answered
The Late-Night Menu: You've been warned that snacking before you hit the sack is bad for your health, but what if you're still hungry? Nutritionists are quick to point out that it's not eating before bed but what you're eating that can have negative effects. "Don't spike your blood sugar," cautions Sunny Blende, a Bay Area sports nutritionist. Doing so will cause you to blow through your carbohydrate stores immediately and prevent you from burning fat. If it's a choice between a cookie or some strawberries and yogurt, go with the latter.
Should I Carbo-Load the Evening Before a Race? If you're competing in a short event like a 5K, or if you typically eat a high-carb diet, loading up on pasta and bread before a race isn't going to help. For longer events, consider building up your carb stores a few days prior to the race and then backing off the day before. A study by the Canadian Sports Center found that out of 257 runners training for the 2009 London Marathon over a five-week period of testing, only 31 met previously established targets for carbohydrate intake on the final few days before the race. But these 31 runners ran an average of 13.4 percent faster than others in the study. Leading up to your event, plan on keeping your calorie count the same, but replace calories from fat with calories from carbohydrates while maintaining your protein intake. Then eat normally the day before. Do this and you'll be much less likely to slow down later in your race. 
Lead Photo: Christopher Testani