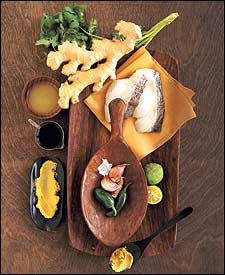 Heading out the door? Read this article on the new Outside+ app available now on iOS devices for members! Download the app.
Despite new reports about dangerous mercury levels in seafood and ongoing concerns about overfishing, dietitian Susan Kleiner, author of Power Eating and food guru for the NBA's Seattle SuperSonics, still recommends five fish meals a week to her clients. Why? Because there's high-octane goodness in every bite. Fish delivers a big dose of protein without the cholesterol found in beef; cold-water species are packed with omega-3 fatty acids that buffer against heart disease, stroke, and some cancers; and the high calorie count means you can fuel up without having to fill up. "The key is to eat enough so you have the energy to train harder," Kleiner says. "Fatty fish like salmon, mackerel, black cod, and tuna can do just that and a whole lot more."
Fish Recipes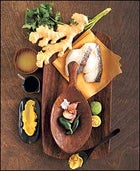 Food Stylist: Megan Shawn Schlow; Prop Stylist: Loren Simons; Photograph: David Prince

OFF THE HOOK
Training diet got you down? Nobuyuki Matsu- hisa, head chef at Nobu—Zagat Survey's top Japanese restaurant in New York City—takes you beyond the protein shake.
TORO WITH JALAPEÑ;O:
4 toro fillets, 3.5 oz each; 1 tsp finely grated garlic; bunch cilantro, stems removed; 2 jalapeñ;os, sliced thin; 8 tbsp yuzu juice, 4 tbsp soy sauce, combined » Cut each fillet into eighth-inch slices. Top each slice with a dab of garlic, cilantro leaf, and slice of jalapeñ;o. Pour sauce over fish and serve.
BLACK COD WITH MISO:
4 black cod fillets, 8 oz each; 3/4 cup mirin; 3/4 cup sake; 2 cups white miso; 1 1/4 cups granulated sugar » Boil mirin and sake for 20 seconds, then turn heat to low and add miso, stirring until dissolved. Return heat to high and add sugar, stirring until dissolved, then cool to room temperature. Pat fillets dry and slather with sauce. Place in a covered bowl and refrigerate for two days. Wipe excess sauce from fillets and grill until surface browns. Move to a preheated 400-degree oven and bake for 10 to 15 minutes. Serve with extra sauce for dipping.

Find out if the fish you're eating is sustainably caught or farmed: Visit www.montereybayaquarium.org and check out the Seafood Watch page. » Some predatory fish contain elevated levels of methylmercury. Young children and women of childbearing age should skip them. For detailed advisories and info on alternatives, go to www.epa.gov/ost/fish.