America's Meal Ticket
The U.S. Olympic Training Center serves 1,200 meals to 350 athletes each day. The most popular dish? A nutrient-dense Thai chicken soup.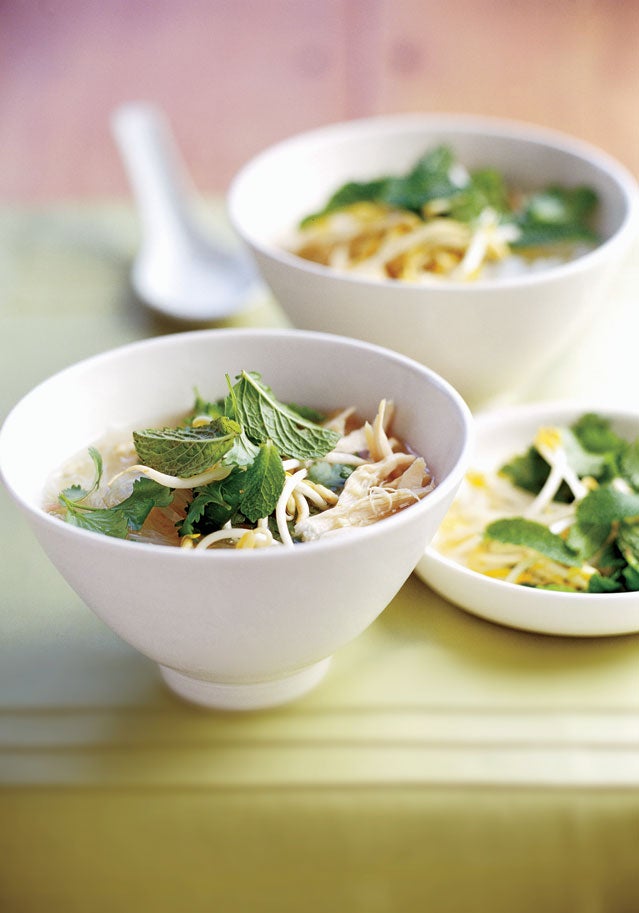 Getty Images/StockFood
Heading out the door? Read this article on the new Outside+ app available now on iOS devices for members! Download the app.
When the U.S. Olympic team descends on London this July, it will arrive with a secret weapon: a full-service nutrition center modeled on the one at USOC's Colorado Springs headquarters. "We basically pick up the dining hall and drop it down into England," says Terri Moreman, 63, USOC's associate director of food and nutrition services, who has fed athletes at the past 12 Olympic Games.
Moreman and a staff of 23 work with five sports nutritionists to design menus, from a protein-rich recovery shake that will help a wrestler make weight to a calorie-dense dinner that will ensure a swimmer replaces the 12,000 calories burned that day. Have an intense training session in the afternoon? The dining hall recommends swapping out brown rice for easier-to-digest white rice. "About seven years ago, we took nutrition science and merged it with culinary arts, and we now call it our performance-based menu," says Moreman. "We're the only country in the world that is providing this level of food service."
In the Colorado Springs dining hall, athletes first walk by a recovery station filled with yogurt, cottage cheese, fruit, and shakes. Then they have a full salad bar and deli to select from. For the main course, there's everything from organic-beef hamburgers to fusion meals. The longest line is always at the Asian Station, where athletes can get this ultra-popular Thai chicken noodle soup, which Moreman recommends after a moderate-intensity training day.
Thai Chicken Noodle Soup
Add 1 1/2 quarts of water to a pot and bring to a boil. Add 1 1/8 pounds of diced chicken breast and 1 1/2 ounces each of hoisin, soy, and fish sauces, plus 3/4 ounce of minced garlic and 1 teaspoon of cayenne pepper. Simmer on low heat for an hour.
While cooking, soak 9 ounces of Thai rice noodles in warm water for 30 minutes. Drain and rinse with cold water.
In a small bowl, mix 2 1/4 teaspoons of diced jalapeño pepper with 1 1/2 ounces of white vinegar; in another small bowl, combine 3 tablespoons each of chopped green onion and cilantro.
Blanch the noodles in a pot of boiling water and drain.
In separate bowls, top 1/2 cup of noodles with 1/2 cup of bean sprouts, 1/2 tablespoon each of the jalapeño and green onion mixtures, and 1/2 teaspoon of sugar. Spoon 3 ounces of chicken and 6 ounces of stock over the noodles and serve. Makes six 12-ounce servings.