Athlete Recipes: Climber Steph Davis's Vegan Stir-Fry
The difference between hitting the summit and hitting the wall often comes down to the fuel in your belly. Here, 11 pros share their favorite nutritional secrets and performance-enhancing recipes.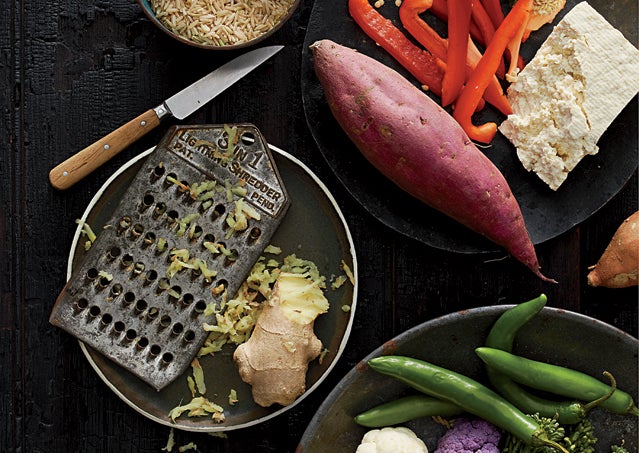 Heading out the door? Read this article on the new Outside+ app available now on iOS devices for members! Download the app.
THE MEAL: In 2002, Davis, who has more than a dozen notable ascents around the world to her credit, decided she was going vegan. "I wasn't trying to make a political statement," says the 39-year-old, who splits her time between Yosemite and Moab, Utah. "I spent a year trying all these different diets—Atkins, the Zone—until I found the one that gave me the best performance improvements. The vegan diet just made me feel healthiest." Ten years later, Davis, whose daily training regimen includes yoga, three hours of wall climbing, and trail running, has never felt better, and lately she's become as recognized for her BASE jumping and wingsuiting as for her climbing. After a long day, her preferred meal is a tofu ginger stir-fry—perfect for impromptu variations and using up ingredients she has lying around. It's also a dish that was on Davis' training table when, in 2003, she became the second woman to free-climb El Cap in a single day.
WHY IT WORKS: Korzun says that a vegan diet can be a performance boost for athletes—provided they're careful about getting a balance of nutrients. "Steph does just that with this meal," he says. "Protein from tofu for muscle growth is key. And it's also a decent source of calcium, which helps keep her bones healthy." Davis also draws carbohydrates from rice and sweet potatoes.
SECRET INGREDIENT: Ginger suppresses the production of cytokines, compounds found naturally in the body that cause inflammation.
TOFU GINGER STIR-FRY
1. Boil two cups of water, then add a cup of quinoa or brown rice and reduce to a simmer. Cook 20 minutes.
2. Finely chop one clove of garlic, one serrano pepper, and one tablespoon of ginger root.
3. Cut up two cups of broccoli, one head of cauliflower, one red bell pepper, and one sweet potato.
4. Pour two tablespoons of grape-seed oil in a wok or large pan. Sauté the sweet potato for about five minutes, then add the other vegetables. Stir-fry for another minute or so.
5. Add half a block of extra-firm organic tofu, cubed, and cook another four or five minutes.
6. Pour a couple of tablespoons of Bragg's Liquid Aminos over everything and sauté for another minute or two. Serve on a bed of quinoa.
SERVINGS: Two
CALORIES PER SERVING: 775