Beat Back the Holiday Bulge with Recipes from Allen Lim
Heading out the door? Read this article on the new Outside+ app available now on iOS devices for members! Download the app.
Thanksgiving is almost a week gone, but if you're like me the massive pig out and the Macy's Day-worthy parade of leftovers won't soon be forgotten. I'm talking about extra girth, not warm fuzzy holiday feelings.
I ventured onto the scale for the first time in a week and confirmed that I probably should have opted for seconds on intervals, not pumpkin cheesecake. Meanwhile, I'm staring down the barrel of a host of Christmas parties addled with irresistibly iced sugar cookies, ButterBalls, and cholesterol-spiking eggnog. Glug! And the early sunsets this time of year make it even harder to get in a good workout and still feel inspired to cook.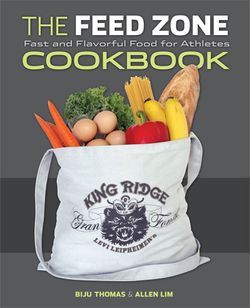 Enter The Feed Zone Cookbook, a recent release aimed at cyclists and other athletes that showed up on my doorstep a few weeks back. Co-authored by Biju Thomas, who has cooked for Lance Armstrong and a host of other notable cyclists, and Dr. Allen Lim, director of sport science for Garmin-Cervélo and Radioshack pro cycling teams over the past four seasons, this 315-page hardback is full of nutrition advice and simple, healthy recipes for athletes. A number of celebrity athletes have apparently benefited from the meals in this book, including Levi Leipheimer, who ends his foreward with this: "Not only did Biju and Allen help salvage a disastrous start to my 2011 season…they actually got me into the kitchen, cooking these recipes."
The chapter on homemade energy bars, which are made from rice and eggs and other savories, is probably the single most unique feature. However, there's also tons of straightforward meal recipes (breakfast, lunch, and dinner) that are both quick and easy to prepare as well as nutritious alternatives to typical heavy winter fare. Some of the recipes are a bit oversimplified in my opinion, but that's not the worst thing in this season of rich, holiday cuisine. And I've discovered a number of great dishes (like the Spanish Chicken and Tomato Stew) that can be whipped up in 20 or 30 minutes in the morning so that they're waiting when you come trunding home in the dark from a ride, freezing cold and unmotivated to cook.
Sure you could just fall back on another leftover stuffing and gravy sandwich instead, but you might first want to consider the cautionary example of Jan Ullrich.
–Aaron Gulley
aarongulley.com
Spanish Chicken and Tomato Stew
(Excerpted from The Feed Zone Cookbook: Fast and Flavorful Food For Athletes by Biju Thomas and Allen Lim)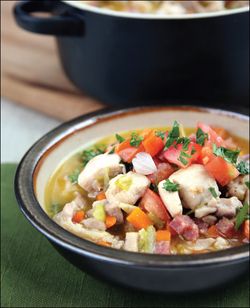 INGREDIENTS
1 tablespoon olive oil
2 pounds boneless, skinless chicken thighs, cut into cubes
1 cup chorizo or Italian sausage
1 cup carrots, chopped
1 cup tomatoes, diced
1 onion
2 mild green chile peppers, chopped, seeds left in
2-4 cups chicken stock
OPTIONAL
1/2 cup apple cider vinegar
1 tablespoon brown sugar
1 cup cooked white beans, rinsed
DIRECTIONS
1. Pour olive oil into a heavy pot an dset over medium-high heat. While oil is heating, sprinkle salt and pepper over chicken.
2. Add sausage to pot and borwn thoroughly. Add chicken and cook about 5-6 minutes until browned.
3. Add vegetables and 2 cups chicken stock (including any desired optional ingredients), cover pot with lid, and bring to a rolling boil. Reduce heat to medium and let simmer for 45 minutes. Add salt and pepper to taste.
4. Add canned beans, if using, just before serving and garnish with parsley. Serve warm with polenta or steamed rice.
NOTE> To prepare in a slow cooker, first cooke meat as instructed in steps 1 and 2, but simply sear the meat until it is lightly browned on each side. Transfer the meat and all ingredients, along with an additoina 2 cups of chicken stock, to the slow cooker and cook on low for 3 to 4 hours.
NUTRITIONAL INFORMATION
Servings> 4
Per Serving>
Energy> 543 calories
Fat> 31 grams
Sodium> 226 milligrams
Carbs> 10 grams
Fiber> 2 grams
Protein> 53 grams