The Best Energy Bar Ever
Refuel with these bacon-cashew rice cakes from sports physiologist Allen Lim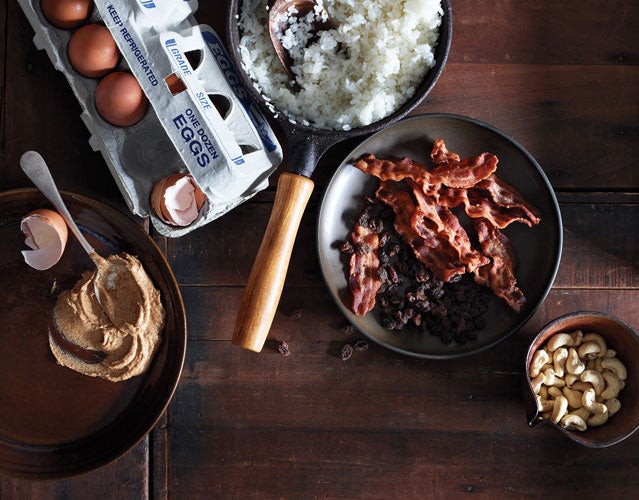 Heading out the door? Read this article on the new Outside+ app available now on iOS devices for members! Download the app.
There are as many sports nutrition bars as candy bars these days, so the idea of making your own portable energy food might seem like overkill. But many of the grocery store options are packed with additives and preservatives, which can be tough on an athlete's stomach. Plus, the sugary nature of most prepackaged bars can lead to flavor fatigue when consuming hundreds of calories over several hours. At least that's what professional riders like Levi Leipheimer told sports physiologist Allen Lim when he worked as director of sports science for the RadioShack and Garmin teams. So Lim created homemade whole-food bars instead. He's published his favorite recipes—including these cashew-and-bacon rice cakes—in his new book The Feed Zone Cookbook: Fast and Flavorful Food for Athletes. Lim says the savory combination of bacon, cashews, and nut butter is a counterbalance to all the sugary options on the market, and the extra protein is optimal for long training sessions. "If you're looking for convenience, this isn't it," Lim says. "It's about a better way to fuel."
Cashew and Bacon Rice Cakes
1. Cook two cups of Calrose or other medium-grain sticky rice.
2. While the rice is cooking, fry eight ounces of bacon till crisp, then wrap in paper towels to remove grease. Crumble bacon.
3. Drain the fat from the pan. Lightly beat three eggs in a small bowl and gently scramble in same pan, over medium heat.
4. In a large bowl, combine cooked rice, bacon, and scrambled eggs. Then add in 1/2 cup cashews, 1/4 c up nut butter, and 1/2 cup raisins. Mix well and press mixture into a 9-inch-square pan to about 1.5-inch thickness.
5. Cool thoroughly in fridge, then cut into ten individual cakes and wrap in parchment paper or aluminum foil for easy carrying on a ride.
Nutrition per serving (1 cake): 286 calories, 14 g fat, 246 mg sodium, 31 g carbs, 1 g fiber, 10 g protein