Best Sriracha Alternatives
No Rooster Sauce? No Problem.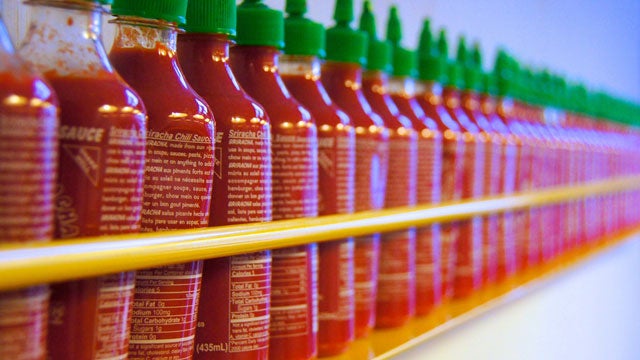 Heading out the door? Read this article on the new Outside+ app available now on iOS devices for members! Download the app.
Today, the Los Angeles County Superior Court decided not to suspend Sriracha production at Irwindale, California-based Huy Fong Foods.

The 655,000-square-foot facility will continue to churn out 20 million bottles of its hot "Rooster" sauce a year—despite locals complaining of sore throats, headaches, and watery eyes.
"They hit a gold mine by making a sauce people like," says Jerry Good of Import Foods. "But it's not authentic Sriracha—it's so harsh and so strong."
Good and others stress that there are many varieties of Srirachas out there. After all, Sriracha isn't a brand, but rather a type of hot sauce, named for the costal Thai city of Si Racha. 
Here are a few of our favorite alternatives to Huy Fong Food's product—some of them practically identical, and others probably healthier—to to squirt on your eggs, stir fry, pizza, or whatever. Enjoy. 

1. Sky Valley by Organicville's Sriracha Sauce
The ingredients in Huy Fong Food's Sriracha include (among other things) potassium sorbate and sodium bisulfite. We don't even know what those are, so why not opt for a similar but better-for-you product? Sky Valley by Organicville's Sriracha Sauce uses mostly organic ingredients that you can pronounce. "It's the cleanest Sriracha product on the market right now," says Teo Insogna, grocery manager for the Los Alamos Cooperative Market.
The only downside? At $8, it's nearly twice as expensive as the more familiar Rooster sauce.
2. Sriracha Chili Sauce by Lee Kum Kee
Insogna also recommends this Thai-style hot sauce, which is chock full of sun-ripened red chilies and garlic. The 125-year-old company is based in Hong Kong but also has a plant in Los Angeles. Let's hope it can contain it's spicy odors better than nearby Huy Fong Foods.
3. Labuyo Hot Pepper Sauce by Mama Sita's
Jerry Good, owner of ImportFood.com, calls Mama Sita's all-natural, no-preservative sauce "pretty darn spicy." A few drops go a long way. Mama Sita's gets bonus points for packaging its product in glass. "An extremely powerful childe product should not be in plastic," he says.
4. Sriracha Sauce by Shark
Shark produces what Good calls "real" Sriracha. "The Sriracha sauce we know is nice and bold and strong but it's also fruity and gentle—it's not as harsh as the stuff made in California," he says. "The chile heat is there but not overpowering." The glass-bottled sauce is available in medium and strong flavors.
5. Sriracha Sauce by Ka-Me
Ka-Me's sauce is made primarily from water, red chili, sugar, garlic salt, and rice vinegar—which is all great, except water is the first ingredient. This results in a great tasting, but thinner, sauce.
This sauce, appropriately, originates from the town of Si Racha, Thailand. However, "while the Ka-Me is a 'Product of Thailand,' we think the American made Huy Fong product is far superior," blog the folks over at hotsaucedaily.com.
6. Sriracha Hot Chilli Sauce by Flying Goose
This hot sauce comes in different varieties—hot, super hot, extra garlic, super sour, ginger, galanga, lemongrass. Sounds delicious, right? Too bad this stuff is extremely hard to get in the U.S. Flying Goose is based in Thailand, so you'll have to place an order online.
"It's very exciting to finally get my hands on some Flying Goose," says Brian Meagher at Hot Sauce Daily. "It's quite hot, with a strong garlic flavor." But be warned; Meagher also calls the sauce "very pungent and a bit salty due to the MSG that's in it."
7. Extra Hot Chili Sauce by ABC
Spice up your life with ABC's Sambal Extra Pedas chili sauce. It was given a burn factor of five (out of five) by Bon Appetit's Andrea Nguyen, who says "I felt the heat in my hair follicles," and recommends pairing the paste with barbecue or the like.
 8. Make Your Own
There are plenty of recipes online, such as this one from Food52. All you need are red chilies, garlic, salt, vinegar, and sugar. Oh yeah, and a blender.