Eat Your Eggs Like Athletes Do
These athlete-approved dishes deliver maximum nutrition per bite, so you're fueling with every forkful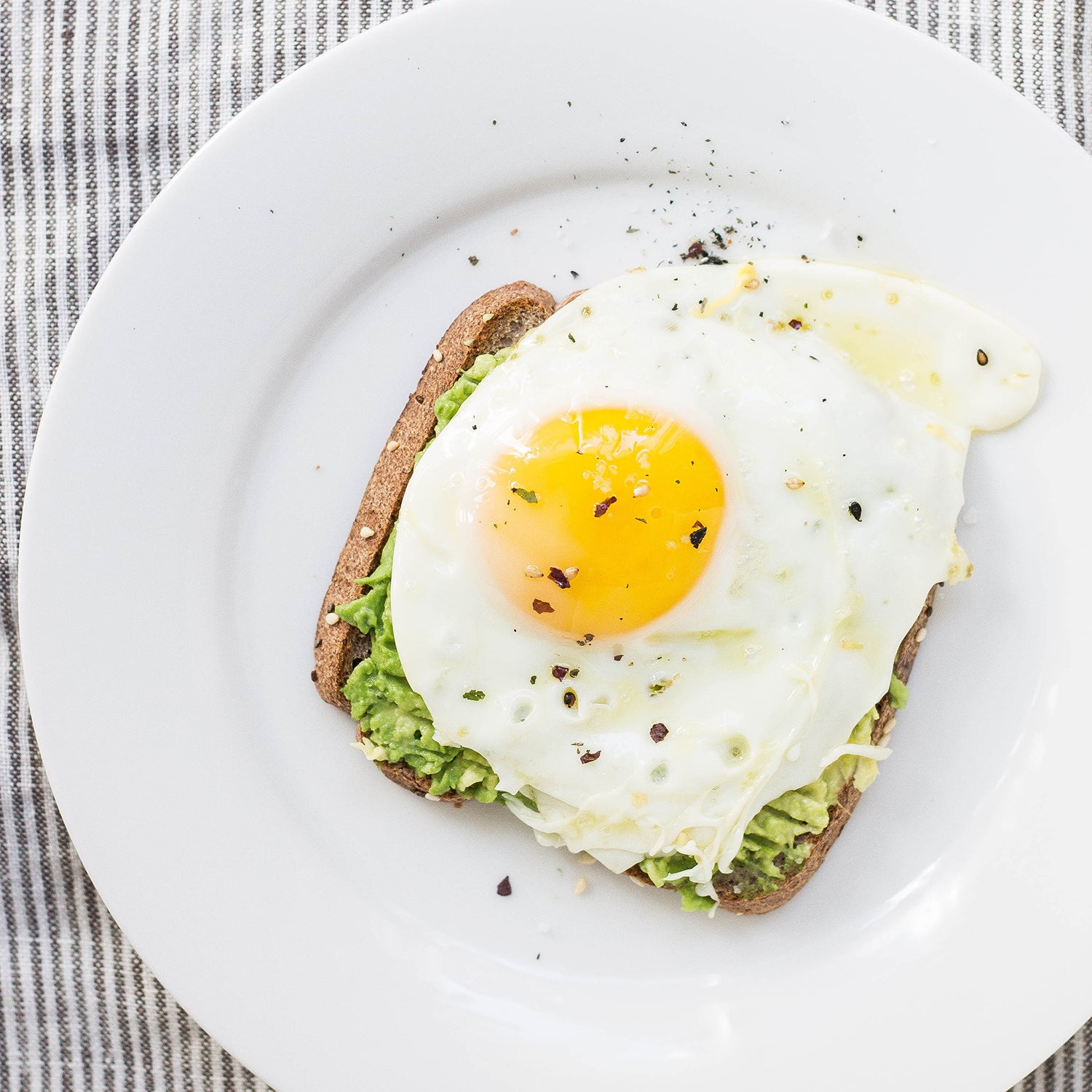 Alison Marras/Unsplash(Photo)
Heading out the door? Read this article on the new Outside+ app available now on iOS devices for members! Download the app.
They're cheap, they're tasty, and each one is a total nutritional powerhouse. A single extra-large egg—which is what you'll find most often at the grocery store—packs seven grams of complete protein, meaning it contains all of the eight essential amino acids required to build and maintain muscle.
Unless you're closely watching your cholesterol intake, you can stop listening to that egg-white-only stuff: Half the protein, plus antioxidants for eye and brain health and other crucial vitamins are found in the yolk, says Lauren Antonucci, sports dietitian, endurance athlete, and owner of Nutrition Energy in New York City. But the best part? Eggs pair well with other healthy ingredients to create a dish that's loaded with performance benefits.
Eggs are a staple in the athlete's pantry. To avoid scrambled eggs on repeat, the pros have learned to turn their fueling into gourmet meals. We asked three athletes to spell out exactly how they transform eggs into tasty performance food.
---
Cody Townsend
Big-mountain skier
"I eat eggs every single dang morning for breakfast, and sometimes for lunch and dinner," says Cody Townsend. He has an arsenal of recipes to keep things interesting—here's one of his go-tos.
Mediterranean Egg Wraps
Ingredients
2 eggs
1 teaspoons milk
1 ounce feta cheese
1 tablespoon sun-dried tomato paste
1 tortilla
1 handful baby spinach
Salt and pepper
Directions
In a bowl, beat eggs with milk until blended. Pour into an oiled eight-inch skillet over medium heat. Sprinkle feta on top of the eggs. Add salt and pepper to taste. Cover and heat until the eggs are cooked through, approximately four or five minutes. Meanwhile, spread the sun-dried tomato paste on the tortilla. When the eggs are done, carefully slide them onto the tortilla, top with spinach, and roll it all up into a delicious Mediterranean-style breakfast burrito.
Why It Works: "This is a great pre- or post-workout meal because it combines protein (from the eggs), carbs (tortilla), calcium (cheese), and fiber, iron, and vitamins (spinach)," says Antonucci. If you're having it as a recovery meal, she recommends adding beans and more veggies, such as extra spinach or sliced tomato, for a boost of fiber and carbs.
---
Hilary Matheson
Ultrarunner
"I grew up on a farm, and we always had our own eggs from our own chickens," says Hilary Matheson. "I'm a bit of an egg snob."
Matheson doesn't limit her eggs to breakfast. "I often eat them for dinner on top of a big green salad," she says. Pan-fry a couple eggs sunny-side up—it's crucial not to overcook them, says Matheson—and then toss them on top of an everything-but-the-kitchen-sink salad that includes some high-quality carbs, like chickpeas, corn, peas, or quinoa.
Egg Muffins
Ingredients
Sliced bacon or thick ham
6 to 12 eggs, depending on size of muffin tin
Veggies of your choice
Salsa
Directions
Preheat oven to 350 degrees Fahrenheit. Pan-fry several slices of thick bacon or ham. Line each cup of a muffin tin with one or two slices of your breakfast meat. Crack one egg into each cup. Top with whatever veggies you have in your fridge and a dollop of salsa. Bake for 25 minutes.
Why It Works: Athletes can justify the salt in bacon or ham, especially during a taper week, says Antonucci. Carbs are also key for tapering, so having two of these egg cups along with two or three servings of carbohydrates, like a healthy breakfast hash or lightly buttered whole-wheat toast, turns this into a supremely balanced taper-week meal.
---
Taylor Spivey
Triathlete
"When I'm tired from training, my standby egg concoction is pretty simple," says Taylor Spivey. "I stick to avocado on sourdough toast topped with an omelet filled with freshly grated Parmesan cheese and sautéed spinach."
When she has more energy, Spivey tests out more elaborate dishes. "My Danish roommate recently turned me on to a delicious shakshuka recipe from Green Kitchen Stories." It serves about two hungry athletes.
Green Kitchen Stories' Shakshuka on a Budget
Ingredients
2 tablespoons olive oil or coconut oil
1 yellow onion, finely chopped
2 garlic cloves, finely chopped
1 red bell pepper, finely chopped
1/2 teaspoon cumin
1/2 chili
1 teaspoon paprika
2 cups kale
2 14-ounce cans whole plum tomatoes
4 to 6 eggs
1 large handful fresh basil or 1 tablespoon dried basil
Directions
Heat oil in a skillet over medium-high heat. Add onion and garlic; stir until soft and golden brown, about five minutes. Add bell pepper, cumin, paprika, and chili; cook for a few more minutes. Meanwhile, place kale and tomatoes in a food processor or blender. Blend until it looks like a chopped tomato sauce. Pour the mixture into the skillet; cover and cook for 15 minutes. Make small beds in the sauce for the eggs, and crack one egg into each divot. Cover and cook for five more minutes, until the egg whites have set.
Why It Works: Besides the typical healthy ingredients like tomato and kale, this dish packs a ton of extra nutrients that are especially useful for athletes. "Onions are great for joint health. Garlic contains allicin, which promotes blood flow and serves as an antioxidant. Cumin is great for decreasing inflammation," says Antonucci. If you're eating this for pre- or post-workout fueling, Antonucci recommends adding some form of carbs, like oats, sweet potato, beans, or two slices whole-grain bread, to accompany the dish and speed recovery.
Lead Photo: Alison Marras/Unsplash