4 Creative Grilled Cheese Recipes for Grown-Ups
Recommendations from athletes and chefs on boosting flavor and nutrition in this all-American snack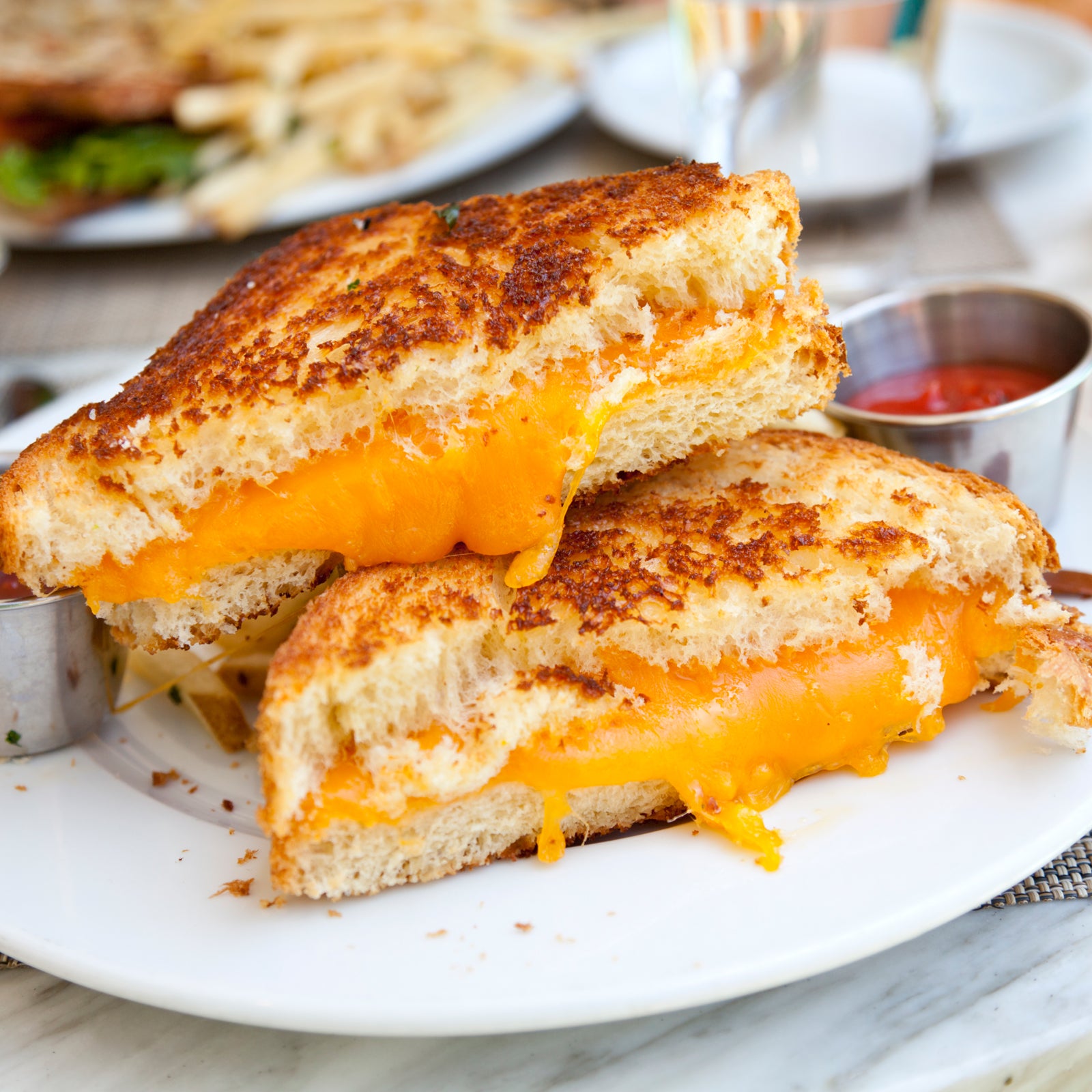 Funwithfood/iStock(Photo)
Heading out the door? Read this article on the new Outside+ app available now on iOS devices for members! Download the app.
When your ride, run, trek, or paddle is fueled by gels, bars, and other sweet foods, nothing quite satisfies the craving for salty, savory snacking like a classic grilled cheese. While it's not necessarily the most nutritionally dialed post-workout option, there's nothing wrong with indulging your cravings after a hard effort. (A classic grilled cheese is high in fat, which can be hard to digest, so save it for a recovery meal.)
Here are a few tips on how to make the best-possible version of the grilled cheese, plus four ways to change it up.
Use Great Ingredients
Elevate your sandwich by selecting a hard cheese with strong flavor. A serving of Vermont cheddar boasts seven grams of protein and nine grams of fat. Mild cheddar melts more quickly and consistently than sharper options. If you're an extra-sharp devotee, consider shredding or thinly slicing your cheese before piling it on your sandwich.
To pack more nutrients into your snack, skip white bread in favor of a hearty whole-grain option that will offer more fiber and protein. Former professional mountain biker and chef Georgia Gould always checks the label for familiar foods. "I look for breads with simple ingredients: flour, grains, nuts, seeds, yeast," she says. She also opts for bread with a high fiber content.
Refine Your Technique
Former professional cyclist Ted King has a serious thing for grilled cheese. He recommends storing bread in the freezer and butter at room temperature for easy application. "Spreading butter on floppy, uncooked, nonfrozen bread can be clumpy, and you'll tear the bread," he says. "This way it goes on silky smooth and evenly." You can also experiment with spreading mayonnaise on your bread—it offers an extra-crispy texture. He cooks his sandwiches over medium heat and covers the pan to ensure the cheese melts before the bread gets too brown.
Try These Four Variations
Vermont Hot Sammie
King loves to add unexpected flavors to his sandwich, like the spicy-sweet combo of a thinly sliced apple and hot peppers. He recommends making this popular sandwich with Vermont cheddar.
Ingredients
Vermont cheddar cheese
Crisp apple
Sweet and spicy hot peppers
Butter
Whole-grain bread
Directions
Slice the cheese, apple, and peppers thinly so that they can overlap in every bite. Butter both sides of the bread, and warm a skillet over medium heat. Place one slice of bread on the skillet, then layer the cheese, apple, peppers, and other slice of bread on top. Cover the skillet with a lid. Flip the sandwich when the bottom bread is golden brown. Once both sides are toasted, turn off the heat but leave the skillet lid on until the cheese is fully melted.
Sweet Pickled-Onion Sandwich
Gould plays around with ingredients like oven-roasted tomatoes, avocado slices, pesto, and fresh herbs like basil, but her favorite flavor boost comes from a simple, quickly pickled onion. Pickle your onions ahead of time, then add them before cooking for a tangy bite. "They're yummy on salad, sandwiches, pulled pork, and tacos, too," she says.
Ingredients
½ cup apple-cider vinegar
1 cup water
1½ teaspoons salt
1 tablespoon sugar
1 Vidalia or other sweet onion 
Butter
2 slices whole-grain bread
Shredded cheddar cheese
Directions
Mix the vinegar, water, salt, and sugar. Thinly slice the onion and add to the mixture. Let sit at least one hour before using in cooking. Butter each side of the bread and build your sandwich, layering the onions and cheese. Cook according to previous recipe's instructions.
Gourmet Cauliflower and Gruyère Grilled Cheese
Cyclist and chef Lentine Alexis takes her grilled-cheese inspiration from the Mediterranean. "My favorite to make at home has a nice little roasted cauliflower steak in it and this ginger and turmeric jam that I picked up in Sardinia," she says. "I have been working on remaking the jam, but in the meantime, I'm just roasting the cauliflower with those beautiful spices and adding apricot jam and some Gruyère." She likes to roast the cauliflower in advance and keep on hand to toss into soups and salads, too.
Ingredients 
Cauliflower, sliced into steaks
Olive oil
½ teaspoon turmeric
½ teaspoon ground ginger
½ teaspoon cumin
½ teaspoon crushed fennel seeds
Salt and pepper
Butter
2 slices sourdough bread
Apricot jam
Gruyère cheese
Directions
Preheat your oven to 350 degrees. Roast your cauliflower steaks with a bit of olive oil and the turmeric, ginger, cumin, and fennel seeds, plus salt and black pepper to taste. Cook until soft. Keep the oven on, and heat a cast-iron skillet over medium heat. Butter both sides of two slices of bread. (Don't skimp on the butter, Alexis warns). Add the bread to the skillet and toast. While the bread is toasting, spread a little apricot jam on both slices of bread. On just one slice, layer the Gruyère. Add a slice of roasted cauliflower steak, stack the other bread on top, and pop the skillet into the oven until the cheese melts completely.
Protein-Packed Open-Faced Sandwich
The bonus egg on this healthier version of grilled cheese, courtesy of Gould, adds around seven grams of protein, bringing the whole sandwich up to around 20 grams—the perfect serving of protein for post-workout recovery. Cooking an open-faced version in a toaster oven helps minimize fat and carbs. The fried egg adds a little richness, so it's still supremely satisfying even without two slices of bread.
Ingredients
1 slice whole-grain bread
Shredded cheese
Egg
Cooking spray or olive oil
Directions
Top your toast with shredded cheese (rather than sliced) and cook it open-faced in a toaster oven or an oven set to broil. In a frying pan, cook your egg to taste (sunny-side up can be a delicious, gooey addition). Slide your egg on top of the toasted bread and dig in.
Lead Photo: Funwithfood/iStock
Trending on Outside Online