A Foraged Thanksgiving Feast
A new field guide and cookbook from the staff of one of New York's top restaurants offers a simple, gourmet take on wild foods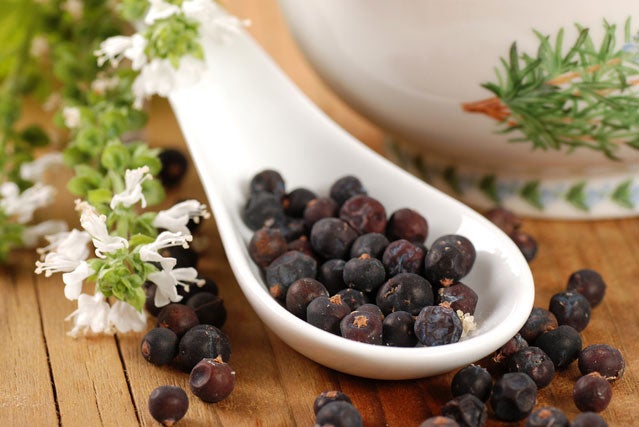 Heading out the door? Read this article on the new Outside+ app available now on iOS devices for members! Download the app.
If you still think of foraging as the domain of live-off-the-land types and hardcore foodies, Foraged Flavor, a new cookbook and field guide released this June, may change the way you look at the plants in your backyard. A collaboration between forager Tama Matsuoka Wong and Eddy Leroux, the chef de cuisine of New York City institution Daniel, Foraged Flavor pairs practical plant-hunting advice and illustrations with recipes for simple-yet-gourmet concoctions like chilled mango soup with sweet spruce tips, tempura fried aralia buds, and summer rolls with cattail and trout. But while the flavors are complex, most of the plants Wong includes are easy to find, and many, like garlic mustard, creeping jenny, and mile-a-minute, are invasive species.
The recipe below for caramelized braised endive uses juniper berries, which are among the few edible plants that come into season in late fall and winter. Pick berries when they turn from green to dark blue, dry them in a dehydrator or an oven at its lowest setting, and grind just before using for maximum flavor.
CARAMELIZED BRAISED ENDIVE WITH JUNIPER BERRIES
The juniper aroma is very subtle in this dish where the sharp, woodsy berry flavor balances that of the meltingly soft endive. You first taste the sweetness and tenderness of the caramelized endive; then the juniper flavor lingers at the end. This is a nice accompaniment to game or Thanksgiving turkey. Serves four.
INGREDIENTS
4 medium Belgian endives
4 tablespoons (1/2 stick) unsalted butter
1 tablespoon ground dried eastern red cedar juniper berries, plus more for serving (if you live in the west, substitute western juniper)
1 tablespoon sugar
Salt and freshly ground black pepper
INSTRUCTIONS
1. Preheat the oven to 325F.
2. Remove the outer leaves and cut away the tough bottom from each endive. Melt the butter in a small heavy ovenproof skillet over medium-low heat, add the endives, and sprinkle with the juniper and sugar. Season with salt and pepper. Cook, turning them gently after the color changes on one side, for about 25 minutes, or until the outside edges turn a medium caramel-brown.
3. Cover the skillet and transfer to the oven for about 45 minutes. The endive should turn a deeper chocolate color but still be soft and melty. Sprinkle with a pinch of ground juniper before serving.
Adapted from Foraged Flavor by Tama Matsuoka Wong and Eddy Leroux.
Lead Photo: al1962/<a href="http://www.shutt