I Ate Like Tom Brady for a Week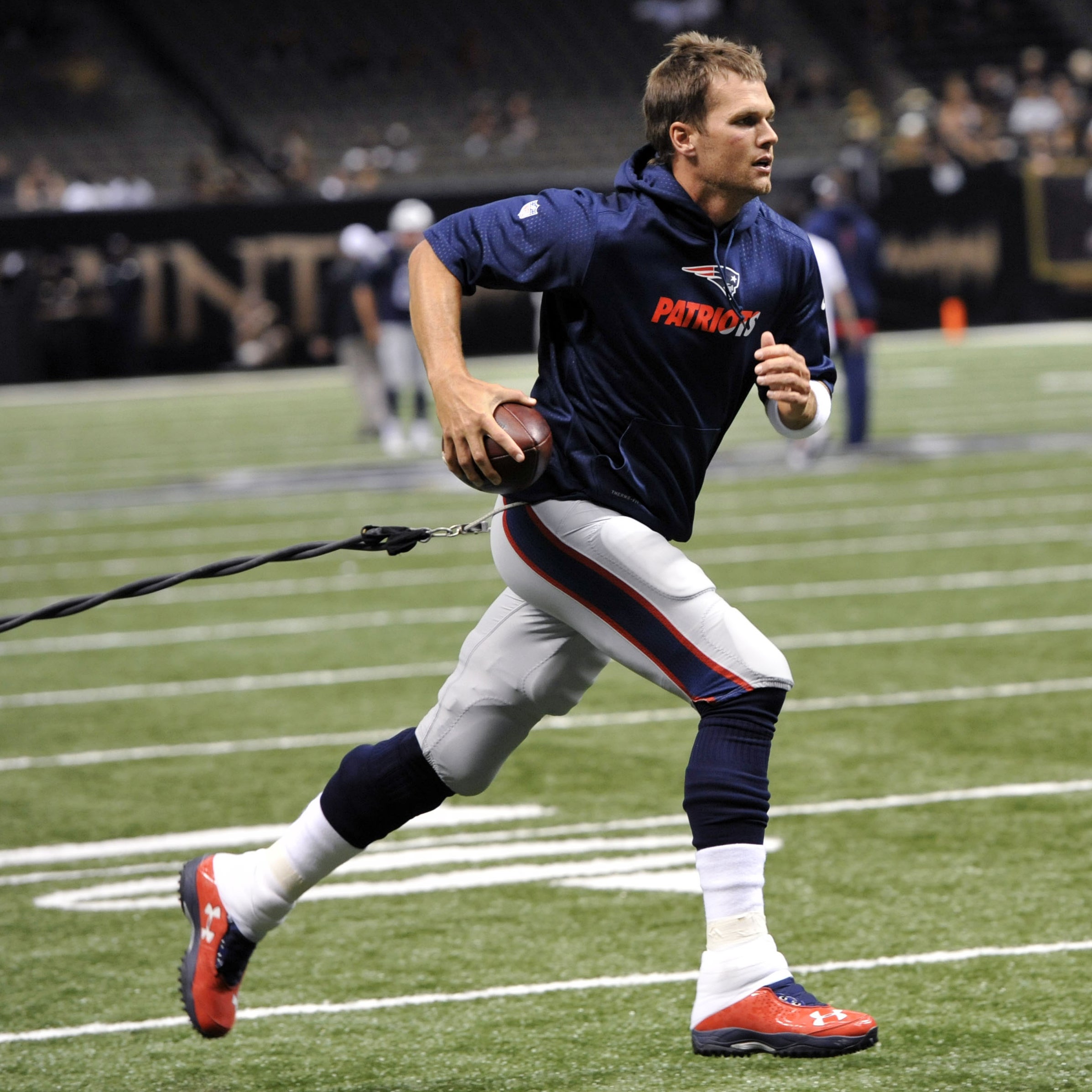 Heading out the door? Read this article on the new Outside+ app available now on iOS devices for members! Download the app.
Tom Brady is a fierce athlete. Many speculate that the secret to his longevity and nearly unchallenged dominance in the league lies in how he eats—or, rather, what he doesn't. According to his personal chef, Brady adheres to a stringent diet that forbids foods many consider healthy. Bans include gluten and dairy, as well as tomatoes, eggplant, olive oil, peppers, mushrooms, coffee, apples, and oranges.
Earlier this year, Brady teamed up with Purple Carrot—a plant-based meal delivery service similar to Blue Apron—to create shipments of Tom Brady–approved dinners (three per week) and give people a chance to dabble in the diet themselves. The three recipes in every box are "designed to help athletes and active individuals stay at their peak." Starry-eyed and hopeful that this might be my ticket to NFL stardom, I decided to try it out.
---
Night One
I tackle the coconut tofu dish. It has 11 more ingredients (including spices that assault my senses) and requires five more cooking steps than my regular dinner of chicken and potatoes. Everything is chopped or sliced into tiny pieces—cauliflower seedlings that will masquerade as rice, marinated cucumbers to sop up four different liquids, and this stuff called coconut cloud that's as hard to contain as it sounds.
After 50 minutes, the kitchen is littered with remnants of ingredients and the little plastic baggies and vials that held them. Shards of cauliflower rice pepper the floor; dirty dishes, tofu crumbles, obscure spices, and mango peelings cover the counter; and a stratus of coconut cloud hovers above it all.
I dive in. It's delicious. Spicy, sweet, and lighter than my normal dinner yet still satiating.
---
Night Two
Tonight I'm making a stuffed sweet-potato dish. Meal prep requires practically every tool and appliance in my kitchen. It involves ras el hanout, a spice that the recipe card describes in just under 40 words, and the creation of a pungent muhammara paste in my blender, whatever that is.
After a tiresome number of steps and an overwhelming load of dirty dishes, the meal is ready. There's good flavor, but it feels more like a side than an entire meal. To make up for the gap, I cap off the night with a bowl of cereal (likely not Brady-sanctioned).
As a reminder of the effort, remnants of muhammara paste linger in my blender overnight and infiltrates my regular breakfast smoothie with a not-so-morning-friendly taste.
---
Night Three
I log a hard workout, and then prepare to cook the final dish: mung bean dal.
The meal has 15 ingredients and six steps, some of which are "popping sorghum" and making gluten-free bread from scratch. I'm exhausted from my workout, drained from the week's cooking endeavors, and starving, so I decide to tweak the suggested recipe to speed up the process. Chicken breast cooked in a 425-degree oven with diced potato tossed in the mung bean dal spices as my nod to the original.
I should feel terrible. Not only am I wasting precious mung beans, whole-grain sorghum, and coconut milk, but I'm also shirking my responsibility as a food critic. Yet as I sit in my clean kitchen and wait for my simple meal to cook, I actually have no regrets. The fast, straightforward, entirely unsurprising meal that's about to come out of the oven will, at this point, make me the happiest I've been all week.
---
The Takeaway
That's the rub against these box delivery services, but especially one like TB12, filled with wacky spices and complicated techniques. Cooking these meals seems like an excellent idea on Sunday afternoon. As does pushing your own taste limits, experimenting with different flavors, and changing up your typical nutrition regimen for weeknight meals. But on a jam-packed weeknight after a day of work and maybe even a tough run, the last thing you want is 60 minutes and tons of trash standing between you and food or a dinner that leaves you feeling more confused than satisfied. My wife and I once tried Terra's Kitchen, another meal delivery service pitched as easy and fresh weeknight dinners. While it was markedly easier to prepare and therefore more likely to be worked into my regular routine, the portion servings were so small that I ended up eating a frozen pizza afterward.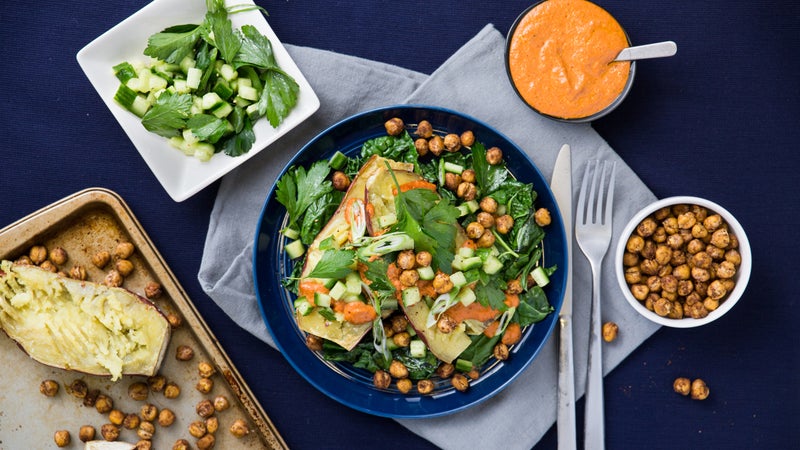 Living like Brady is also expensive—about $80 for the three meals, compared to about $60 for three dishes from Blue Apron. Although they're technically meant to serve two portions, I found them too small to share but too big for one. For the same price, you could order takeout. If you're a six-foot, 175-pound dude who has declared dinner to be your biggest meal of the day (like me), it's very possible that you'll find yourself ordering takeout regardless.
When it comes to nutrition, I'm no expert. So I turned to Mike Roussell, a New York-based nutritionist who works with professional athletes. He's also a lifelong Patriots fan. "The first thing that jumps out at me is how low in protein these meals are," says Roussell. For a 225-pound guy like Brady, the International Society of Sports Nutrition recommends about 135 to 202 grams of protein a day. These meals don't even begin to get you there. To be fair, I'm eating only one Brady-inspired meal per day. It's entirely possible (and, as a matter of fact, quite likely) that he gets plenty of protein from the rest of his carefully monitored meals and snacks.
But eating just these meals means you aren't getting the typical split of macros recommended by sports nutritionists. "The nutrient balance is a little off here, too," says Roussell. I like to have athletes eat 40 percent carbs, 30 percent fat, and 30 percent protein. Some of these meals are 40 percent carbs, 50 percent fat, 10 percent protein." Although this isn't the average recommendation and not one that I or Roussell would readily advocate for, there's no one-size-fits-all approach to sports nutrition.
This isn't to say that Tom Brady's plant-based diet is "bad." For one, it's packed with vegetables, and plenty of studies show that eating vegetables may prevent disease and improve health markers. "It's just filled with a lot of fringe nutritional ideas," says Roussell.
Will I be ordering the TB12 performance kit again? No. But I'm glad I tried it. The meals were exciting and showed me a world of tasty ingredients that I'd been overlooking. My standard potatoes covered in TB12's bizarre spices, for example, were the best I've had in a long time. Some nights I might even swap regular rice for cauliflower rice (purchased prechopped, of course).
But, overall, my diet will stay the same as it has for years. Just as Tom's far-out diet works for him, my boring diet works for me. And while it might not help me beat Tom on the football field, I can still beat him on the track.