Snow Cones Don't Count
How does an athlete stay fit and healthy during the coldest months? Eat seasonally.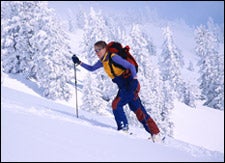 Heading out the door? Read this article on the new Outside+ app available now on iOS devices for members! Download the app.
ALL MAMMALS, from field mice to Jack Black, are hardwired to gain weight for winter. But where our forebears fattened up to survive, today's athletes need no such padding. (Thank you, central heating.) If you plan on skiing all day in cold weather, however, you need more calories than the average gym rat, so eat right or risk packing on pounds like an evolutionary throwback.
Cross-country Skiing

Navigate Winter Nutrition
Your body turns food into heat through a process called thermogenesis, and fuel for the furnace is what you need to maintain essential muscle and internal warmth—and perform well—while exercising in cold temps. The key is getting those extra calories from healthy sources that will keep you trim and goose your immune system during cold-and-flu season. With no farmers' market to browse and an overabundance of rich stews and processed sweets, winter can be a nutritional minefield. Here's how to navigate it.
EAT FOR WARMTH

Not long after you step out into the cold, the blood vessels in the periphery of your body become restricted. In other words, your hands and feet cool as your body instinctively regulates the difference between external and internal temperature, thus creating a demand for more fuel than the workout alone requires. "Athletes tend to blow through their carbohydrate reserves faster in winter than in warmer months," says Declan Connolly, director of the Human Performance Laboratory at the University of Vermont.
Add long days outside, like skiing first to last chair, and your body, which stores only about 1,500 to 2,000 carb calories at a time, has trouble keeping up with the demands for energy and warmth. "That's why when you're out skiing or snowshoeing, the smell of heavy, carb-rich food floating up from the lodge is so good," says Connolly, who works with winter athletes to develop seasonal training and diet plans. "We actually get hungrier faster when we burn more carbohydrates." Replenish carbs at every meal by going heavy on whole-grain breads or pancakes, pastas, and fruit, and choose snacks that are 60 to 70 percent carbs.
THE MENU

You can do better than a lift-line bagel and nachos in the lodge. You'll hammer the slopes all day with the carbs, calories, and nutrition in this winter diet plan.
BREAKFAST: Whole-grain toast with nut butter and jam, and a serving of yogurt; or whole-grain pancakes, eggs, and fruit.
LUNCH: A bowl of vegetable stew with whole-grain crackers or bread; or a turkey sandwich on whole-grain bread with lettuce, avocado, tomato, sprouts, and mustard, plus pretzels on the side.
DINNER: Baked chicken or fish with whole-grain pasta and salad; or a stir-fry with brown rice, vegetables, and lean meat.
DESSERT: Pumpkin pie is loaded with antioxidants.
SNACKS: Trail mix, string cheese, Snickers, peanut-butter crackers, fruit, and high-carb energy bars are all good options every couple of hours between meals.
DRINK: In cold weather, it's not always enough to merely stay hydrated. To boost warmth, drink beverages that include spices like cinnamon, cloves, and nutmeg, which stimulate digestive enzymes and thus help you generate more heat after eating.
Crop Finder
To get fresh produce, it pays to know what grows where in winter
Crop Finder

There's nothing wrong with eating frozen fruit and vegetables all season long—it's often the best choice when local farms are shuttered. "Flash-freezing traps nutrients immediately after the produce is harvested, when they're at their peak," says Denver nutritionist Allison Slade. Besides, fresh produce brought to you from halfway around the world can lose up to 70 percent of its vitamin content. But man cannot live on frozen peas alone. Use this regional guide to find fresh food near you.
NORTHWEST
Pears, Apples, Walnuts, Potatoes, Filberts, Beets, Brussels Sprouts, Cabbage, Carrots, Leeks, Winter Squash
WEST
Avocadoes, Kale, Citrus, Asian Greens, Herbs, Beets, Potatoes, Winter Squash
SOUTHWEST
Apples, Avocadoes, Broccoli, Lettuce, Citrus, Spinach
MIDWEST
Apples, Cabbage, Brussels Sprouts, Carrots, Winter Squash
NORTHEAST

Apples, Mushrooms, Butternut Squash, Potatoes, Turnips
SOUTHEAST

Citrus, Pecans, Asian Greens, Apples, Sweet Potatoes
Health Food
Put your immune system on the offensive for cold-and-flu season
Cold-weather athletes actually suffer from an above-average number of upper-respiratory infections. Research suggests the cause is twofold:
1) a lowered immunity in cold temps, which we all share;
2) a higher volume of air moving in and out of the lungs during exercise, making athletes more susceptible to airborne bacteria and toxins.
But no one wants to stay home when there's a foot of new snow. Just use the following weapons to boost your immune system and save your sick leave for powder days.
GARLIC: Infomercials and grandmas have been touting the benefits of garlic for years, but science has recently revealed how garlic helps—and how you can help it work. A 2003 study conducted at the University of California at Irvine Medical Center showed that garlic juice, thanks to a compound called allicin, has an antibacterial effect. Other studies suggest that garlic inhibits the growth of viruses as well. But allicin is created only when garlic is chopped or sliced (due to an interaction between alliin, a precursor of allicin, and an enzyme). Add fresh chopped garlic to meals, but allow it to sit for a few minutes before cooking. Sniffle defense: The same compounds that make garlic smelly also help break up congestion.
YOGURT: Studies conducted at the University of California at Davis found that yogurt provides a protective barrier against bacteria and makes the immune system stronger. How much stronger? People who ate about a cup of yogurt daily for a year suffered 25 percent fewer colds than non-yogurt eaters. To get the biggest boost, look for labels that read, "contains live and active cultures," and start your yogurt regimen a month before cold season begins.
CAYENNE: Capsaicin, the principal chemical that makes chiles hot, clears your head, nose, and respiratory tract. It also has antiseptic and antimicrobial qualities. For the most powerful effect, you should grind your own cayenne, seeds and all, and add it to your favorite soups and other meals. For a more potent dose, make an infusion by stirring one teaspoon of cayenne powder into one cup of boiling water and letting it stand for ten minutes. Drink a daily glass of water mixed with a teaspoon of the infusion.
Pumpkin Pie
This holiday staple should be served year-round
Pumpkin Pie

It's no secret that pumpkins are packed with the powerful antioxidant beta-carotene. But experts now say that eating pumpkin pie—a slice of which contains as much beta-carotene as a handful of carrots—may be one of the best ways to reap the rewards. According to studies published in The American Journal of Clinical Nutrition, the fat in the pie helps your body absorb the carotenoids (antioxidants that give pumpkin its color) and convert them to vitamin A.
2 cups cooked, pureed pumpkin
or organic canned pumpkin
1 cup maple syrup
2 tbsp blackstrap molasses
2 tsp cinnamon
1 tsp sea salt
1 cup milk
1 cup date sugar
1 tsp ground cloves or allspice
2 tsp powdered ginger
2 eggs, beaten
1 pie crust
Preheat oven to 375 degrees. In a large bowl, beat all ingredients until smooth. Spread filling into pie crust and bake for ten minutes. Turn oven down to 350 degrees and bake another 40 minutes or until pie is firm in the center.