Stacy Sims's War on Sports Drinks
How the Stanford physiologist is trying to change the hydration game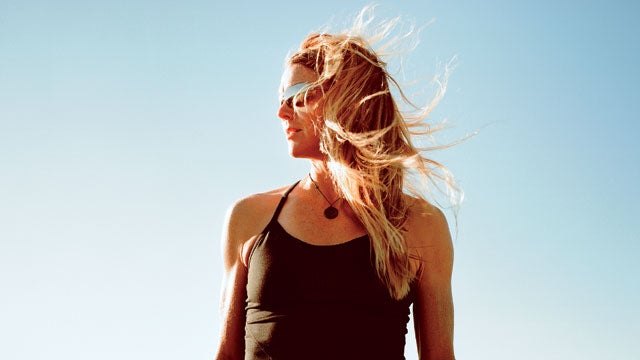 Heading out the door? Read this article on the new Outside+ app available now on iOS devices for members! Download the app.
YOUR HYDRATION drink may be dehydrating you. So says Sims, a 40-year-old exercise physiologist at the Stanford School of Medicine who is pushing for a new paradigm in sports nutrition.
"We have this fixation with not bonking, so the industry pumps drinks full of carbohydrates," Sims explains. "But these sugary drinks force your body to move water into the GI tract to facilitate digestion—and out of your blood and muscles. In other words: dehydration."
The fix, according to Sims, is simple. And it harks back to a commonsense approach used by most athletes in the sixties, before the rise of products like Gatorade. "Separating hydration from fueling—liquid from calories—is the most effective way to address each," she explains. According to Sims, athletes should get their calories from solid foods and use liquids only to meet their hydration needs.
Sims's research stems from her own difficulties with gastrointestinal distress while competing as an Ironman triathlete and elite road racer. She soon began experimenting with formulas containing small amounts of carbohydrates like glucose, along with sodium for absorption, unlike those used to make heavily carb-laden, mass-market sports drinks. In 2009, Sims developed a hydration formula for the Garmin-Slipstream cycling team at the invitation of its sports scientist, Allen Lim. The low-carb product went on to become Secret Drink Mix, sold by Lim's company, Skratch Labs. Lim and Sims later clashed on how to evolve the product and parted ways under less than amicable terms brokered by a lawyer. As Skratch has succeeded, others, including Nuun and SOS, have pushed a similar low–concentration approach to hydration. Last year, Sims launched her own hydration line, Osmo Nutrition.
So should Gatorade be worried? Sims thinks so. "All the companies say, 'Use our stuff. It works better,'" she says. "But I have peer-reviewed science to back me up."