Subverting Your Food Allergy
Allergic to eggs? It could just be the yolk.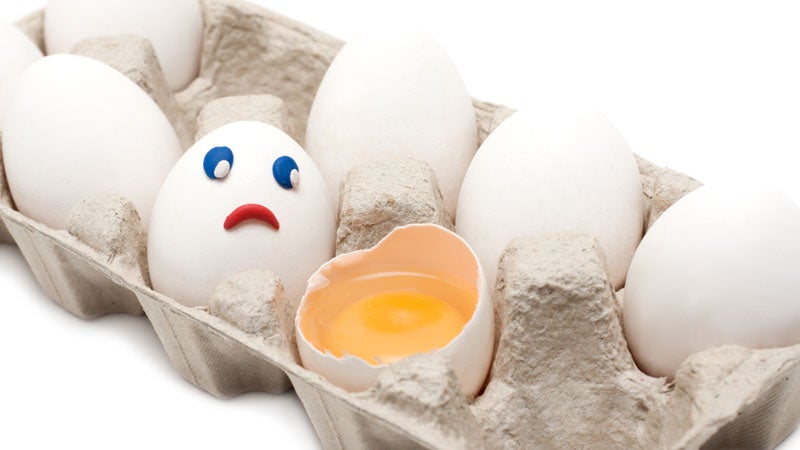 Heading out the door? Read this article on the new Outside+ app available now on iOS devices for members! Download the app.
To those on allergy-free diets: A larger number of popular, nutrient-dense foods may be available than you think. Just consider eating a part or variation of your allergenic cuisine.
Instead of abstaining entirely from eggs, for example, you may need only to shear away the egg whites—or whichever part of the egg makes you react allergically, according to a presentation by allergist Sami Bahna last month at the Annual Scientific Meeting of the American College of Allergy, Asthma and Immunology (ACAAI).
Allergist Joyce C. Rabbat confirms, writing, "Certain proteins of a food are more allergenic (i.e., more likely to cause an allergic reaction) than other proteins of the same food."
To determine which parts of a food are fine to eat and which parts will actually cause a reaction, allergists perform oral food challenges. These involve feeding a patient tiny amounts of the suspected allergenic food in increasing doses.
Noting that people with food allergies should not experiment without "proper guidance from their allergist," Bahna, ACAAI past president, intends testing "to [reduce] the burden of unnecessary dietary eliminations."
Cutting out fish, for example, may be a bit extreme given the number of culinary options available.
"If a person is allergic to fish, allergy testing with various types of fish can discover at least one type that the patient can eat without a problem," says Bahna.
Allergic to milk? You could mean cow's milk, since the milk of other animals often provides a non-allergenic alternative.
Another solution lies in the way you prepare your food. For example: Many who suffer from pollen-food syndrome and experience itchy or tingling sensations in the mouth or throat after eating fresh fruit will tolerate fruit cooked, says Rabbat. Cooking can alter the food proteins enough that your body doesn't recognize them.
Of course, these cases vary person to person. Anyone wishing to apply these findings should see a registered allergist first, Bahna and Rabbat recommend: Before you pluck out the yolk, it's best to know you won't react to even a trace of the allergenic food in your meal.