Watch: World Champion Trail Mix
Learn how to make the best snack for any activity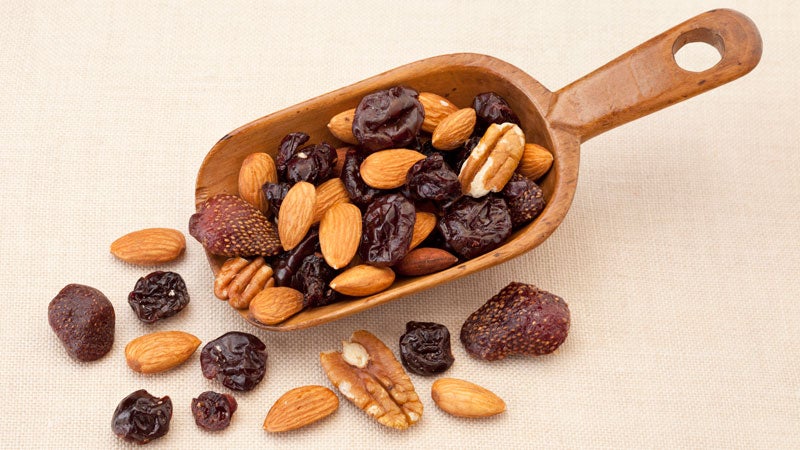 Heading out the door? Read this article on the new Outside+ app available now on iOS devices for members! Download the app.
Overhaul your standard gorp with this mix from former Ironman triathlete turned fitness and nutrition guru Mark Sisson.
Whether you're climbing, paddling, or hiking, one thing is fairly certain: You probably have trail mix in your pack. And that's a good thing. Nuts, seeds, and dried fruit pack a lot of calories, making gorp perfect for keeping you fueled without weighing you down.
Your standard trail mix is easy to make and carry, but simple nuts and fruit can get old real quick. And those delicious packaged mixes? They're often loaded with sodium and sugar. Skip the store bought stuff and spice up your snack with this recipe from fitness coach Mark Sisson, from his e-book, The Primal Blueprint Reader-Created Cookbook.
"By making your own mix, you can control what ingredients go in and how much sugar is added," says Molly Kimball, RD, CSSD. Sisson's recipe keeps it natural with unprocessed sweeteners like honey and coconut oil—a plant-based saturated fat that can also help protect your heart, Kimball says.
Nuts, seeds, and unsweetened dried fruit are packed with healthy fats and oils, but trail mix is still calorie-dense, so stick with ¼ cup per hour, advises Kimball. While a fist-full may not seem sufficient to satisfy your hunger, Sisson's recipe calls for baking the mix—enhancing the richness of the nuts and giving you more gratification per serving.
The real thumb-licker of this recipe? The touch of autumn spices like cinnamon, nutmeg, and vanilla.
Baked Autumn Trail Mix
Ingredients:
1/2 cup each raw walnuts, almonds, and pecans
1/2 cup each raw pumpkin seeds and sunflower seeds
1 tbsp coconut oil
1 tbsp vanilla
1/4 tsp cinnamon
1/4 tsp nutmeg
1/4 tsp sea salt
1/4 cup or less raw honey
1/2 cup chopped dried apricots
1/2 cup dried cranberries
Directions:
Preheat oven to 350 degrees.
Coarsely chop nuts and mix with seeds, coconut oil, vanilla, cinnamon and nutmeg.
Spread on a cookie sheet or rimmed baking pan lined with parchment paper.
Toast in the oven for 3-5 minutes, stirring occasionally to be sure the nuts and seeds are merely toasted, not burned.
Take pan out of the oven. Drizzle the honey and sprinkle the salt over top.
Toast in oven for another 4 minutes, stirring often.
Remove from oven. Add dried fruit and mix thoroughly. 
Servings: 12-14
Lead Photo: Marek Uliasz/Thinkstock