What Athletes Should Eat at Fast-Food Chains
The healthiest items to order when you're stuck with nothing but McDonalds or Wendy's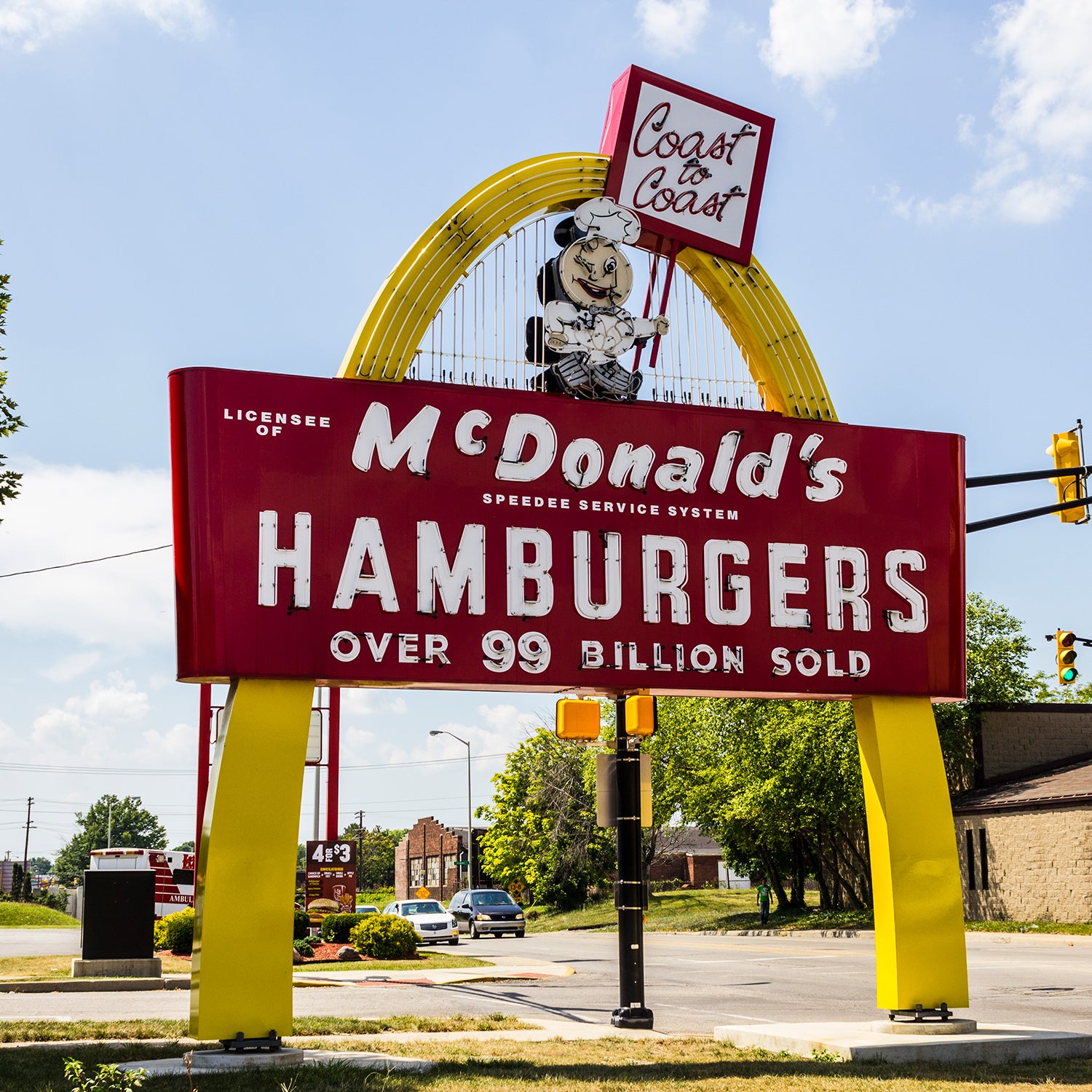 jetcityimage/iStock(Photo)
Heading out the door? Read this article on the new Outside+ app available now on iOS devices for members! Download the app.
In late October, Jonathan Levitt, the sales manager at InsideTracker and a November Project junkie, found himself in a bit of a bind. He only had one hour before the start of a Spartan Race in rural New Jersey and his stomach was rumbling. But his only nearby options were a gas station, McDonalds, and Dunkin' Donuts.
Levitt is gluten intolerant, so donuts and bagels were out. And saturated-fat-laden sausage breakfast sandwich seemed like a bad choice, too. He had to get creative. "Who knew you could just order eggs?" he tweeted with a photo of two little pucks of egg from McDonalds and the hashtag #desperatetimesdesperatemeasures. 
If you've ever driven to the middle of nowhere for a race, you know the perils of rural dining. As you cruise through the glow of neon lights, a previously unfathomable thought hits: I wish I could find a Subway. The easiest way to avoid this mess, of course, is to bring your own food. That's what Tavis Piattoly, who spent seven years as the sports dietician for the New Orleans Saints, suggests to his clients. But sometimes packing and preparing your own food isn't feasible and a trip to the drive-thru becomes necessary. 
To help you navigate the greasy, often sugar-filled land of fast food, we've compiled a list of the best options for pre- and post-race meals, and ones for folks who just want to eat healthier on long road trips. (We should note: The list below assumes that you follow a traditional high-carb approach to fueling before a big race, and recovering after. If you're going the high-fat route, well, maybe just ask for some butter packets.)
---
The Best Pre-Race Meals
"Stay away from fried options," warns Heather Caplan, a Washington D.C.-based registered dietitian and runner. Not only does fat slow digestion, which could cause you to feel sluggish, many of the oils (like lard or soybean) used in fast-food fryers can be hard on your stomach. That sudden onslaught of low-quality oil could send you sprinting for the nearest port-o-john before you hit the start line.
Ideally, you want to order mostly carbs with a small amount of protein, says Piattoly. He cautions his athletes against eating just carbs, as that will cause a major blood sugar spike which is, inevitably, followed by a crash. A small amount of protein and fat can slow that spike. And Caplan says that if the menu shows calorie counts, look for something where no more than 20 percent of the calories come from fat.
Here are your best choices, by restaurant.
---
McDonalds
Egg McMuffin
Calories: 290; Protein: 17g; Saturated fat: 6g; Sodium: 710mg  
For best results, stick to just bread and egg, says Piattoly—no meat or cheese. The egg will give you some protein and fat, which will keep you satiated. The muffin supplies carbs without adding an artery-clogging hit of saturated fat like a biscuit would.  
Fruit and Maple Oatmeal 
Calories: 310; Protein: 6g; Saturated fat: 1.5g; Sodium: 140mg 
It's low in fat (just four grams) and high in carbs. Opt for no brown sugar, though, as that cuts the total sugar content from 33 grams to 18. Fair warning: Oatmeal contains a lot of fiber, which, if your gut isn't used to handling it pre-race, can cause what experts clinically refer to as "fecal urgency." 
Hotcakes
Calories: 330; Protein: 9g; Saturated fat: 1.5g; Sodium: 530mg ​
With 56 grams of glorious carb-y goodness, this would be the go-to for both Caplan and Piattoly. In most other cases, however, both would wag their fingers at the pure white flour. But not on race day, when the extra bits of fiber provided by whole grains can, again, cause "fecal urgency."
---
Wendy's
Artisan Egg Sandwich
Calories: 360; Protein: 20g; Saturated fat: 8g; Sodium: 760mg ​
Order this sandwich without the cheese and bacon to avoid overdosing on fat before a hard effort. It's got 29 grams of carbs with only a single gram of fiber, plus 20 grams of protein to keep you feeling full for the next few hours. 
Steel Cut Oatmeal
Calories: 330; Protein: 5g; Saturated fat: 1g; Sodium: 250mg 
Wendy's offers steal cut oatmeal that comes topped with pecans and cranberries. Avoid the caramel-apple version (only available seasonally), which has nearly 33 grams of sugar. The other options are all decent choices if you ask for the brown sugar on the side. 
---
Dunkin' Donuts
Original Oatmeal with Dried Fruit 
Calories: 270; Protein: 7g; Saturated fat: 1g; Sodium: 140mg​
Avoid the brown-sugar oatmeal offering and ask for the plain variety. It comes topped with dried fruit, which will provide more than enough sugar to saturate your glycogen stores.
Dunkin' Donuts' oatmeal is featured on what it calls its DDSmart menu, which claims "better-for-you-choices-that-keep-you-running." And while the oatmeal is a relatively good option, it underscores why eating at fast food joints is so tricky. When Caplan looked over DDSmart offerings, she noted that most options have almost half your daily allowance of saturated fat. Plus, many were too high in fat to be a good pre-race fuel. Point being: When looking to eat well at a fast food restaurant, don't be fooled by marketing—look at the ingredients. 
Eggs and an English Muffin
Calories: 300; Protein: 13g; Saturated fat: 5g; Sodium: 440mg
Do like Levitt and see if can order a plain egg sandwich. But be warned: There likely won't be a register option for "just eggs," so your cashier may have to get creative. Levitt says they charged him for a couple of donut holes. Add the 32 grams of carbs that the English muffin provides and you've got solid fuel for a good, hard effort. 
---
Starbucks
Spinach, Feta, and Cage-Free Egg White Wrap
Calories: 290; Protein: 19g; Saturated fat: 3.5g; Sodium: 830mg 
This may be the healthiest option on this list. The wrap only has 10 grams of fat and 3.5 grams of saturated fat, and it's got plenty of protein and carbs. But it also only has 290 calories, so if you normally ingest more pre-race, be aware that you may need to find extra calories elsewhere. 
Hearty Blueberry Oatmeal
Calories: 220; Protein: 5g; Saturated fat: 0.5g; Sodium: 125mg ​
Deriving most of its calories from carbs, this choice has Caplan's backing. It's topped with a fruit, nut, and seed medley that adds a touch of fat and a bit more sugar for quick energy.
While the food at Starbucks is pretty good, any drink containing a ton of dairy, like a venti-extra-whip-mocha, is another matter. "I would avoid those like the plague" before a race, says Piattoly, adding that the risk of ingesting all that dairy, fat, and caffeine is asking for a GI catastrophe. 
---
The Best Post-Race Meals
While post-race is the ideal time to indulge, if you're eating at a fast food joint, you need to be careful about fried items and foods that contain high amounts of saturated fat, which elevates your bad LDL cholesterol levels and increases the risk of heart disease, says Caplan. Also, a lot of the fats used by fast-food chains are full of omega-6s. Unlike good omega-3s, omega-6 fatty acids are considered pro-inflammatory, meaning they can increase inflammation—not ideal when your body is recovering. Piattoly says he avoids fast-food beef for this reason, since their grain-fed feedlot beef tends to be high in omega-6s. 
---
McDonalds
Artisan Grilled Chicken Sandwich
Calories: 380; Protein: 37g; Saturated fat: 2g; Sodium: 960mg 
With only two grams of saturated fat and more than 30 grams of protein, this sandwich is an ideal post-race option. Ask for it topped with tomato and lettuce for extra doses of vitamins A and C, plus the antioxidant lycopene and fiber.  
Hamburger
Calories: 250; Protein: 13g; Saturated fat: 3g; Sodium: 480mg 
A quarter pounder with cheese will eat up 60 percent of your daily saturated fat intake, while a Big Mac will cost you 50 percent. But a regular hamburger only has around 15 percent of your daily saturated fat, making it a better choice. Plus, you'll get 31 grams of carbs and 12 grams of protein. 
---
Wendy's
Grilled Chicken Sandwich
Calories: 360; Protein: 35g; Saturated fat: 1.5g; Sodium: 820mg 
Like the grilled McDonald's offering, this is a pretty solid choice. Thirty-five grams of protein will help with muscle rebuilding, while 38 grams of carbs will replenish the fuel you torched. 
Baked Potato
Calories: 310; Protein: 8g; Saturated fat: 1.5g; Sodium: 35mg
Skip the fries and order a whole, plain baked potato. Instead of pure starch and grease, you'll get fiber, folate and, vitamins B-6 and C.
---
Taco Bell
Chicken Supreme Burrito
Calories: 400; Protein: 17g; Saturated fat: 6g; Sodium: 1140mg 
Do not—we repeat—do not eat at Taco Bell before a race. Afterward, however, this can be an okay option if you order wisely. Its Chicken Supreme Burrito has only a third of your day's saturated fat allotment—pretty good by fast-food standards. It is high in sodium, but if you've just finished a race, you may be in need of the extra salt.
Bean Burrito
Calories: 370; Protein: 14g; Saturated fat: 4g; Sodium: 1060mg ​
In 2015, Taco Bell committed to adding American Vegetarian Association-certified options to its menu. Bean burritos are among these choices, meaning there's no lard in the tortilla or beans. 
---
In-N-Out
Hamburger with Onion, Ketchup, and Mustard
Calories: 310; Protein: 16g; Saturated fat: 4g; Sodium: 730mg
​Skipping the In-N-Out spread (a mixture of mayo and ketchup with a touch of white wine vinegar) will save you a bit of saturated fat—you'll end up consuming just 20 percent of your daily total. Also, while many fitness freaks opt to go the bun-less route, there's no need to do this after a hard workout or race. Your body needs those carbs, so don't fear them.
Lead Photo: jetcityimage/iStock
Trending on Outside Online