What I Ate Before, During, and After the Boston Marathon
How Outside's endurance brand director fueled for the most important running day of the year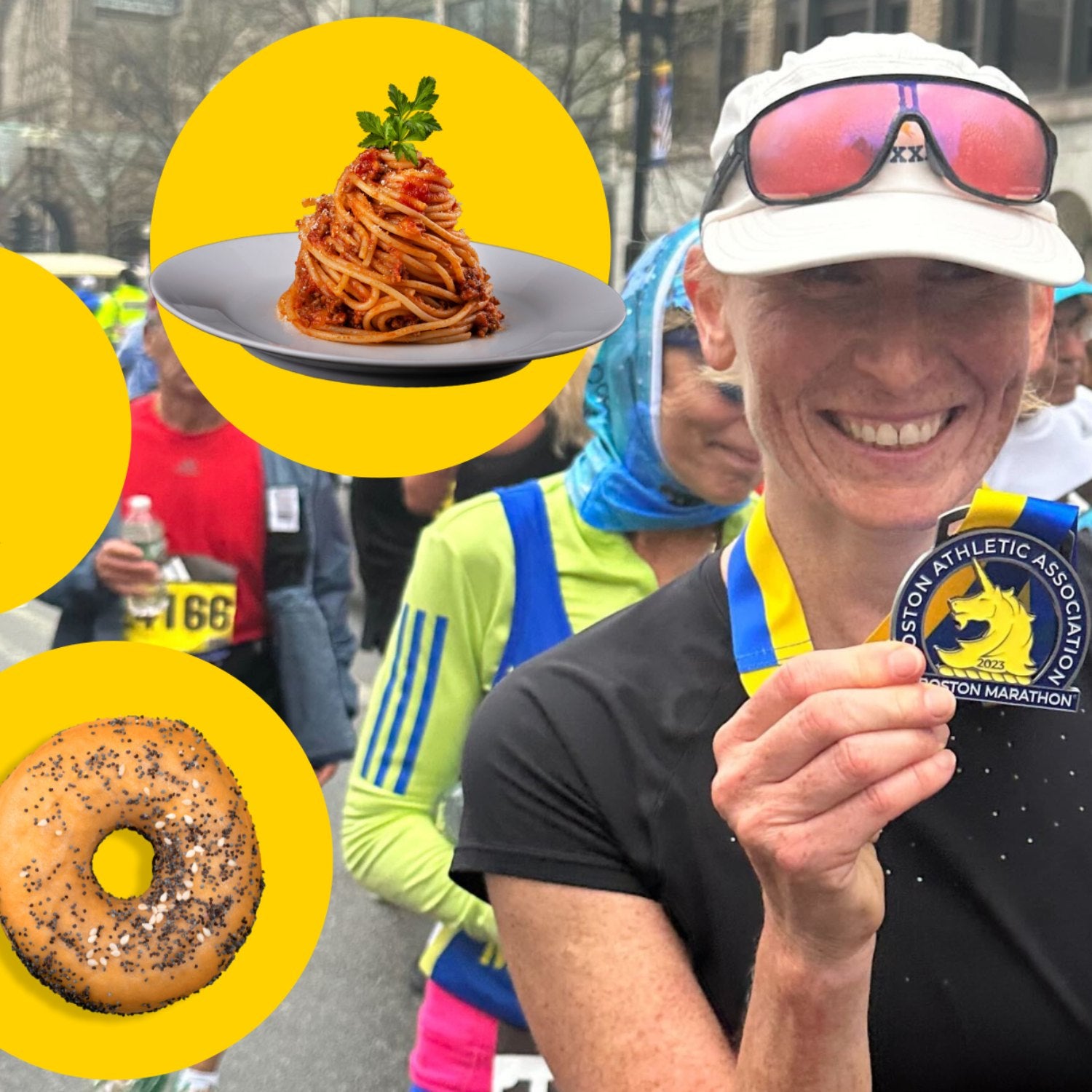 Heading out the door? Read this article on the new Outside+ app available now on iOS devices for members! Download the app.
The Boston Marathon is, by all accounts, a cathartic experience. There's much to talk about post-race—when the runner's high hit, the dreaded wall at mile 22, the jubilation while crossing the finish line – but we're not here to talk about any of that.
We're here to talk about all things food.
Melanie Mitchell, Outside's endurance brand director, ran her first Boston Marathon this year and called it a "magical day." While it's only her second stand-alone marathon, Mitchell previously completed two Ironman races, which end with 26.2 miles after a treacherous bout of biking and swimming.
"Arguably, a marathon is more intimidating to me [than an Ironman]," Mitchell says. "My goal was to nail the nutrition and PR… and I did both. The latter by 20 minutes. I enjoyed every mile, even the one I hated – mile 24-25 was possibly the longest mile ever run."
After a few days of well-deserved peace and quiet, Mitchell shares with Outside's food team what she ate before, during, and after her first Boston Marathon.
Pre-Race
The night before the race, Melanie fueled up with Asian noodles and tofu. She skipped the spicy sauce, wanting to avoid any food that may trigger stomach distress.
On the morning of the race, Mitchell had two breakfasts. She woke up five hours before the race (around 5:30 A.M.) and had an egg sandwiched between two plain bagel halves. A few hours later, she ate half of a croissant and an organic fruit strip. The French pastry gave her a healthy dose of quick carbs and the sweet snack's natural sugars provided her with energy at the start line.
During The Race
In addition to grabbing sips of water at the aid stations, Mitchell focused on fueling herself with: gels.
"All Maurten gels, all of the time," she says. "They're easy to get down. I trained with them, raced with them, and had no issues. They're worth every penny."
Maurten Gels (specifically called Gel100) contain 25g of carbs, 25g of sugars, and 34 mg sodium. They're a flavorless blend of glucose and fructose containing zero added colorants or preservatives. Mitchell consumed one of them every three miles, ingesting eight by the end of the race. This was an intentional, well-planned eating schedule unlike her fueling in prior athletic events. During her Ironmans, for example, Mitchell suffered from under-fueling during the marathon. However, she's determined to not make the same mistakes during her next race—and used Boston as a nutritional test run. It's a test she ultimately passed with flying colors. The proof? Finishing the biggest running race of the year with a 20 minute PR. Kudos!
Post-Race
Mitchell started the post-race celebration with two glasses of champagne, which she admits is not probably the textbook way to recover, but, hey, they tasted "fabulous." When she arrived back at her hotel room, she scarfed down a Huma Gel recovery protein smoothie with 14g of pea protein and drank a few glasses of water, before heading out to the real culinary celebration: a hearty dinner of bolognese.
Mitchell typically adheres to a predominantly vegan diet, but on race day, she craved bolognese after running 26.2 miles.  Following the lead of her stomach, she headed to Porto, a Mediterranean restaurant in Boston's Back Bay neighborhood for her celebratory meal. The bolognese featured fresh ingredients like local beef, tomato, grated parmesan, and pancetta.
Mitchell ate a lot of tasty, fueling foods during her time at the Boston Marathon, but nothing is quite as satiating as crossing the finish line. She's not resting quite yet, though. Mitchell is already training for a third Ironman in June, and we can't wait to hear about everything she eats then.
Lead Photo: Zoe Rom/ Getty Images, Cris Cantón